AUTHORS
CATEGORIES
ARCHIVE
ACTIONS
What I Ate: January 12, 2011 (Austin Land & Cattle Company or ALC Steaks)
Posted 15 January, 2011 at 7:20am by Michael Chu
Austin Land and Cattle Company (1205 North Lamar Boulevard, Austin, TX (512) 472-1813) which is also known as ALC Steaks has been in business for eighteen years and, according to Scott Mescall, the general manager and executive chef, the only remaining family owned steakhouse in Austin.
We started by asking what sparkling waters they had and were given the options of Topo Chico, San Pellegrino, and Evian. Unaware that Evian had a line of sparkling water (and not being fans of Topo Chico or San Pellegrino), we ordered the Evian… which of course came as still water. That one little mishap was the only thing that went wrong with our meal.
We started by trying the Buffalo Lamb Chops Lollipop Lamb Chops Deep Fried and Tossed in Franks Red Hot Sauce with Jalapeno Blue Cheese ($14). These four chops were excellent due to their novelty of flavor (the ever so slight gamey quality of the lamb was just the extra kick of flavor that buffalo wings has been missing all these years), the crispy sliver of fat that was left on the "handle", and the full flavored blue cheese dipping sauce (that had just enough blue cheese and an almost undetectable amount of heat, especially when compared to the Louisiana hot sauce). The only thing missing was some (more) apple cider vinegar in the Frank's Red Hot sauce. Scott told us that he had been injured skiing and while prescribed Vicodin for the pain had some strange dreams and this recipe came from one of those. What a productive crazy dream!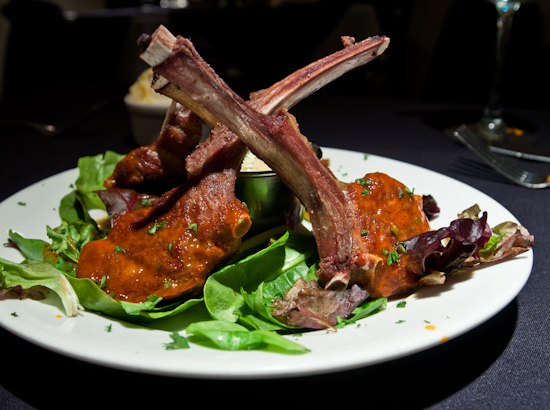 We had the 30 oz. Porterhouse steak ($46) cooked medium-rare. It came out beautiful and glistening along with all the sides we ordered at the same time.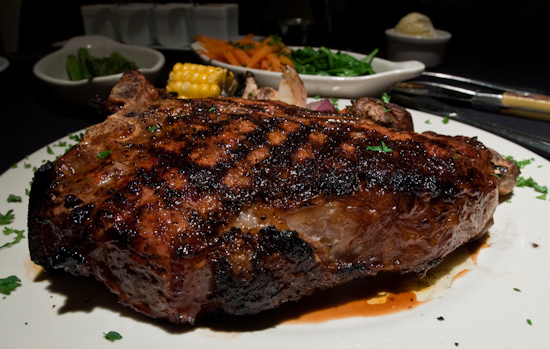 Because we ordered a side of Grilled Kabob Vegetables ($5), they served that next to the steak.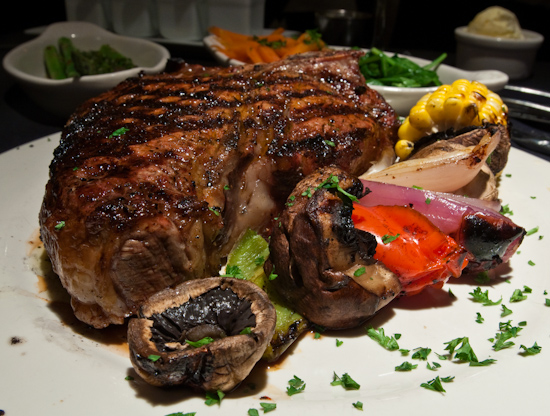 The sauteed spinach and julienned carrots would normally have accompanied the steak, but today they were served separately. The spinach was just wilted and the carrots cooked (steamed I assume) until soft and tender. Both were underseasoned and served plain which is exactly what was needed. The steak is extremely well seasoned with salt and pepper and very rich from the cooking fat. The last thing we needed was creamed spinach and carrots swimming in clarified butter. Clean and simply prepared vegetables, I believe, are an important counterpoint to the rich, heavy, and decadent beef steak.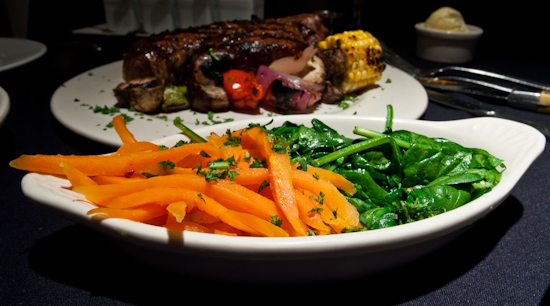 The steak also comes with either a baked potato, mashed potatoes (regular or garlic), steak fries, or Texmati rice. I chose the loaded baked potato and it did not disappoint. It was loaded until overflowing and we ate every last bit.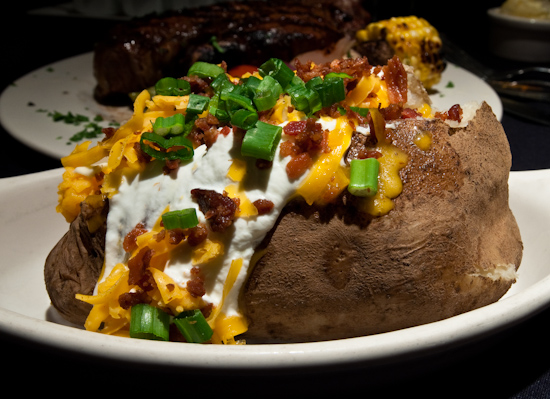 In addition to the kabob vegetables, we also added a side of Asparagus ($5) which was served with kind of a rough/coarse chimichurri sauce (chopped parsley and garlic with a light oil).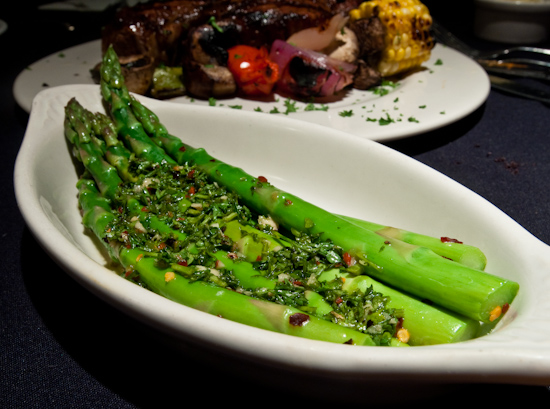 Along with the steak, we ordered a sampler of sauces ($10, each individual sauce is normally $3). We tried (from left to right) ALC Homemade Sauce, Bearnaise Sauce, Roasted Garlic Sauce, and Maker's Mark Bourbon Sauce. We also kept some of the Jalapeno Blue Cheese sauce from the lamb chops (since it was such a smooth and flavorful sauce) to try with the steak. My favorites were the ALC Homemade Sauce (which is like a low viscosity A1 Steak Sauce but without the weird tastes that I don't like in A1 [which sometimes tastes a little metallic or too tangy to me]) and the Roasted Garlic Sauce.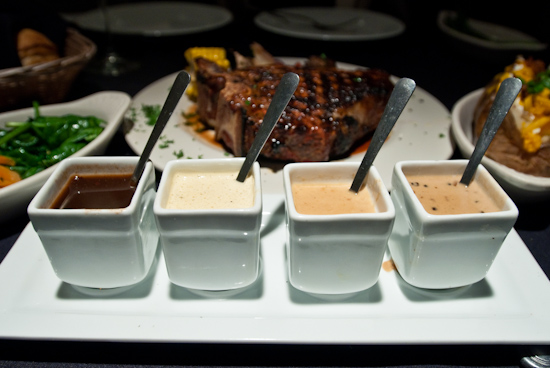 The porterhouse steak was cooked perfectly to medium-rare. Here is a picture of the tenderloin portion (filet) after it had been cut in half. Truthfully, the tenderloin did not need any sauce. It was well seasoned, very moist, and fell apart in my mouth. Perfect.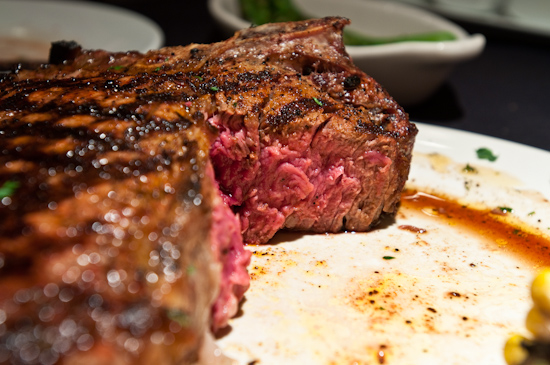 The top loin portion (New York strip) was just as perfectly cooked, but tougher and slightly drier. Here, the sauces really excelled.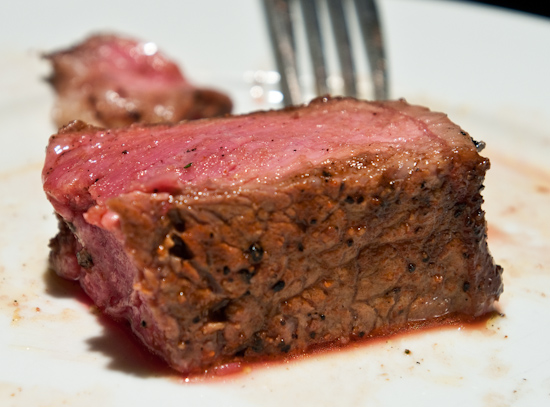 The restaurant is dimly lit, but not ridiculously so (no flashlights needed here). The staff is friendly and makes you feel at home. The restaurant is intimate enough for a celebratory dinner or special occasion meal and also casual enough for when you just need a really good steak and just don't feel like cooking at home (seriously, who wants to to make the sides when your craving a steak?). I recommend making a reservation on OpenTable before showing up because the restaurant was pretty busy when we arrived just after 7pm and there was a line when we were leaving around 9:30pm.