AUTHORS
CATEGORIES
ARCHIVE
ACTIONS
What I Ate: February 2, 2008
Posted 5 February, 2008 at 10:46pm by Michael Chu
For lunch, we again headed for pho but got side tracked. We passed a new ramen place that we had been meaning to try, so I turned around and went to Jumak Restaurant (Google Maps). It seems that they are a Korean run restaurant that imports a lot of goods from Japan (frozen) that you normally don't find in Japanese restaurants (and of course many of the items you would normally find). We ordered a few small plates along with our ramen (which is much too much food, but we wanted to try them).
The gyoza were deep fried and it was pretty obvious they they were previously frozen. Some pieces had very little filling surrounded by a dumpling shaped balloon of crispy skin.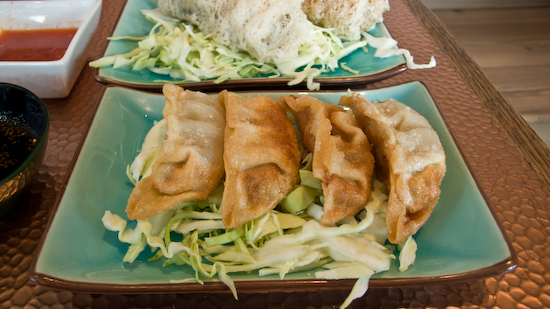 The seafood wrap was pretty unique - I hadn't had anything like it before. It was wrapped in rice and deep fried. The interior was slightly moist - more dry than one would expect. It was quite flavorful and reminded me of a combination of Japanese rice crackers and dried seafood snacks (but moist).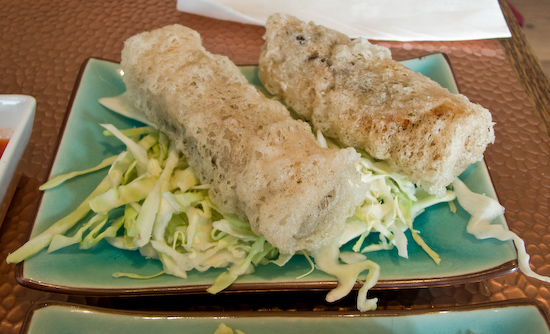 I also ordered tako yaki since Tina had never had a chance to taste it. I had it last in Osaka, Japan from a street vendor who makes it in front of you with a special pan. Tako yaki is basically a ball of dough, pan fried (in a melon baller shaped pan) with a piece of octopus (tako) inside. Tina liked it. I thought the ones we got were a bit too wet inside (almost gummy). But then, I don't really know how it's supposed to taste. Just like in Osaka, after three or four balls, I was done.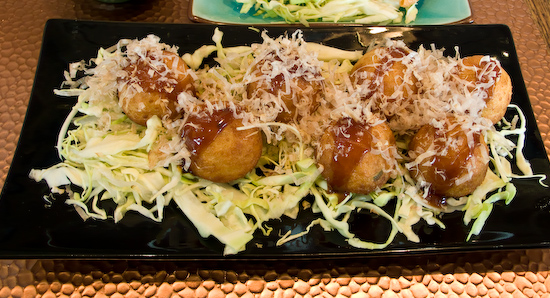 My ramen was a shoyu ramen (the basic soup stock allows me to compare with other ramen shops who also serve shoyu ramen). It lacked the traditional egg, nori (seaweed), and pickled vegetables in the ramen. It also featured slices of pork belly or fatty pork instead of the more typical roasted tenderloin. All in all, it was pretty decent and I'd agreed that we'd go back in the future.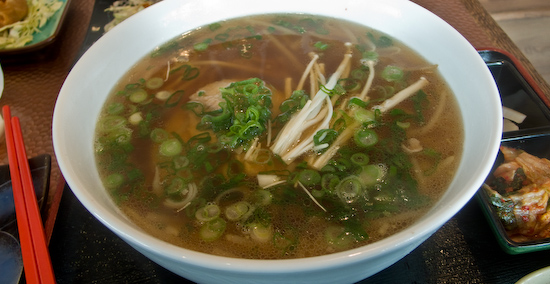 Tina had the Seafood Ramen which featured a miso broth with spices and seafood (shrimp, clams, mussels).
Jumak Restaurant
3450 El Camino Real
Santa Clara, CA 95051
(408) 246-0011
For dinner, Tina and I drove to Milpitas to meet Harold and Darcy for a movie. We ended up bailing on the movie and had dinner at Lee's Sandwiches in Milpitas. Lee's serves Vietnamese sandwiches (on a Vietnamese style baguette with a variety of fillings). Tina almost always gets the #11 Special Combination which has liver pate, sliced pork loaf, and pickled vegetables. I either get that one or #5 Grilled Pork which has a Vietnamese BBQ pork filling. Tonight I decided on only one sandwich (I was still relatively un-hungry from the oversized lunch) and to go with the #11.

Lee's Sandwiches (Milpitas) (Google Maps)
279 W Calaveras Blvd, Milpitas, CA 95035
(408) 263-1688