AUTHORS
CATEGORIES
ARCHIVE
ACTIONS
What I Ate: January 16, 2008
Posted 17 January, 2008 at 11:09pm by Michael Chu
I had lunch with my friend Harold and his son Blake at Tasman Teriyaki (Google Maps) in Santa Clara. I ordered the bento box combination #2 (with gyoza instead of California rolls) with tonkatsu (pork cutlet) and tempura. I also ordered an addition of sake (salmon) nigiri.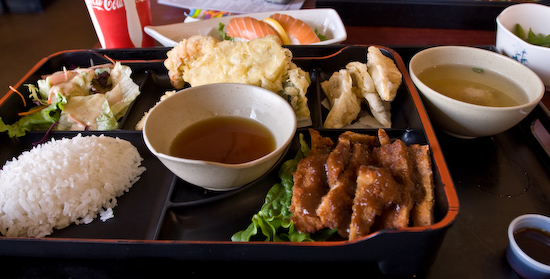 The sake nigiri was surprisingly large when I put it into my mouth. I was barely able to chew it because there was so much rice.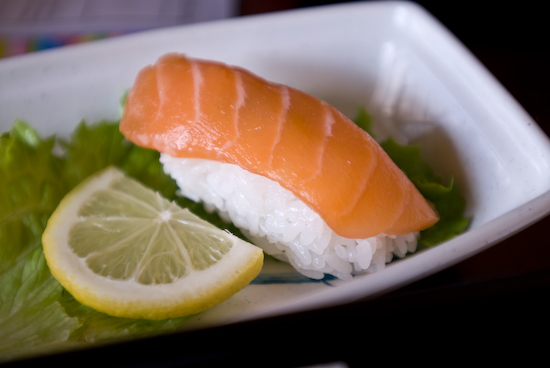 The strangest part of the meal was the tonkatsu which was topped not with the classic brown curry gravy but some fruity sauce that tasted like sweet preserved plums. (I found out that they make the sauce themselves with a mixture of about ten ingredients including soy sauce, oyster sauce, pineapple juice, and other liquids.) I was not fond of this flavor.
Tasman Teriyaki
2215 Tasman Dr.
Santa Clara, CA
(408) 855-9081
Dinner was some left over fresh Italian sausage that I had in the refrigerator. I went out to grill them only to discover that I was out of propane. A brief microwave to cook the interior and a few minutes in the convection toaster oven for color (and to dry out the surface) cooked them just fine. I then fashioned some wheat sandwich bread into buns by toasting them in a curled position (held there by heavy aluminum foil). I would have topped them with caramelized onions and bell peppers, but I didn't have time since I was working on the new Fanpop video embeds.