AUTHORS
CATEGORIES
ARCHIVE
ACTIONS
What I Ate: Michi Ramen (5/18/2012 & 6/8/2012)
Posted 13 June, 2012 at 2:50am by Tina Jiang
Finally, authetic ramen in Austin! Ramen is one of our favorite foods, and, when we lived in the San Francisco Bay Area, we ate it regularly. Since we moved to Austin, it's been a major challenge finding good ramen. We've tried a few places in town - Kome Sushi Kitchen, Musashino Sushi, Bonsai - and have been disappointed. When we visited Houston in January, we tried six different ramens and still didn't find what we were looking for - some were simply no good, others were not authetic (more fusion style with Vietnamese or Thai flavors in the broths). The soy sauce based ramen at Kata Robata was decent, but it didn't quite satisfy our cravings for Tonkotsu ramen which has a rich and hearty broth. Our prayers are finally answered! Michi Ramen (1012 W. Anderson Ln., Austin, TX 78757), a food truck, opened about a month ago, and now we have authetic ramen in Austin!
Here's what we ordered:
Miso Ramen
Sweet soybean tare, chashu slices, butter, corn and woodear mushrooms
(we added extra chashu and a marinated soft-boiled egg)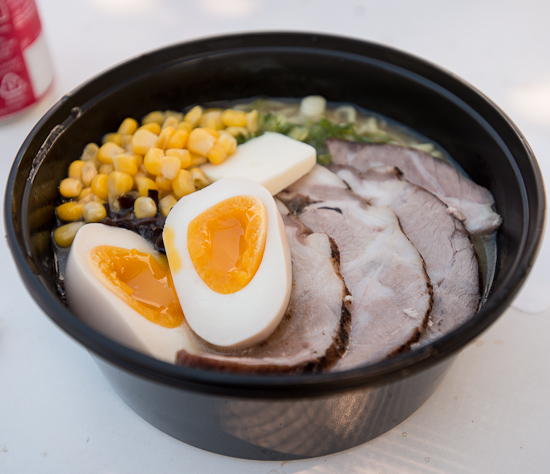 Michi Ramen
5 slices of chashu, woodear mushrooms, welsh onions and blackened garlic oil
(we added a poached egg)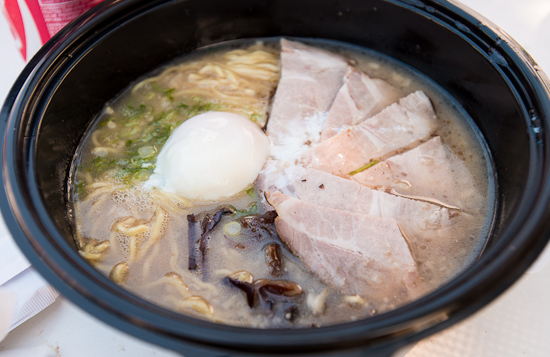 They also have two other choices:
Ramen
Chashu slices, woodear mushrooms, welsh onions and blackened garlic oil
(same as the Michi ramen but with fewer pieces of chashu)
Veggie*
Chive-sprout-cabbage mix, woodear mushrooms, welsh onions and blackened garlic oil
*(not vegetarian, contains pork broth)
What makes a bowl of great ramen? It's all in the broth and the noodles. To make sure their broth is authentic, Michi ramen worked with one of Japan's "Four Ramen Devas" to learn the proper ways. The cooking process takes 20+ hours and results in the rich, hearty, and savory soup that we love so much. The broth has a milkiness that comes from the pork fat and gelatin that melted into the liquid during the long hours of cooking. It has a rich pork flavor with a velvety texture that coats the tongue. The noodles have the right texture, flavor, and color. Good ramen noodles have a firmness produced by the use of high protein (hard) wheat flour and alkaline salts (kansui) that gives it a nice toothiness. In addition, the alkaline salts cause the noodles to have a yellow color as well as a distinct flavor (like the difference between cornmeal and masa). Michi Ramen's noodles are imported from a California ramen noodle manufacturer that supplies ramen houses over there. We asked why they don't make the noodles in-house, and the explanation is that because both broth and noodle making are time consuming and complex processes, and it's difficult to maintain the consistency in the texture and flavor of the noodles from batch to batch, so they decided to source from a reputable supplier (referred by the Japanese ramen deva) that only do this and do it very well. This makes sense since Michi ramen can then focus on making the authentic broth with their limited resources. Along those lines, in our experience, good ramen only comes from shops that are dedicated to ramen making and restaurants that serve regular Japanese food or sushi don't take the time required and therefore don't make good ramen.
We were very happy with the food. Ramen was the #1 craving we had since moving to Austin, and now that big hole in our hearts is filled - right here in Austin! We happily drank all the soup after eating the noodles and toppings, and life was good. There was one flaw though, which was that the eggs were cold. They are pre-cooked and have to be kept chilled due to food safety concerns. We think it would help a lot if they can warm it up before adding to the soup. We also wished that the broth was hotter, i.e. hot enough to require blowing on it before slurping. It does sound crazy that we are eating hot noodle soup outdoors in this 95 degree weather and we want it hotter, but it just seems right that authentic ramen be really hot!
Extra toppings (marinated soft-boiled or poached egg, extra chashu, veggies, chili oil, butter) can be added. Cold beverages and a variety of mochi ice creams (green tea, lychee, sakura, passion fruit, guava, pistachio, chocolate peanut butter, chocolate strawberry) are also available. You can find more information on Michi Ramen's website www.michiramen.com. They are closed on Mondays, and open for dinner only on Tuesdays & Thursdays and lunch (11:30am - 3pm) + dinner (5:30-9pm) on Wednesdays and Fridays-Sundays. There're only about 50 bowls available per service so be sure to get there early. You can also follow them on Twitter where you can see how many bowls are left. Check it out!