AUTHORS
CATEGORIES
ARCHIVE
ACTIONS
What I Ate: December 13, 2010 (Justine's Brasserie)
Posted 23 December, 2010 at 5:41pm by Michael Chu
Dinner: I had a late meeting and wasn't ready to eat dinner until around 10pm, so we had to find a late night place to eat. I had been meaning to try Justine's Brasserie (4710 East 5th Street, Austin, TX (512) 385-2900) and when we realized they closed at 2am, that's where we went. I ordered the Escargots à la Bourguignonne to start which were tender and sauced with flavorful butter and chives.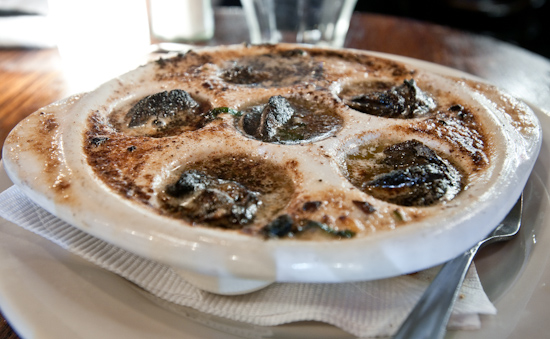 The bread was a simple baguette sliced into thin cross-sections served with a very flavorful and fruity olive oil seasoned with black pepper and salt. I asked what brand the olive oil was and it's apparently imported from Bellagio in Italy… I haven't found this oil for sale online yet.
Salade Landaise warm salad of roasted brussels sprouts, duck confit, celeriac and arugula, dressed with a mustard seed vinaigrette. This was one of the best salads we've ever had. Every part of this salad was good - the perfectly prepared brussels sprouts blended nicely with the rich duck, the dressing was light but flavorful, the mustard seeds brought a spiciness to the finely chopped celeriac.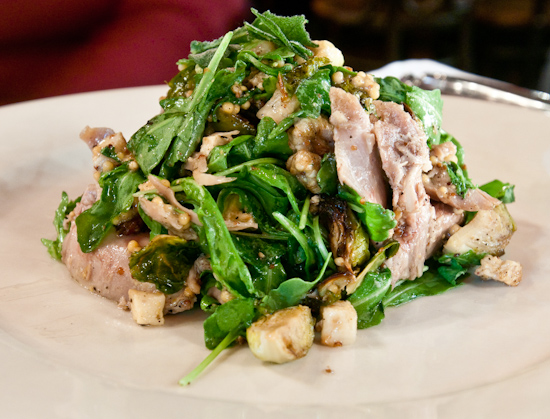 Tina ordered the Filet de Poisson snapper with a buerre blanc served with haricots verts. The haricots verts were perfectly cooked - cooked through and tender with a little snap. The fish was also nicely cooked, but it needed more salt and pepper.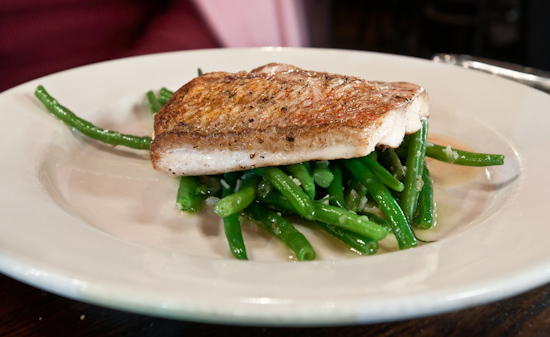 I had the Steak Tartare the classic. handcut ground all natural steak, served cru with a raw egg on top which came with quite a large serving of garlicky and spicy steak and a perfect little quail egg yolk. The fries that came with it were an excellent example of good shoestring fries.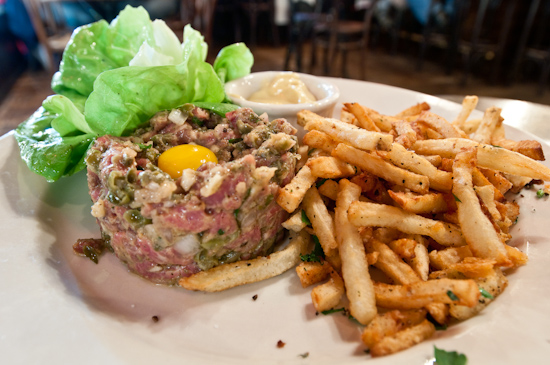 Side of Ratatouille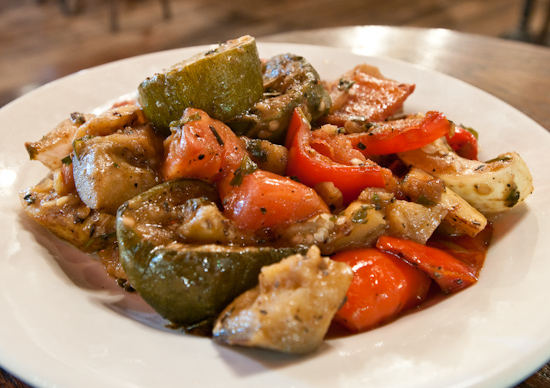 Tarte Tatin warm apple tart, vanilla ice cream. I didn't like this apple tart - the whole thing could have used some more sugar. The housemade vanilla ice cream, although full of vanilla flavor, lacked sweetness and was creamy in a kind of odd way. The apple that was cooked to near mush was spiced with cinnamon but again lacked sugar making it quite tart and a little bitter. The pastry the entire ensemble was placed on wasn't flaky and didn't taste like much.