AUTHORS
CATEGORIES
ARCHIVE
ACTIONS
What I Ate: December 31, 2011 (Taste of Ethiopia)
Posted 4 January, 2012 at 1:03am by Tina Jiang
We met up with some friends at Taste of Ethiopia (1100 Grand Avenue Pkwy Pflugerville TX, 78613 512-251-4053) for lunch. This was our first time dining here, and it won't be the last. The food was great, the owner (her name is Woinee Mariam) and staff were so nice, and there's something so special about sharing a meal with friends where everyone ate out of the same plate. The detailed descriptions below are from the restaurant's website http://tasteofethiopiaaustin.com.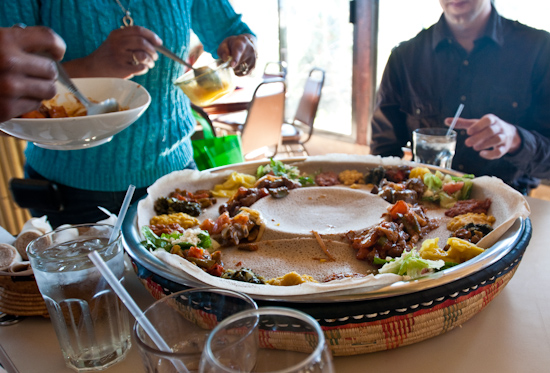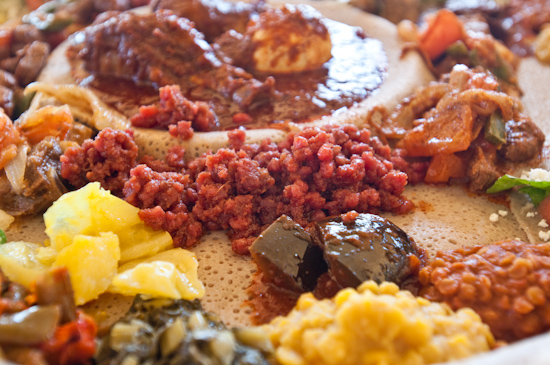 Ethiopian food is served in a mesob or woven basket with a large hat-like covering. Meals are ordered family style and served on a large pan of injera bread, which is placed within the mesob. The injera is gluten free sourdough bread with a similar consistency to a thin pancake or crepe. To make the bread, Teff flour ferments for several days with a sourdough starter, giving it a slightly sour flavor. The injera is a crucial part to Ethiopian dining as it replaces utensils. Food is scooped up in the bread and melts in your mouth.
Kitfo - House Specialty (Finely chopped beef seasoned with mitmita (a spicy powdered seasoning based on African bird's eye chili pepper) served rare with specially prepared butter
Doro Wot - The national dish of Ethiopia meticulously prepared chicken with diced red onions and simmered for hours with Berbere (a chili pepper based spice mix). served with two drumsticks and a hard-boiled egg.
The Ultimate Combo (Vegetarian) - A feast of vegetarian dishes
- Gomen (chopped collard greens steamed and tastefully heightened with garlic, jalapeno peppers and traditional spices.)
- Fesolia (Mixed vegetable stew of string beans, carrots, tomatoes and onions deliciously seasoned with garlic, ginger and turmeric.)
- Yemisisr Wot (Zesty lentil splits slowly cooked in flavorful berbere* sauce with red onions and a blend of traditional spices simmered to perfection.)
- Tikil Gomen (Lightly spiced cabbage, carrots, onions and tomatoes stewed in a mild sauce.)
- Ater Kik (Split peas simmered in a mild and flavorful herb sauce and turmeric.)
- Eggplant Wot (Eggplant slowly cooked in a flavorful berbere* sauce with red onion and a blend of traditional spices simmered to perfection.)
Honey Wine
Spiced Iced Tea
Coffee
Coffee originated in Ethiopia, and with this deep rooted history comes a tradition that is repeated at every table ordering this taste of Ethiopian heaven. The coffee is first prepared in the kitchen by boiling the beans in a special clay pot called a jebena. In a traditional home, there would be a designated area usually surrounded by grass used to serve coffee to guests. At Taste of Ethiopia, Woinee or one of her family members will come to your table with a grass mat and special serving table to specially pour the robust beverage for her guests. However that's not all. A pan of fried coffee beans is swept under your nose to awaken your senses, followed by a bowl of burning frankincense to prolong the aroma. Sit back and sip the delight, as a deep relaxation settles into your bones. Your meal is almost complete; all that is left is your hug from Woinee as you walk out the door.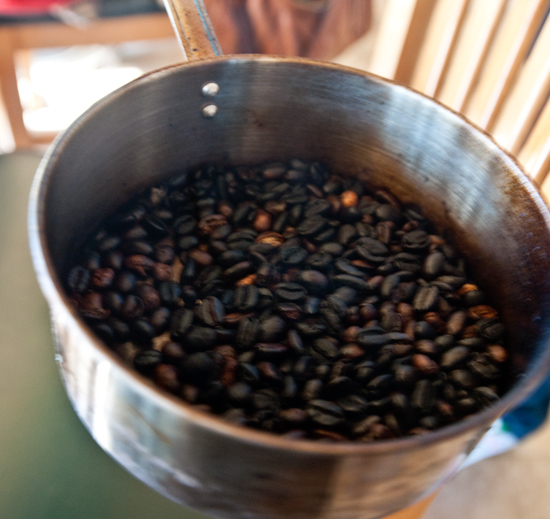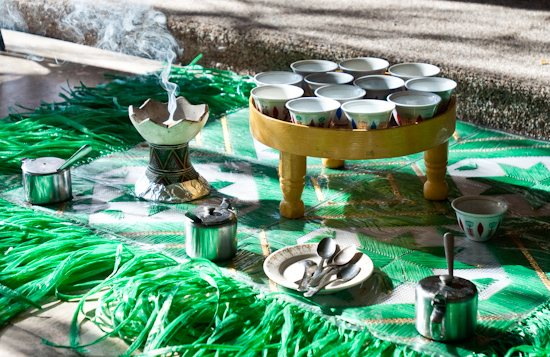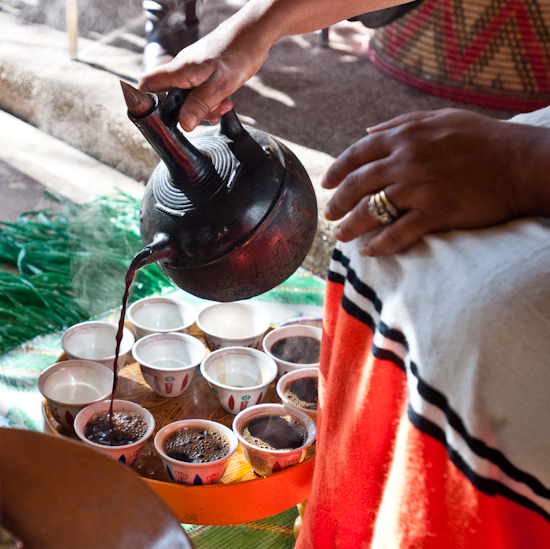 It was a wonderful meal - good food, good drinks, good times! What a way to wrap up 2011 :).