AUTHORS
CATEGORIES
ARCHIVE
ACTIONS
All-Clad Tri-Ply Stainless-Steel Sauté Simmer Pan 4-Qt. $99 (William Sonoma)
Posted 16 September, 2011 at 3:22pm by Tina Jiang
I saw this deal posted on DealNews.com today and just had to post it on OT to spread the word:
All-Clad Tri-Ply Stainless-Steel Sauté Simmer Pan 4-Qt. - $99 (William Sonoma)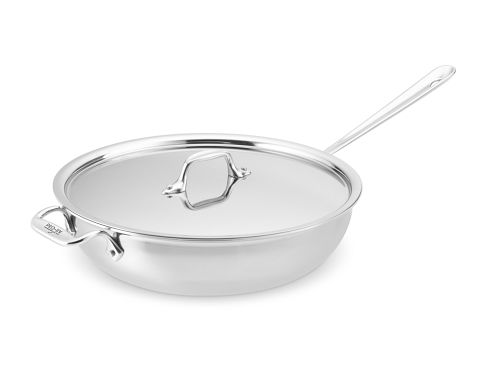 It's one of All-Clad's classic tri-ply stainless steel collection. We have a d5 version of this pan and simply love it and use it for everything - sauteing vegetables, browning meats, making pasta dishes, stews, etc.. I love its large, flat bottom (like a frying pan, great for browning meats), the sloped sides and flared rim (makes scooping and pouring things easy), the tight fitting lid, and the loop handle in addition to the long handle. We had a 6 qt. Tramontina saute pan which used to be my favorite pan, but I like the All-Clad saute simmer pan even more because of its sloped sides and flared rim.
This tri-ply pan is new to William Sonoma so there's no online review yet but you can see reviews for the d5 version here. The main difference between the d5 and the tri-ply is that the d5 has 2 layers of aluminum in between 3 layers of stainless steel (5 layers total), whereas the tri-ply has 1 layer of aluminum in between 2 layers of stainless steel. The d5 version also has improved handles (e.g. larger loop handle, finger guard on long handle, flat top on lid handle), but I personally think the tri-ply collection performs plenty well so why pay more?
At $99, the All-Clad Tri-Ply Stainless-Steel Sauté Simmer Pan 4-Qt. is a great deal. I'm not sure how long the sale will last, but I hope everyone who wants one gets one :)!