AUTHORS
CATEGORIES
ARCHIVE
ACTIONS
What I Ate: February 23, 2011 (Haddingtons)
Posted 24 February, 2011 at 3:42pm by Michael Chu
We went to Haddingtons for a media event where we sampled several items. We started off with a TLT - smoked tomato, brun-ostoo cheese, lettuce & truffle aioli which I didn't photograph because I ate it standing up. It was delicious and Tina's favorite.
Scotch Eggs pickled quail eggs in sausage.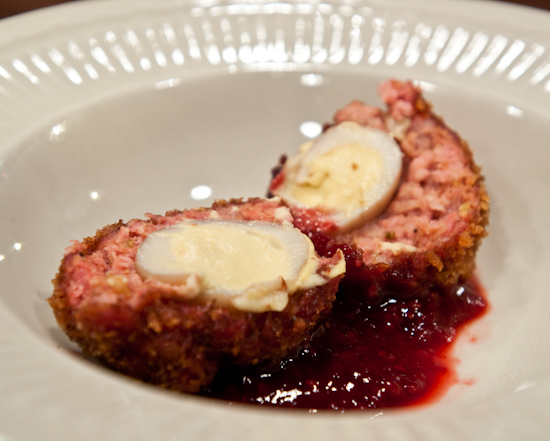 Foie Link house made foie sausage with pear relish. The filling was mushier than a weisswurst. Tina didn't like the texture and I felt that it would have been better if it was firmer since the casing was relatively difficult to chew through. Otherwise, I really liked the sausage and thought it was well paired with the relish.



Grilled Strip center cut strip with foie duxelle.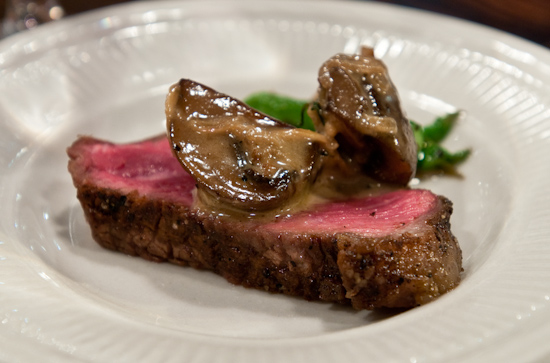 We missed a few of the earlier charcuterie samplings, so we asked if they could provide the Duck Liver Mousse with Golden Raisins and the Rabbit Rillette with Whiskey Cherries. They ran out, so they provided us a couple toast pots to taste: Duck Liver Mousse and Pork Rillette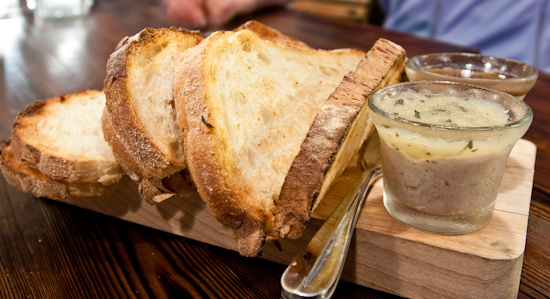 Since we were there and hungry, we went ahead and ordered dinner starting with their House Pickled Vegetables carrots, green beans, red bell pepper & cauliflower ($4) which was very strongly flavored with cumin. The cauliflower florets were excellent while we didn't enjoy the green beans which didn't seem to take on much of the pickling flavors.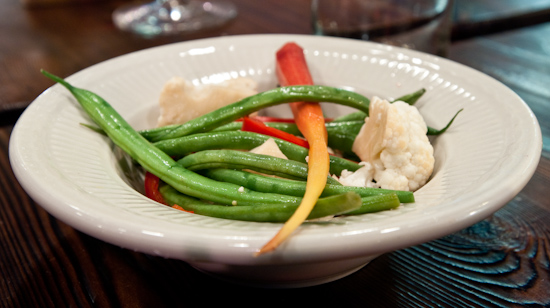 We split the Branzino Fillets roasted cauliflower & shallots with a golden raisin whiskey buerre blanc ($25) for dinner. (They even split it for us.) I ended up talking with friends and didn't get to eat my portion until it was cold and yet it was still delicious.