AUTHORS
CATEGORIES
ARCHIVE
ACTIONS
What I Ate: February 11, 2011 (Congress)
Posted 12 February, 2011 at 9:57pm by Michael Chu
We had an 8:45pm reservation at Congress and when we arrived our table wasn't ready yet (the previous party had not left). They had a small table in the bar reserved for us to wait at, so we sat down and ordered sparkling water. We had the choice between Topo Chico and Tynant, so we chose Tynant - a sparkling water from Wales with relatively large, crisp bubbles but not overly acidic or metallic (the water worked quite well with our meal and we ordered a second bottle while dining). We were hungry, so we ordered the Burrata - Oxtail Marmalade - Buttered Brioche ($12) from the bar menu (which I think is serviced by the 2nd Bar kitchen because it was brought over from the door leading to 2nd Bar). The creamy mozzarella, sweet oxtail, and drops of fruity olive oil made an excellent appetizer which we lathered over the soft, fluffy bread.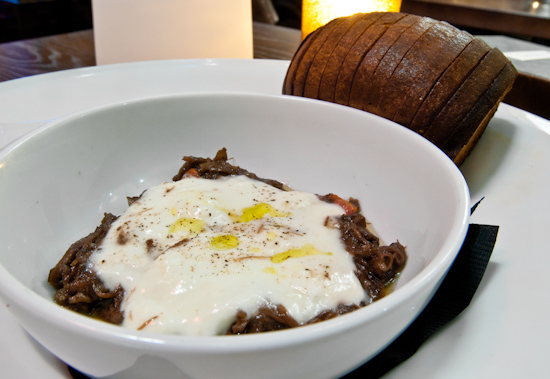 At this point, our table was ready, so we followed the hostess to our table in the main dining room. I should mention that unlike some other restaurants I've been to, the check at the bar is not automatically transferred to the main dining room. I think we were supposed to settle our bar bill before dining, but we didn't know that until I got my final bill and noticed the burrata and first bottle of water weren't on the bill. When I asked, they said it had been comped because we had to wait for our table!
We settled in, studied the menu - which is simple: seven course tasting menu for $125 ($175 with wine pairing) or three-course prix fixe for $65 per person (four to six choices for each course). Only two or three plates from the prix fixe menu were repeated on the tasting menu. We were intrigued by more dishes in the prix fixe menu, so we ordered six different items off of that and added the foie gras torchon.
Here are the pictures from the meal: (for more details please read the full review of Congress on Cooking For Engineers)
Amuse bouche of parsnip custard topped with parmesan foam.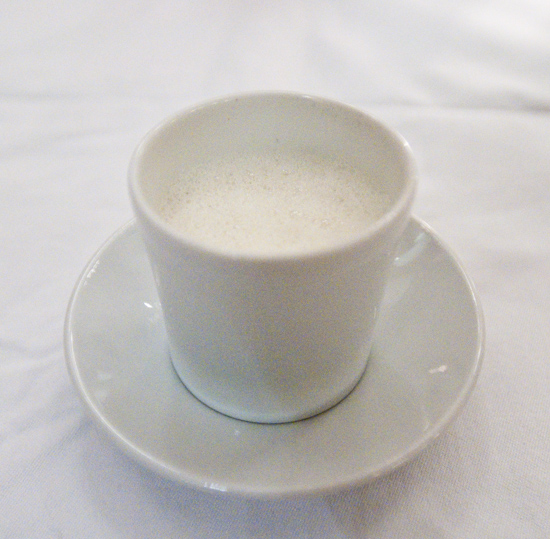 Bread.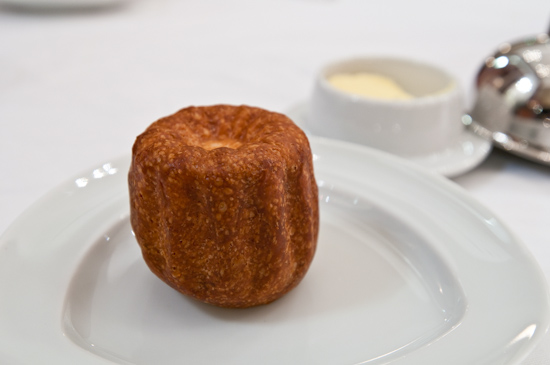 1st Course.
Wild Arugula - Artichoke Confit - Burrata - Red Grape Agro Dulce. The artichoke was cooked sous vide to produce firm but fully cooked artichoke hearts that were not diluted with water via steaming or boiling. The burrata (as in our appetizer at the bar) was refreshingly creamy and worked beautifully with the mild arugula, sweet grapes, and artichokes to form a perfect salad.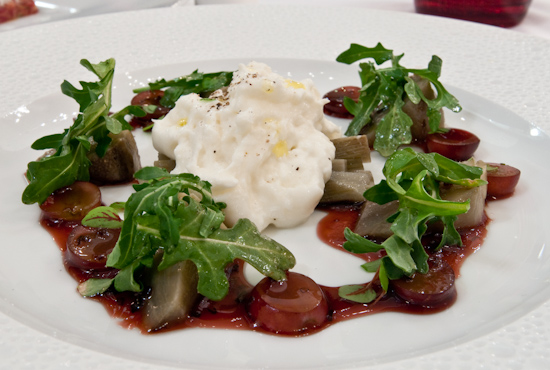 Beef Tartare - Fried Oysters - Black Truffle - Parmesan - Ciabatta Chips.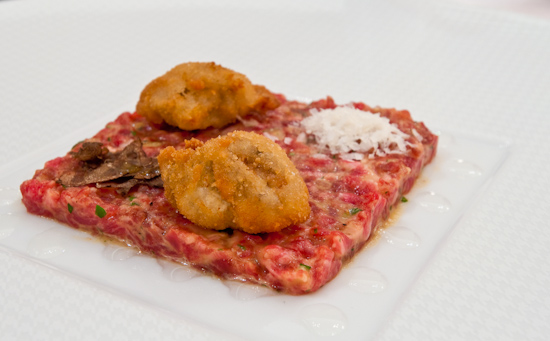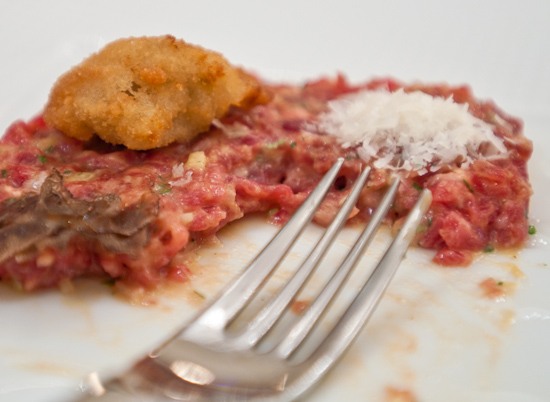 2nd Course.
White Lobster Bisque - Fresno Tomato Jam - Lobster Ricotta Fritter.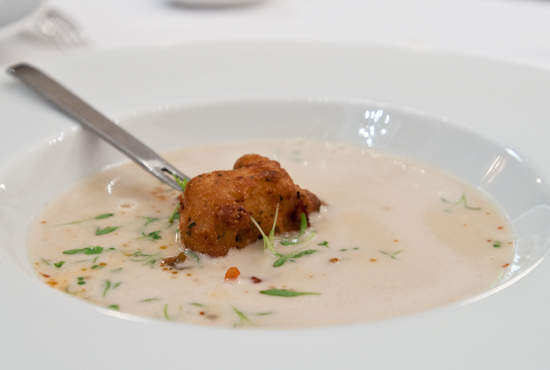 Roasted Bone Marrow - Corn Custard - Apple Bacon Marmalade - Parsley Salad.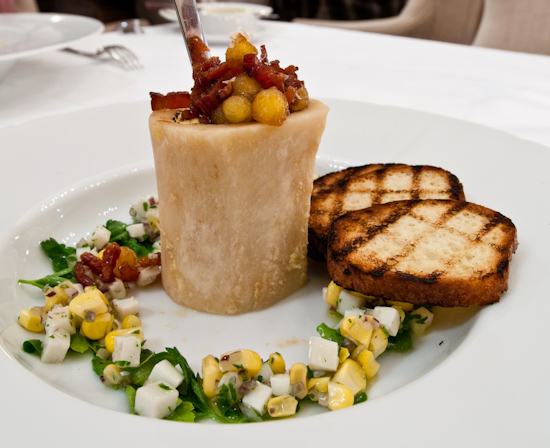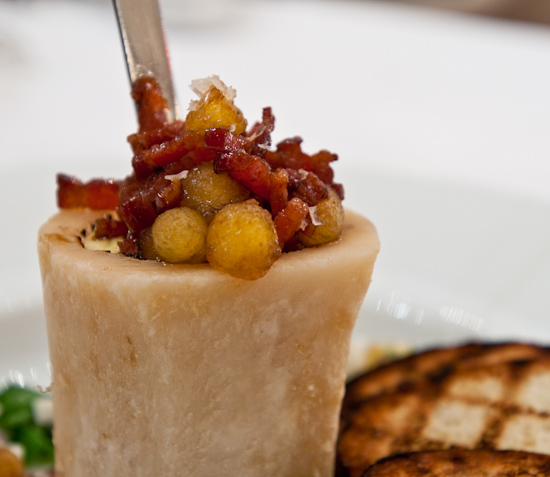 Enhancement.
Foie Gras Torchon - Griddled Chestnut Brioche - Turnip - Minus 8.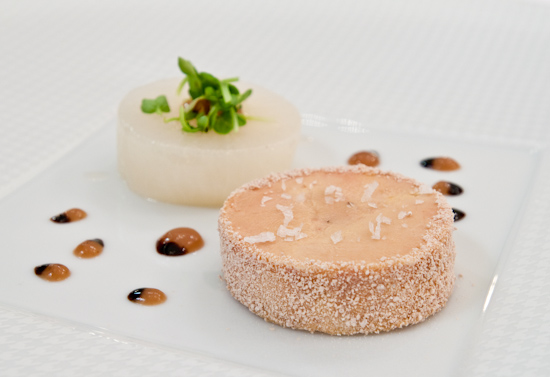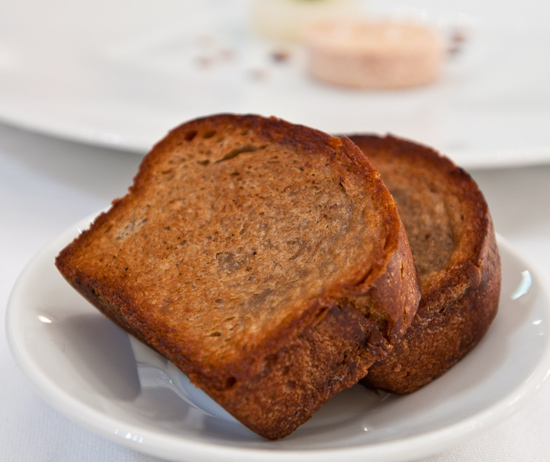 3rd Course.
Veal Tenderloin and Cheek - Celery - Celery Root - Black Truffle.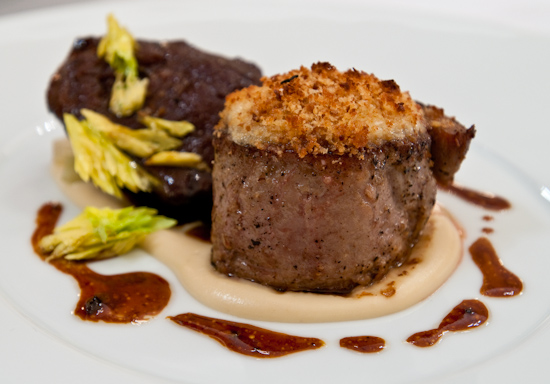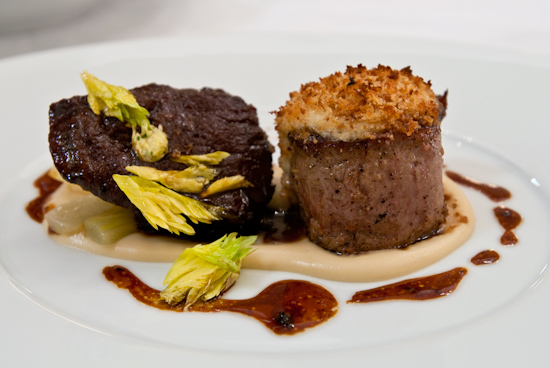 Black Cod - Piperade - Serrano Ham - Basil Puree.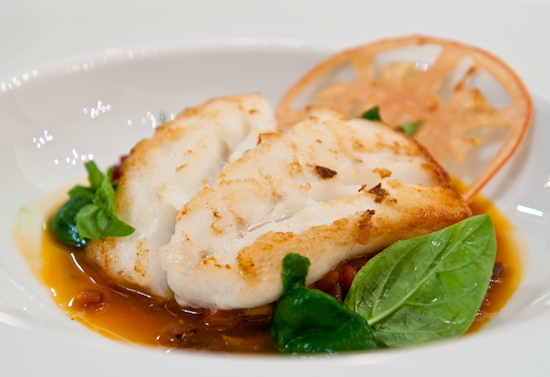 Desserts.
Grapefruit sorbet, grapefruit segments, and campari pop rocks.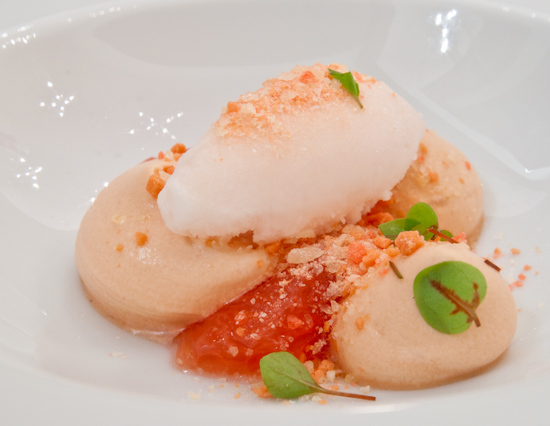 Sweet potato beignets (topped with sugar and black pepper) and salted butter sorbet.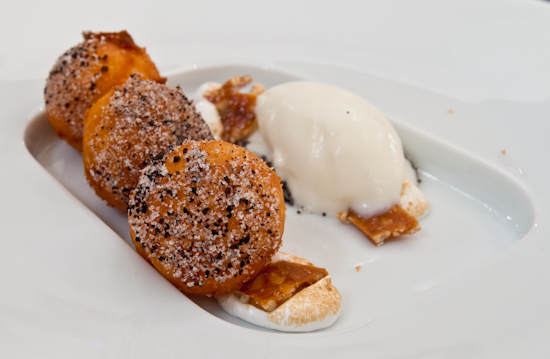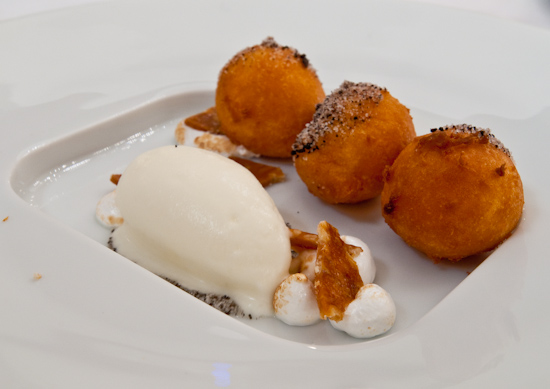 Mignardises.
Chestnut panna cotta with cocoa nibs.