AUTHORS
CATEGORIES
ARCHIVE
ACTIONS
What I Ate: January 9, 2011 (Dai Due dinner at FINO)
Posted 11 January, 2011 at 2:37am by Michael Chu
Every year, Dai Due is invited by Emmett and Lisa Fox to cook for the combined staff of ASTI and FINO. This year, they had some extra seats and opened them up to the public. Once we heard the news on Saturday, we quickly made a reservation, Paypal'd the $85 per person, and waited eagerly for the dinner to arrive. Once we got to FINO, we were seated with four others (nice people who turned out to be excellent conversationalists) and a wonderful four hour meal began. Here's what we had.
Lima Bean and Mint Puree Amazing use of Springdale Farms' lima beans and mint. So delicious.
Arbequina Olives Great fruity taste without too much saltiness. Great olives from Sandy Oaks in Elmendorf, Texas.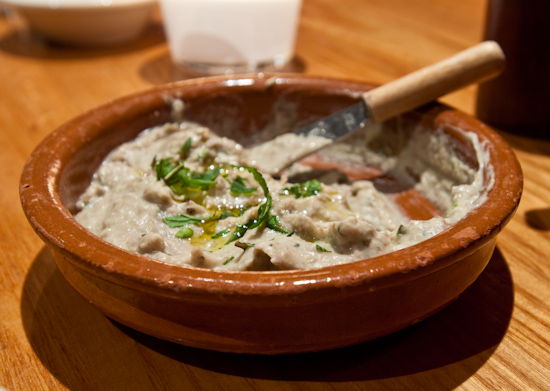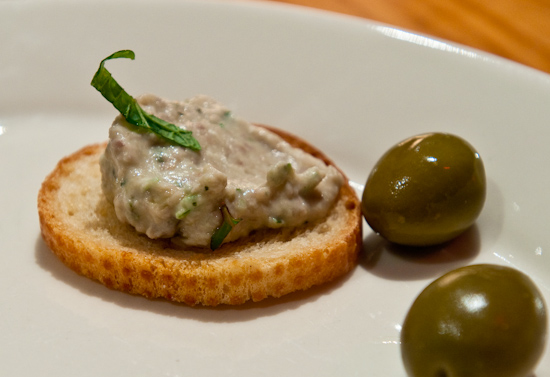 Poached Beef Tongue with Carrot Top Sauce
Sweetbread Terrine
Smoked Catfish Terrine
Of the three items on the charcuterie plate, my favorite was the smoked catfish and Tina's was the sweetbread.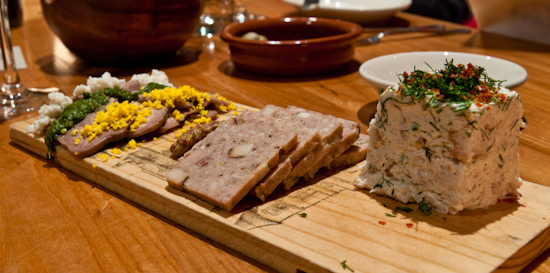 Antelope Tartare Every time we have game from Broken Arrow Ranch, it's a real treat. The antelope was naturally sweet and lacked any acidity or gaminess that is often associated with wild animals like deer (people don't often talk about antelope).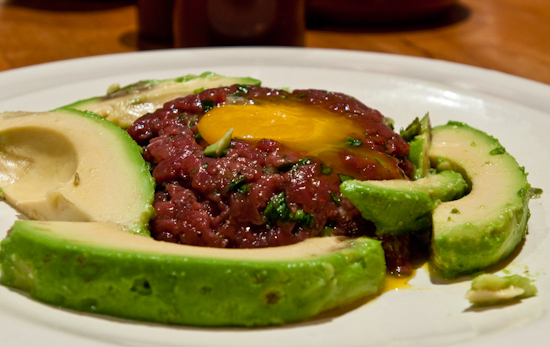 Pork Trotter Croquettes with Pickled Radishes and Sweet Bavarian Mustard Rich flavor and amazing texture inside the hard (a little too hard for my taste) and crunchy breading. I'm not sure what it was coated with, but there was one croquette that had a crust of finer grit than the rest and the shell was perfect on that one.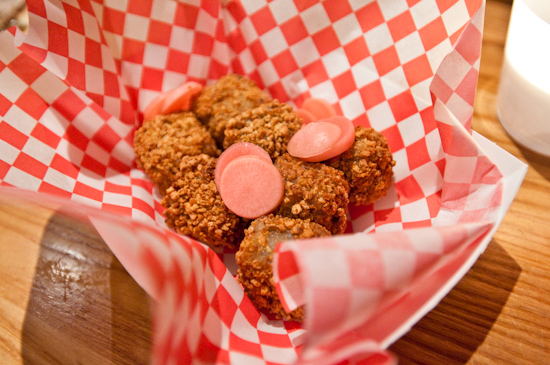 Fried Guinea Livers with Permission-Pepper Jam Excellent liver flavor with a great smooth texture and paired nicely with the jam.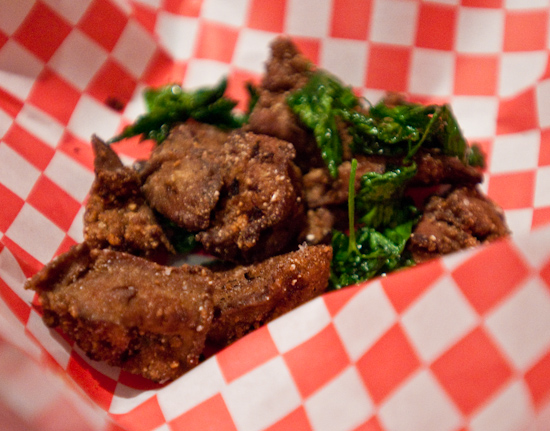 Oyster Stew with Salt Pork, Smoked Gulf Tuna Bottarga and Pain au Lait This cream-based soup was rich while still having delicate flavors. Worked very well with the bread.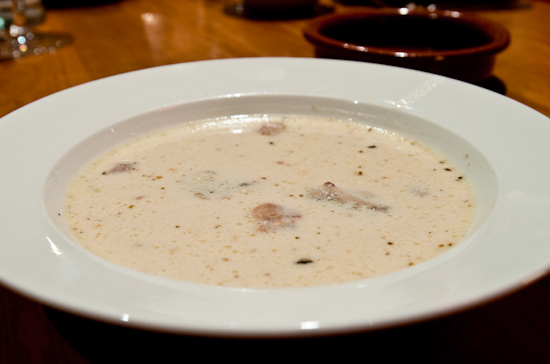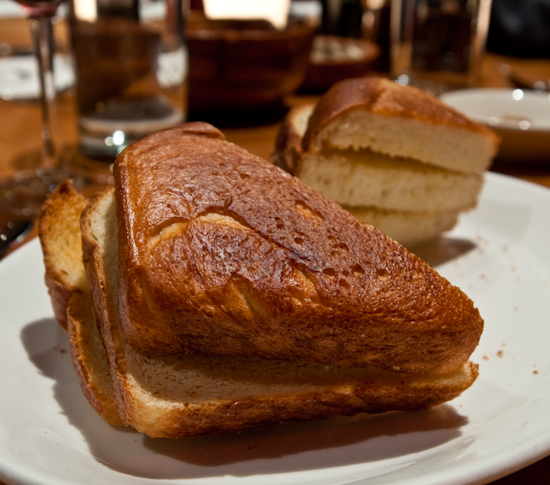 Confit Spare Ribs and Ciber-braised Ham Hocks with Braised Cabbage By this time I was pretty full. The small piece of pork that I put on my plate was from the ham hock and, although delicious and full of flavor, it was a bit dry. The cabbage was an excellent accompaniment to the pork.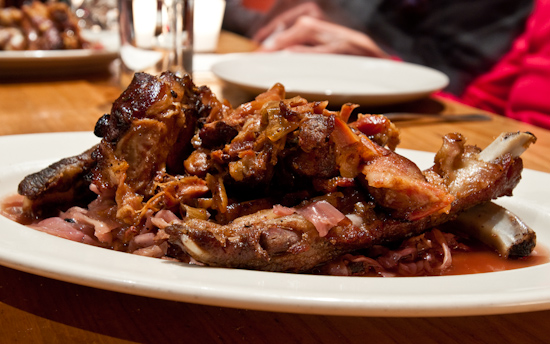 Roasted Cauliflower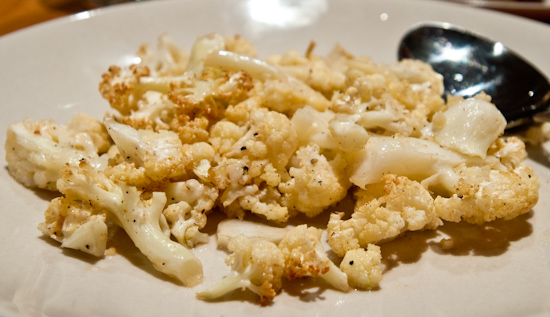 Kasekrainer and Mashed Rutabagas I was surprised that the sausage had creamy melted cheese in it (I had never had k&aumlaut;sekrainer before) which added a whole new level of amazing richness to the fine ground sausage.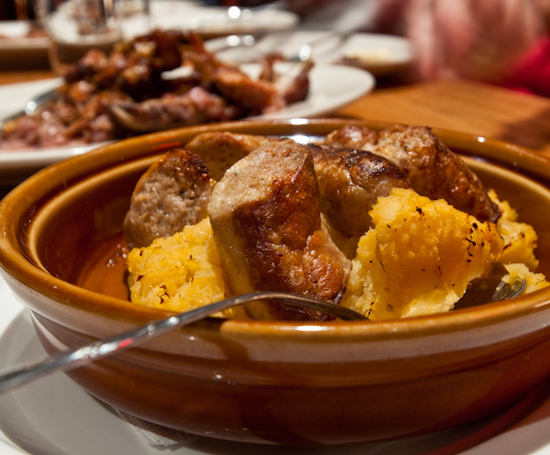 Veldhuizen Bosque Blue with Candied Mohawks, Jujube Paste and Pecan Bread This was an incredible strong blue cheese - a tiny bit went a long way - which worked really well with the jujube preserve. Although I appreciated the flavor and intensity of the blue cheese, I preferred the milder flavor of the other soft cheese that was provided.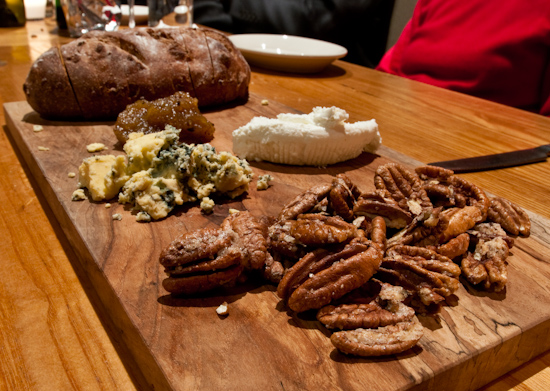 Hinkelhatz Truffles with Café a la Olla These truffles had a little bit of heat from the Hinkelhatz chiles and I really enjoyed eating them while sipping the strongly flavored coffee (I don't normally drink coffee, but I can see the appeal after having it with the truffles).