AUTHORS
CATEGORIES
ARCHIVE
ACTIONS
What I Ate: December 31, 2010 (Mighty Fine Burgers)
Posted 3 January, 2011 at 12:14pm by Michael Chu
Well, this is it: The last entry in the daily What I Ate series. I'll probably post in the future under this category for special meals, but for the most part (after two straight years - seven hundred and thirty consecutive days - of documenting every main meal) I'm concluding this series. After today's post, I'll have documented, through photography and text, approximately 6.8% of my entire life's meals (the first three months of 2008 plus all of 2009 through 2010). Writing What I Ate takes more time than I expected it to and I've decided that my time is probably better spent returning more attention to Cooking For Engineers. I'll continue to post to Orthogonal Thought random thoughts and perhaps continue the Things We Like series or Photo of the Week (formerly "of the Day") series. Leave me a comment and let me know what you think.
Dinner: Before watching a performance of the Beatles tribute band Classical Mystery Tour backed by the Austin Symphony Orchestra, we grabbed a quick dinner at Mighty Fine Burgers. We're not huge fans of Mighty Fine's burgers (tonight I had a Jr. Bacon Cheeseburger with grilled jalapenos), but we think their fries are usually the best in town.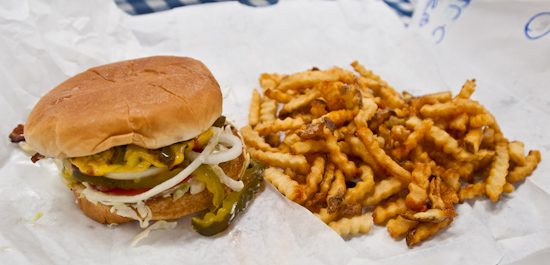 They make crinkle cut fries that are usually crispy on the outside (where the crinkle cut increases the surface area maximizing the amount of crunch) with a hot and fluffy interior. Today's fries, however, came out a bit overdone and tasted like it was about to be burnt (some bitterness could just be detected). I mentioned this to them and the store manager immediately ordered another batch made, but this time it was cooked "light". Apparently, normal fries at Mighty Fine are fried for 2 minutes and 30 seconds. Light fries are fried for only 1 minute and 15 seconds. These came out better than the first batch, but I felt they weren't fried long enough (with several fries limp or without any crunchy exterior). Tina was perfectly happy with the fries since she prefers the moist and fluffy interior over the need for a crispy exterior. Since we normally have excellent fries without making a special order (so presumably cooked for 2:30), I wondered why the first batch came overdone. The manager said that sometimes different batches of potatoes cook at different rates and it's hard to compensate for it. It would be nice if they noticed that the fries were getting a little overdone and adjusted the time for the potatoes, but it was awesome that they cooked another batch for us at no charge and allowed us to specify the degree of doneness (or time if we had chosen to).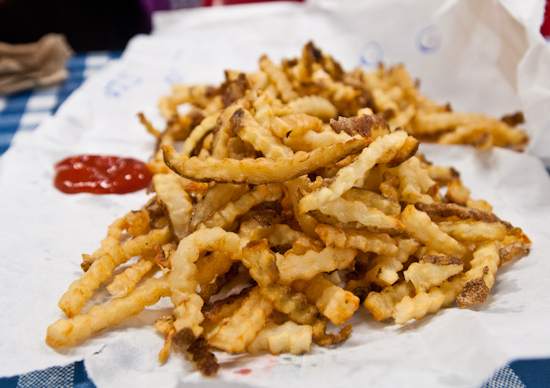 Lunch: Leftover beef stroganoff over egg noodles.