AUTHORS
CATEGORIES
ARCHIVE
ACTIONS
Things We Like: Rubbermaid Food Storage Containers
Posted 12 January, 2011 at 11:34pm by Tina Jiang
This article is part of the Things We Like series.
Click here to find out more about Things We Like.
One of my New Year's resolutions is to cook more, and so I've been doing some pantry organization lately. I decided to put a lot of the foods (e.g. flour, sugar, pasta, rice, beans, etc.) into containers rather than leaving them in their bags. I looked at a variety of food storage containers of different materials (e.g. glass, plastic, stainless steel, ceramic, etc.) and of various shapes and sizes. In the end I settled on a combination of these three types of plastic food containers:
Rubbermaid Commercial Space Saving Containers (lids sold separately)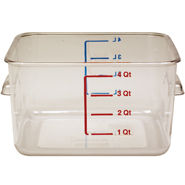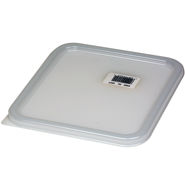 Rubbermaid/MainStays Stackable Canisters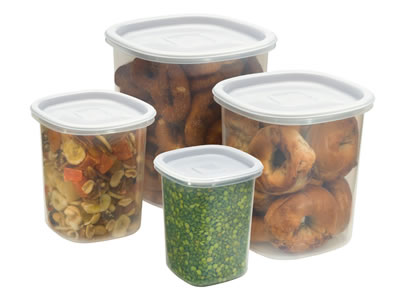 I decided against stainless steel and ceramic containers due to their opaqueness - I like to be able to see what's inside the container. I'm also clumsy and break things easily so there are not many ceramic things in our kitchen. As to plastic vs. glass, I came up with some pros and cons for each:
Glass
(e.g. Pyrex containers, Snapware Glasslock, Anchor glass jars, Ball canning jars)
Pros: do not retain odor or stain from food, easy to clean, long lasting
Cons: heavier, limited shapes & sizes (many don't stack well), more prone to breakage
Plastic
(e.g. Rubbermaid, Ziplock, Snapware, Lock & Lock, OxO)
Pros: light weight, comes in many shapes & sizes (many stack well), hard to break
Cons: may retain odor or stain from food, may be damaged if cleaned too aggressively, may need to be replaced sooner than glass
I decided that plastic containers would be sufficient for most things in my pantry, mainly dry foods (flour, sugar, rice, beans, pasta, etc.) and that I would supplement with glass jars for things with higher fat content or strong aromas (e.g. chocolate chips, spices, etc.).
There are so many choices in the world of plastic containers! But I'm kinda picky and have a few requirements:
Streamlined designs
- square or rectangular shapes that are space efficient when stored side by side or stacked on top of each other
- simple container, with no fancy contours
- simple lids, with no locking tabs (I prefer not to buckle/unbuckle four tabs; I also heard they break off sometimes), or push buttons for an air-right seal (I'm paranoid about not being able to clean the nooks and crannies in the complicated design of the lid itself), or vent holes, or anything else that is more than just a simple, tight fitting lid
Good quality
- sturdy plastic that doesn't break or warp easily
- dishwasher and freezer safe (since I'm only using these for storing dry goods, I have no plans to microwave things in them so that is not one of my top criteria)
- long lasting
Affordable
- I have a hard time justifying spending $50-$100 on a small set of containers, which is why I didn't go with Tupperware's modular mates even though they are pretty much what I'm looking for, with various shapes and sizes and are stackable. Note: right now they have a 40% off sale on the modular mates which is worth checking out.
With the above criteria in mind, I settled on the following three types of food storage containers:
Rubbermaid Modular Canisters - comes in 5 cup (1.25 qt), 10 cup (2.5 qt), 16 cup (4 qt), and 21 cup (5.25 qt)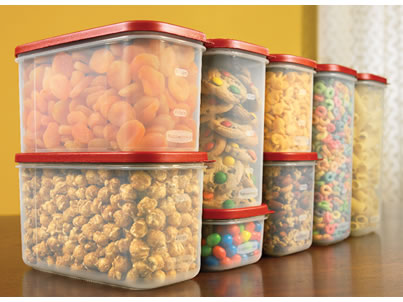 These containers are designed with the kitchen cabinet in mind. They are about 9.5 inches deep and 4.7 inches wide so they sit nicely on cabinet shelves - no need to dig behind containers at the front to get to containers in the back. They all use the same size lid (no need to hunt for the right size) and are stackable which I love. The four different sizes accommodate a various amounts of pantry items, for example I use the 16 cup container for a 5 lb bag of flour, the 10 cup container for cornmeal, and the 5 cup container for pearl barley. I buy various dry foods from the bulk section of the grocery store, so it's nice to have these containers in different sizes to store them. Finding these containers in stores can be a bit of a challenge - I've only seen them at the local Walmart in Austin. You can also find them online but there's usually shipping costs which can add up quickly.
Product info on Rubbermaid's website:
http://www.rubbermaid.com/Category/Pages/ProductDetail.aspx?CatName=FoodStorage&SubcatId=BulkStorage&Prod_ID=RP091887
Rubbermaid Commercial Space Saving Containers - comes in 2 quart, 4 quart, 6 quart, 8 quart, 12 quart, 18 quart, and 22 quart; lids sold separately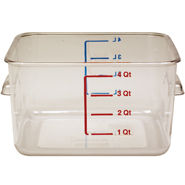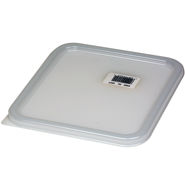 These are mostly square in shape (8.75 inch x 8.3 inch), ~ 1 inch less deep than the modular canisters above but easier to scoop out of for flour, cornmeal, etc. since there's more wiggle room. We use them for a variety of purposes, such as thawing and marinading meat in the fridge, storing cut fruits, vegetables, pastries, dough (while rising). The 2-8 quart containers use the same size lid and the 12-22 qt use the same size lid, and they are great for stacking. The clear plastic makes seeing the contents a breeze, and the two small handles make carrying the containers easy and secure (depending on the size and how much stuff is in it, they can get very heavy!). Note: the handles have a small hole in the middle which prevents water from pooling there while in the dishwasher - small detail but brilliant design. The volume markings on the walls are very easy to see - quart measurements in red, and liter measurements in blue. IMHO commercial products often (if not always) beat consumer products in terms of streamlined designs that have more function in mind. Being commercial products, these containers also come in much larger sizes which is great for storing large quantities of food (I would love to see 22 quarts of flour in someone's pantry :). We bought these at the local Mission Restaurant Supply store (container and lids sold separately), but we've also seen them in a two pack with lids at the local Sam's club with a lower price. You can find them online also.
Product info on Rubbermaid's website:
Containers http://www.rubbermaidcommercialproducts.com/c14/c17/c90/6304-Space-Saving-Square-Container-Pack-of-12-p319.html
Lids http://www.rubbermaidcommercialproducts.com/6509-Lid-fits-6302-6304-6306-6308-9F03-9F04-9F05-9F06-Space-Saving-Containers-Pack-of-12-p1010.html
Rubbermaid/MainStays Stackable Canisters - comes in a set of four nesting containers: 1.8 pint (0.9 qt), 1.6 quart, 3 quart, and 1.3 gallon (5.2 qt)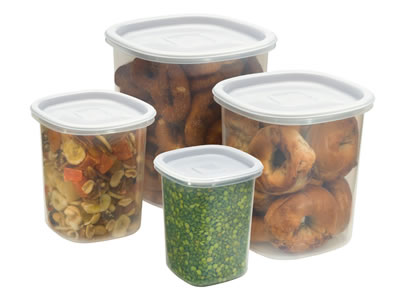 I bought a set of these earlier last year and like them for their small foot prints (compared to the commercial containers above) and the square opening which makes scooping easy (compared to the modular containers above). I only wish they are sold in individual units so I can pick and choose the sizes I use most often rather than having to buy a set of four at a time. Still, I think they are great for keeping dry foods that are often bought in different quantities. These don't stack well given their different sizes (and lids), but they do nest for space saving storage. Rubbermaid discontinued this product in June of 2010, but I found the exact same set recently at the local Walmart under their "MainStays" brand. I compared the MainStays set with my old Rubbermaid set and am convinced that they are identical, with the exception that the "Rubbermaid" and "Servin' Saver" logos on the bottoms of the containers had been erased. I suspect that these are still made by Rubbermaid, just not sold under their brand. Anyways, this set is very economical ($9.50 + tax) and is a good starter set for flour, sugar, crackers, etc..
Product info on Rubbermaid's website:
http://www.rubbermaid.com/Category/Pages/ProductDetail.aspx?CatName=FoodStorage&SubcatId=discontinued-food-storage-products&Prod_ID=RP091246
I also have some small Rubbermaid Servin' Saver and Ziploc plastic containers which I use for storing and freezing small quantities of stuff. These containers are more suited for leftovers than bulk storage due to their size and shape.
Now that my pantry is organized and I can easily find ingredients and take them to the kitchen counter, I have no excuse not to cook :)!
Where to purchase (prices are pre-tax):
Rubbermaid Modular Canisters
- Walmart (5 cup - $3.24, 10 cup - $3.77, 16 cup - $4.77, 21 cup - $5.24, 4 Container set - $15.96)
- Amazon.com: Four Container Set, 5 cup, 10 cup, 16 cup, 21 cup
Rubbermaid Commercial Space Saving Containers
- MissionRestaurantSupply.com
- Sam's Club
Rubbermaid/MainStays Stackable Canisters
- Walmart (set of four - $9.50)
- Amazon.com: 1.5 qt, 3 qt, 1.3 gallon
- The Container Store: 1.3 gallon