AUTHORS
CATEGORIES
ARCHIVE
ACTIONS
What I Ate: December 4, 2010 (Delaware Sub, Origami)
Posted 17 December, 2010 at 2:06am by Michael Chu
Lunch: Had Delaware Sub at the Mesa Dr location (near Mopac and Spicewood Springs). The deli fridge/display in the front was nearly empty except for a bottle of sauce or something and there was a sign saying you could buy deli meats (perhaps at some point in time this was true). They had a special going for Saturday - two Italian subs for the price of one with the purchase of two chips and a large drink. So, that's what I ordered. When I went to the fountain, all the labels had been removed except for the second to left one - Diet Pepsi. I asked if Pepsi was the far left one… no response. So, I went back to the register (only 10 ft away) and asked again. The guy looked at me blankly and then said, "Oh man. I'm really tired. I'm sorry, I forgot to mention we only have Diet Pepsi… and iced tea", pointing to the side where the dispenser was. I filled up with lukewarm tea. When the sandwiches arrived, we were hoping against all hope (for we've had several unsatisfying sub sandwich experiences so far in Austin) that these would be good. And… they were excellent. The small sub is 7-in and very filling. The acidic dressing brought out the best in the flavors of the cold cuts and the lettuce and the peppers were just the right amount of hotness to make the sandwich great without unpleasantness. They need a location south of the River!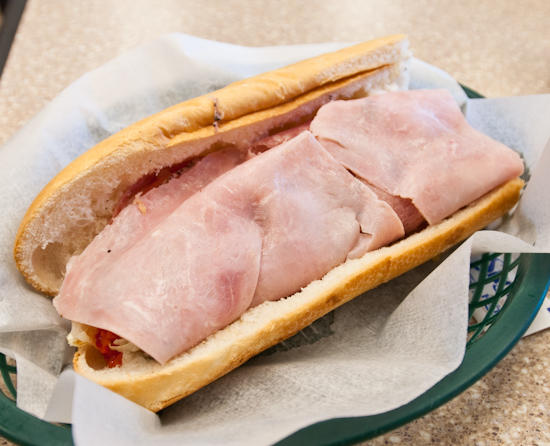 Dinner: Origami Sushi (110 N Interstate 35 # 200B, Round Rock, TX (512) 238-6522) - Late night dinner. Got there around 9:20pm. No complaints, at least another couple were seated after us. We saw ramen on the menu, so after asking the waiter (who went back to ask the chef) a bunch of questions, we decided to try it. (They don't make the noodles themselves, they do make the soup and it's not intended to be a fancy version of instant noodles but rather like the Japanese meal.) It's nothing like ramen.

The noodles are halfway between instant noodles and real ramen (but it's hard to get the texture and flavor of ramen without making it fresh and these aren't too bad considering they are probably dehydrated noodles). Tina ordered the miso ramen (since she generally doesn't like the soy sauce in water taste of shoyu ramen), but when it came it tasted like soy sauce in water (or a really weak chicken broth) with a tiny bit of miso (that Tina had to struggle to taste). It was also served with a bunch of stir fried shredded vegetables and a couple reconstituted shiitake mushrooms. There was a thin layer of shiny oil over the soup which seemed like vegetable oil (probably from the vegetables tossed into the soup) instead of from animals stewed into the broth. Not the worst ramen we've had in the Austin area (that would be Banzai Grill across from Central Market), but not good ramen either. Our waiter asked what we thought and we told him. He said he went to Japan once and loved the ramen and since then he's never ordered ramen anywhere in the US. We told him about a couple places in California and New York to try to get that taste.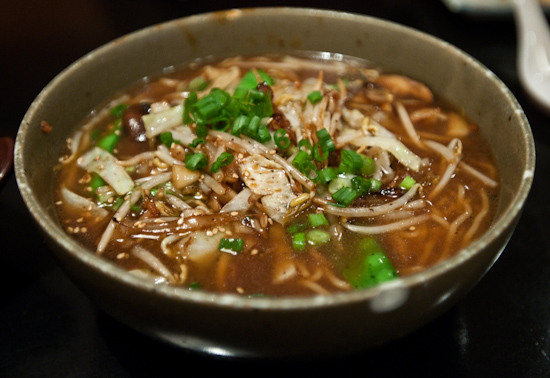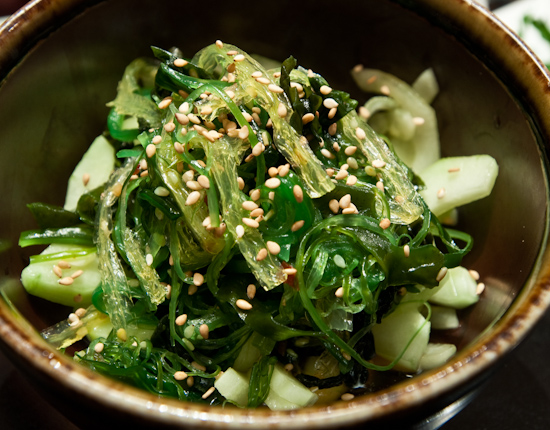 The tempura was not good. The exterior was crispy, but inside was soft and mushy (almost like runny dough). The shrimp was still tender, but the soft dough made it not so pleasurable to eat. (FYI, shrimp was not gulf shrimp, yay!) The vegetables in the tempura were not cooked enough and so were unappetizing.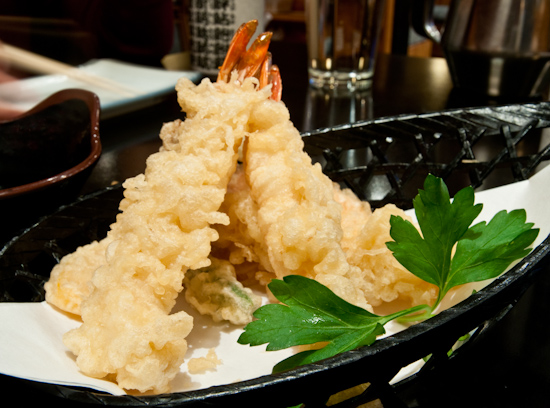 Egg Rolls (it was the special appetizer of the night for $1, so I got them) - previously frozen, so the vegetables were mush. Why frozen eggrolls and dumplings insist on using cabbage which turns to liquid goo when refried/baked/toasted after freezing will always be a mystery to me. Anyway, outside crispy, inside goo.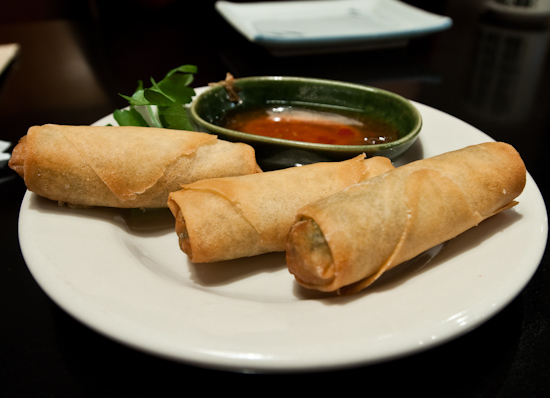 Sushi - I got an assortment of nigiri (although I was sorely tempted by the chirashi bowl) of the "normal" stuff so I could easily compare to other sushi-yas. Maguro, hamachi, sake, sake toro (only $2.99 for two pieces!), unagi, and tamago (they make it in house). All were fresh and good. I had also ordered uni, but they had to come back and apologize that they had run out. The rice was loosely packed with discrete grains, but not seasoned enough with vinegar. I could taste a bare amount of sweetness but not enough I felt to make the rice in the same league as Ryu of Japan or Musashino. The fish was laid over the zushi nicely so that it held firm which would make eating with fingers or chopsticks both easily viable. They were served "Western" style though (no wasabi embedded under the fish), so I mixed wasabi liberally into soy sauce and ate UNTIL I noticed on their board they had real wasabi. As I said to Tina, "They have real wasabi…", once of the sushi chefs looked over at me (we were two tables away) and said, "Real wasabi?" and I said, "yes please!" He brought over an ample portion and said, "on the house". I started taking apart my nigiri at that point and lathering on the sweet, tingly (growing to nose clearing spiciness and then abruptly dissipating to nothingness) coarsely ground root that makes that Green No. 3 enhanced horseradish paste taste like horserubbish. Even Tina (who normally doesn't eat much of the green horseradish stuff), was gobbling it up.