AUTHORS
CATEGORIES
ARCHIVE
ACTIONS
What I Ate: December 22, 2010 (Backspace)
Posted 29 December, 2010 at 8:26pm by Michael Chu
Dinner: We headed downtown to eat some thin crust pizza at Backspace (507 San Jacinto, Austin, TX 78701). When we arrived, we found out they hadn't opened the previous week as planned and we were, in fact, dining on opening night. We started with a great salad of romaine, giardiniera, red onion, herbs, pecarino romano ($7). It was dressed with the pickling juice from the giardiniera which added an amazing sweet and vinegary flavor to the simple blend of ingredients.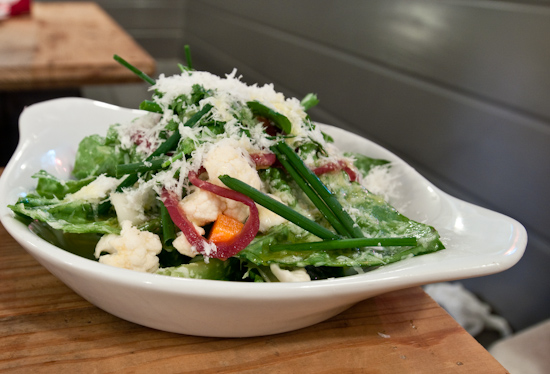 We also ordered speck which surprisingly came with olives (with pickled sunchokes), butternut squash chutney, and bread (all for $4!).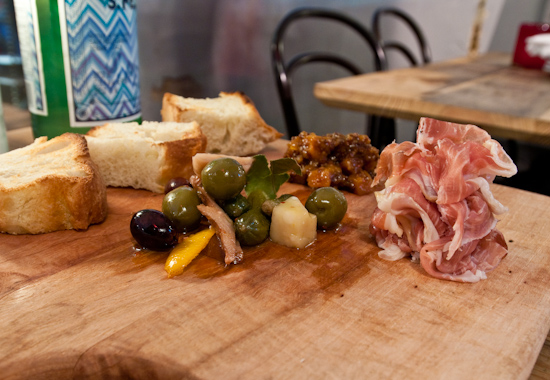 Our first pizza was their fennel sausage, mozzarella, roasted peppers, garlic, parmesan pizza ($13).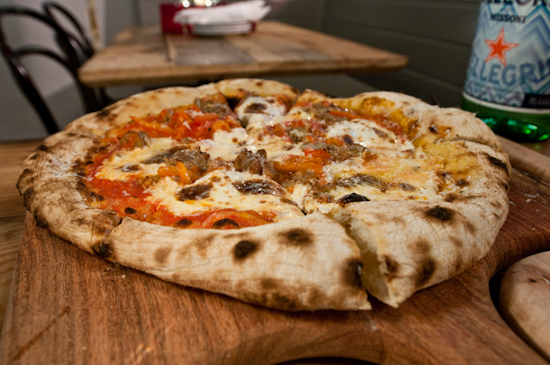 Next was the roasted mushrooms, ricotta, tomato, capers, thyme pizza ($13).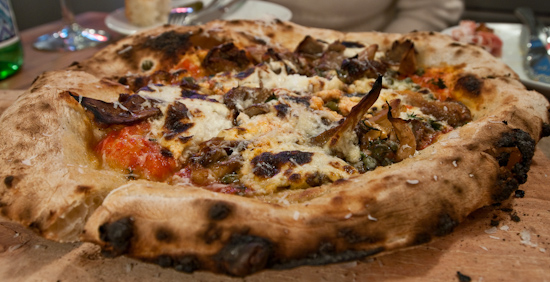 Both were excellent. I especially liked the mushroom pizza especially due to their use of earthy, meaty oyster mushrooms. My only criticism is the crust which could have been better if more of it was covered by sauce or toppings (some pieces of the mushroom pizza was more than 50% blank crust). Since the crust isn't salted (or way undersalted), it's not particularly flavorful (even though it is nicely crispy). Eating the crust with the speck worked well (that's actually why I ordered the speck - when we ate at Backspace two weeks ago for the media event, I found the crust had been bland). Another technique that I found that worked well was to take a bite of the pizza with toppings followed by a bite of the crust (the toppings are flavorful enough to easily provide ample flavor to the additional bite of crust). Even with the relatively bland crust, the pizza at Backspace is currently our favorite in Austin.
We ended the meal by trying their hazelnut chocolate budino ($5.50) which we found to be a fairly pedestrian chocolate pudding.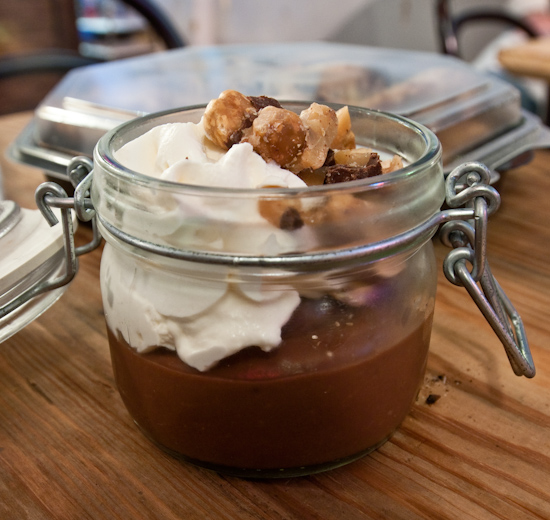 Lunch: Pork Tamales with Cholula hot sauce