AUTHORS
CATEGORIES
ARCHIVE
ACTIONS
What I Ate: December 16, 2010 (Uchi)
Posted 26 December, 2010 at 9:32pm by Michael Chu
Dinner: For my birthday, we dined at Uchi (801 South Lamar Boulevard, Austin, TX (512) 916-4808). Overall, our dinner was great, but we were definitely bored at some points during the meal (not because the food wasn't excellent, but because much of the menu stays the same and we had become quite familiar with many of the dishes). The best part of the meal was the sushi with fresh wasabi (it's amazing how much better a bit of fresh wasabi makes already excellent sushi) and the hamachi nabe.
shun no kaki shibumi oyster, spiced vermouth, jalapeno, coriander, $4 each.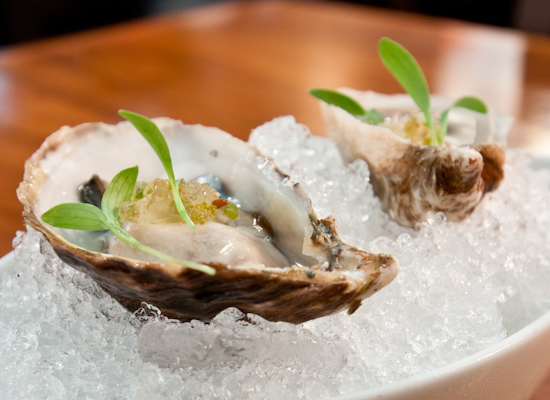 tempura brussels goma shio, shiro dashi, $5. Today, this (our favorite thing on Uchi's menu) was unevenly coated but still good.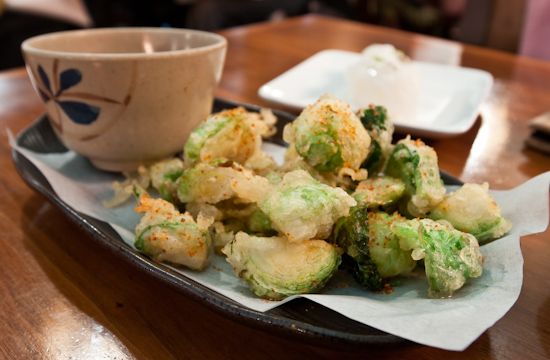 mizu dako japanese octopus, $6 each.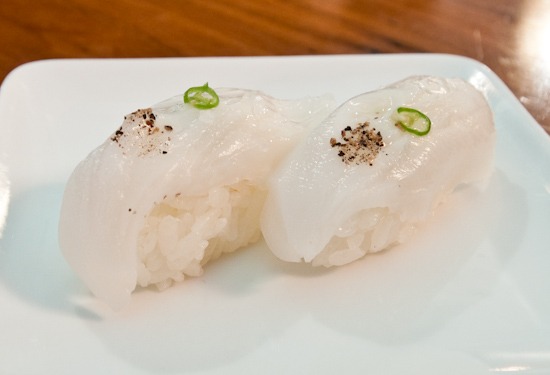 uni sea urchin, $4.50. For some reason this was served with shiso instead of simply on the excellent zushi rice. The uni was amazing - sweet and fragrant… perfect.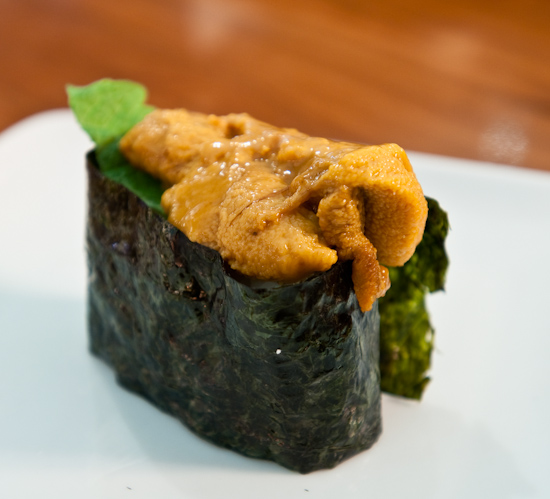 The fresh wasabi ($6 for that tiny bit) arrived at this point.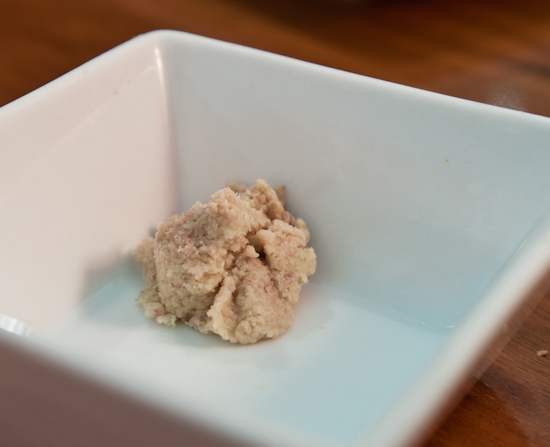 age dofu lightly fried tofu with dried bonito shavings and dashi broth, $5. This was Tina's favorite dish. The lightly fried silky, soft tofu was warm and comforting when eaten with the flavorful dashi.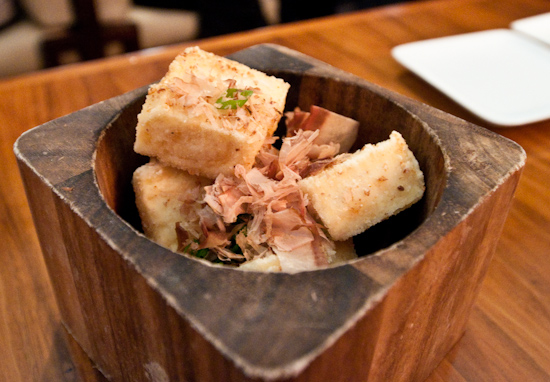 maguro sashimi and goat cheese with cracked pepper, fuji apple and pumpkin seed, $18. Maybe we've had this dish a few too many times (seems like we get it every time we eat at Uchi), because it seemed to be a bit plain even though it was nicely prepared.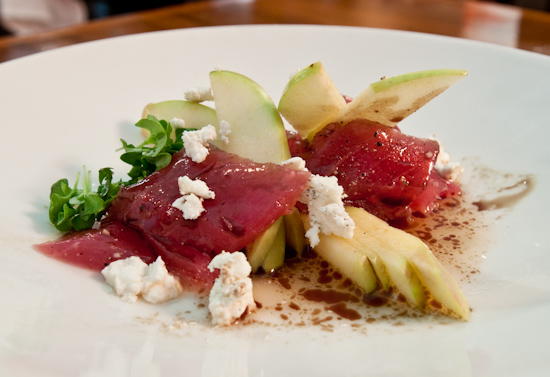 spider roll softshell crab, flying fish roe, english cucumber and white soybean paper, $9.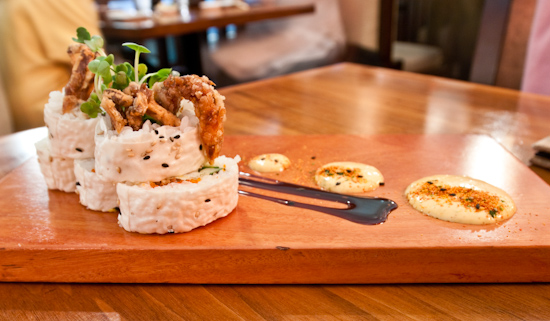 sake fresh atlantic salmon, $3 each. The sake nigiri was so good with fresh wasabi that we ordered a couple more pieces after finishing these.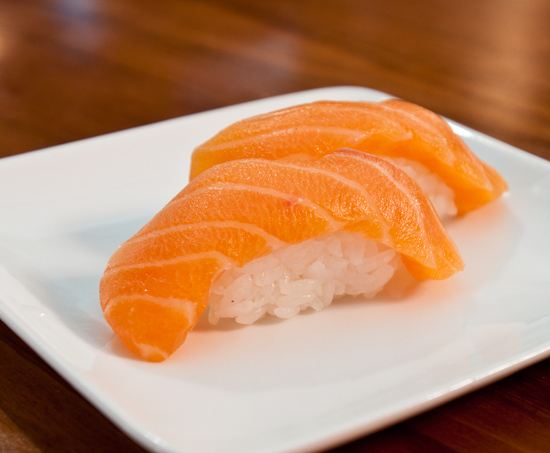 hamachi nabe crunchy yellowtail sashimi with crispy koshi hikari rice, ringger farm egg and sweet soy broth, $18. My favorite dish this meal. The rice bowl was crunchy, salty, and delicious. While the age dofu was Tina's comfort food dish, this one was mine.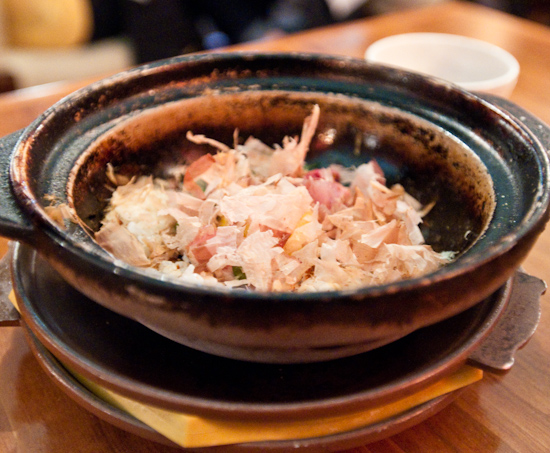 cauliflower tempura hanna togarashi shiro dashi, $5. We've never had fried cauliflower before, so we were curious to try it. This is just as good as the brussels sprouts. I'm pretty sure this will be a dish that we're going to eat every time we return to Uchi.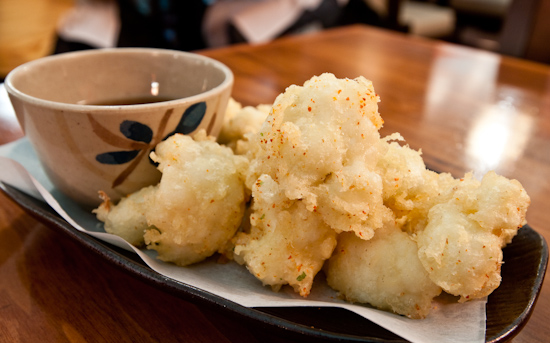 coffee panna cotta with mango 'yolk', coffee soil and white chocolate sorbet, $9. This was an interesting dessert. The dense white panna cotta was a mild coffee flavor and when cut into oozed a mango syrup. I found the coffee soil to be a bit distracting and not quite a texture that I liked. The flavor of the panna cotta wasn't quite strong enough for me. I think I would have preferred ordering the jizake creme caramel again.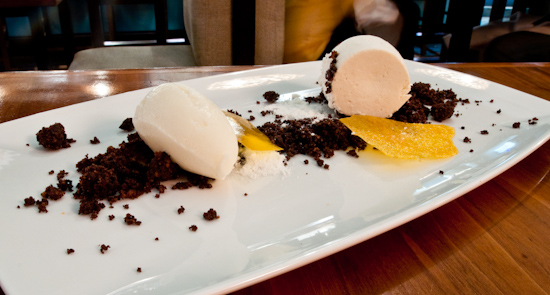 Lunch: I had a microwaved tamale for lunch.