AUTHORS
CATEGORIES
ARCHIVE
ACTIONS
What I Ate: October 4, 2010 (Sushi A Go Go, Sushi Zushi)
Posted 7 October, 2010 at 11:43pm by Michael Chu
Dinner: We decided to go try the Sushi-a-go-go food truck because we heard that Uchiko's head sushi chef, Yoshi, went to work for them. We hit the south truck (801 Barton Springs Rd., Austin, TX (512)423-7170) just a few minutes before closing so we only had a chance to make one round of orders (which wasn't enough). It was also a little weird eating sushi outside on a picnic bench next to a busy street.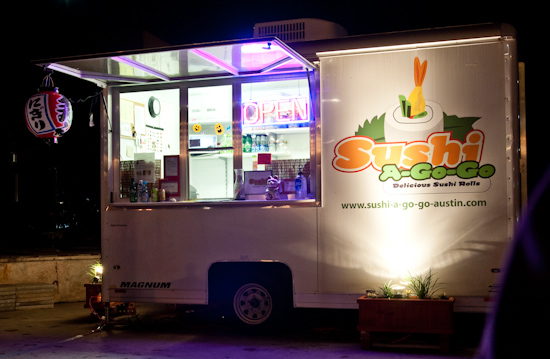 Seaweed Salad ($3.50)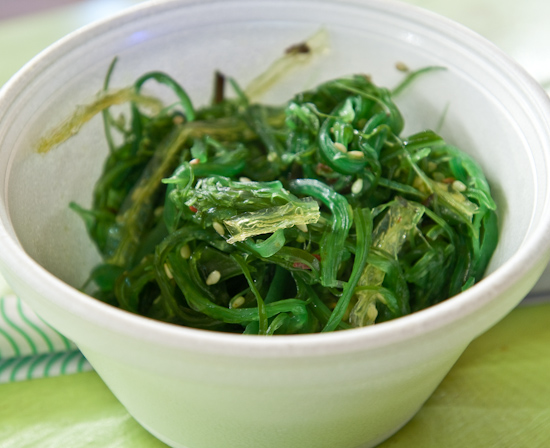 Texas Surf & Turf roll Tempura Shrimp, Grilled Steak, Candied Jalapeno, Cilantro, Green Leaf Lettuce, Avocado, Green Texas sauce ($7.50). Our favorite of the rolls we tried. Excellent flavor combination and tender steak (never had steak in a sushi roll before and we think it's a great idea!)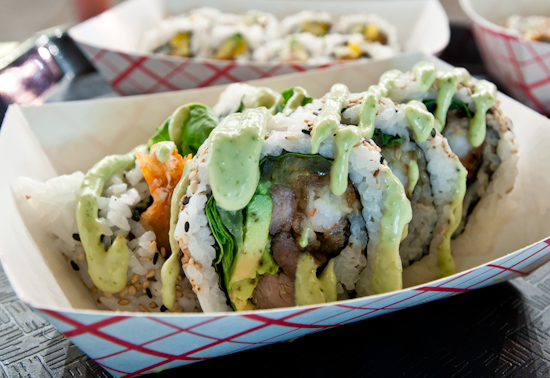 Shu-mai ($2.95). These fried dumplings tasted like they came out of a frozen package (which they probably did since they taste almost exactly like a frozen pack I bought once). The filling was mushy, watery and pasty. Pass.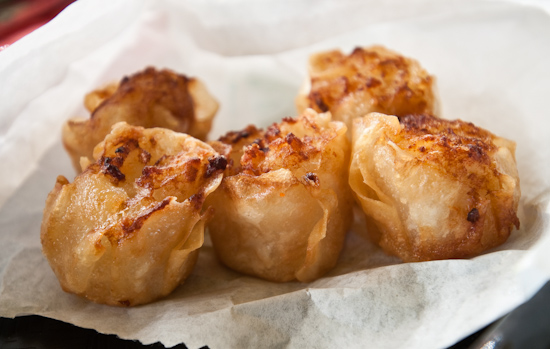 Sunshine roll Fresh salmon, Mango, Avocado ($6.00). One of their best sellers. It's a pretty good roll, but needs the assistance of some soy sauce to bring out the flavors.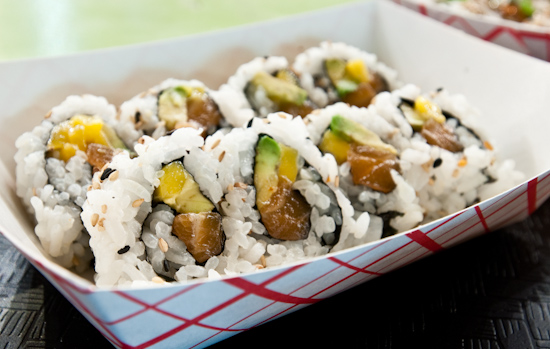 Salmon Skin roll Baked salmon skin, Cucumber, Burdock root, scallion, Masago, Eel sauce on top ($6.00). I'm a fan of both crispy salmon skin and pickled burdock, so I ordered this. Like many salmon skin rolls, this roll suffered from being a little too dry (although not nearly as bad as some other salmon skin rolls I've had before).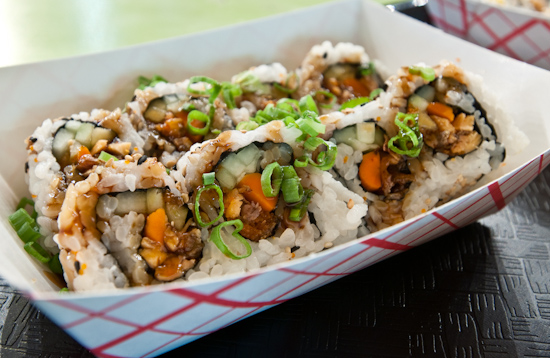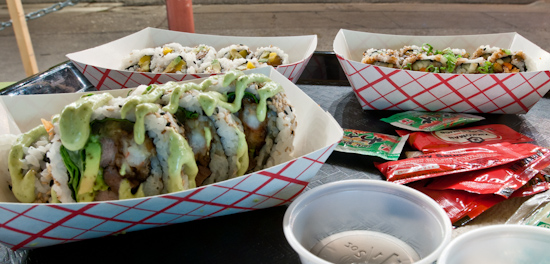 We were still a little hungry, so we headed over to Sushi Zushi (1611 W 5th St # 105, Austin, TX (512) 474-7000) to have second dinner (we were craving the black sesame ice cream).
All Vegetable Tempura, $5.50. This was the largest variety of tempura vegetables we've ever had. Shredded carrots, zucchini slivers, mushrooms, banana, sweet onion rings, sweet potato (or maybe squash), and green bell pepper (which was surprisingly interesting).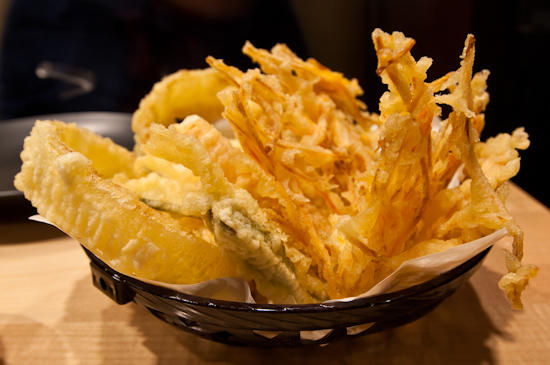 My Spurs roll Yellowtail, cilantro, avocado, tomato, chives, and toreado serrano chiles, $10. This tasted like someone made a salsa and found some way to put those flavors into a sushi roll. We found it refreshing, but unfortunately the flavors mask the fish (to the point where it serves only as texture).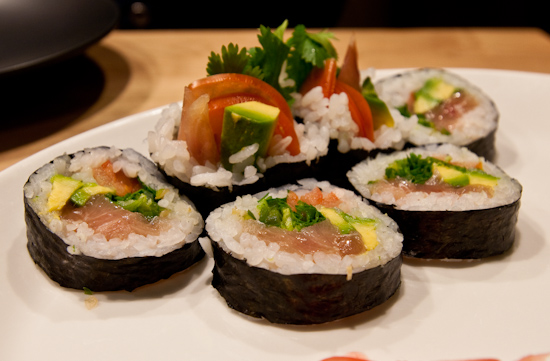 Black Sesame Ice Cream. Although still very tasty, we think getting two scoops of black sesame ice cream and one scoop of green tea ice cream like we did last time might make a superior dessert. The two ice creams worked really well together and we felt that helped heighten both the flavor and our enjoyment of the black sesame ice cream more.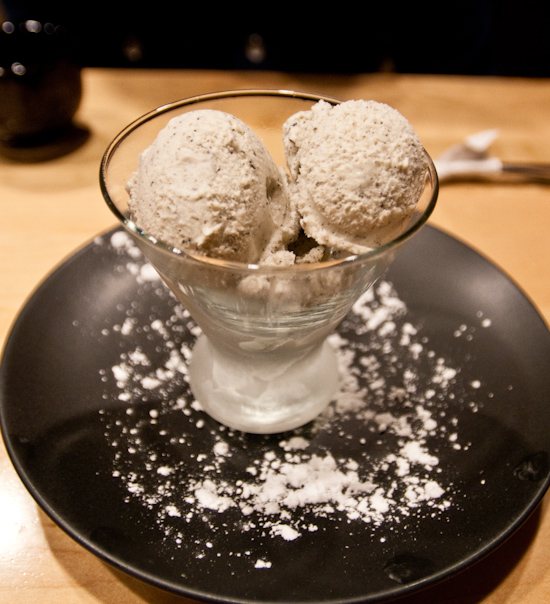 Lunch: I had two zong zi.