AUTHORS
CATEGORIES
ARCHIVE
ACTIONS
What I Ate: October 18, 2010 (Per Se)
Posted 28 October, 2010 at 9:55pm by Michael Chu
Dinner: We had a late dinner at Per Se (10 Columbus Cir # 6-REST, New York, NY (212) 823-9335) starting around 10pm. This was a bit late for us to start eating dinner, especially after not getting much sleep the last two days (traveling between New York and Philadelphia and back). Execution wasn't perfect - the butter poached lobster was very chewy and flavor wasn't as good as the similar dish we had at Le Bernardin, but the high points of the food were simply amazing - the best foie gras preparation we had ever tasted, the best fish course (sauteed halibut), all the breads were outstanding with the highlight being a brioche toast that blew me away, the best doughnut we've ever had, a seemingly endless supply of mignardises…
Service was a bit weird at first, making us feel pretty awkward for the first thirty minutes of our meal. At these prices, it's unacceptable - but, over the course of the evening the staff seemed to warm up and by the end everything was made perfect by a visit to their expansive kitchens where Thomas Keller waved at us from the kitchen of The French Laundry via teleconference! (Tina said I kept waving at him like an idiot… what can I say, it's Thomas Keller!)
I'm working on a more complete documentation of our dinner to be posted at Cooking For Engineers and I'll post a link here when that is ready. In the meantime, enjoy these teaser photos.
Through these doors (the automatic sliding glass ones on the sides, not the big blue door) awaits one of the best fine dining restaurants in the United States.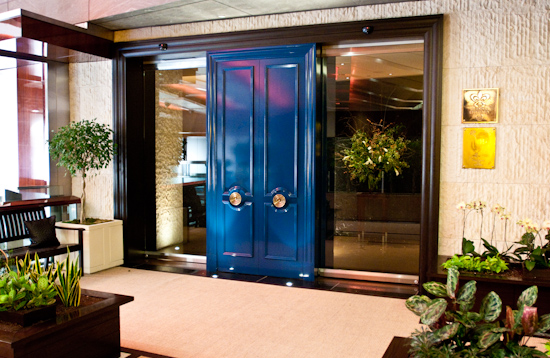 Sugar Pie Pumpkin "Amandine"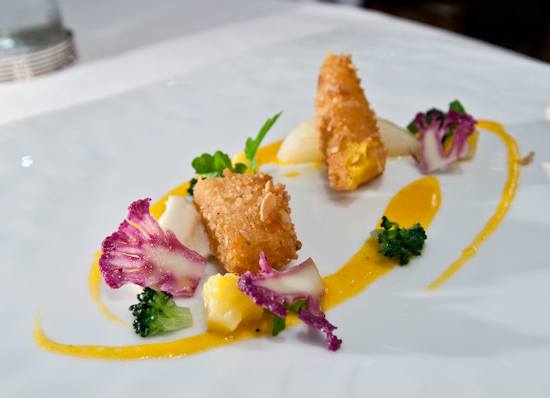 "Torchon" of Élevages Périgord Moulard Duck Foie Gras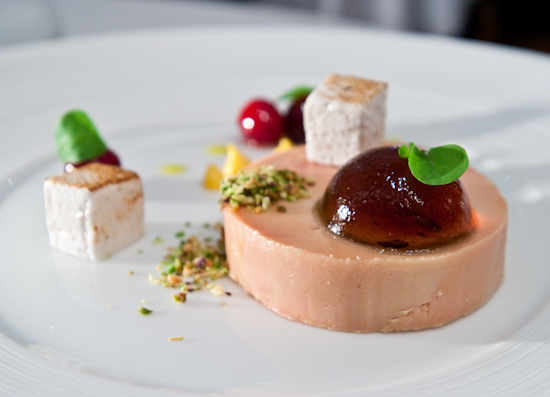 Sautéed Atlantic Halibut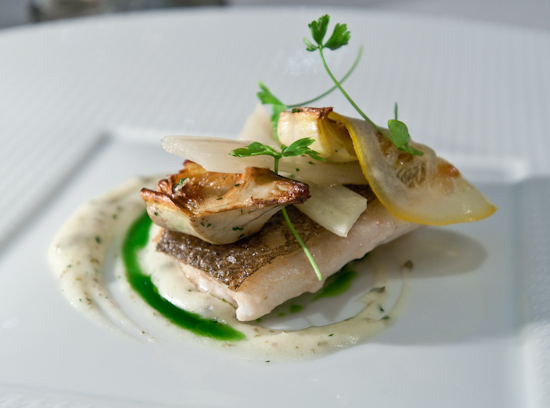 "Tropical Tea"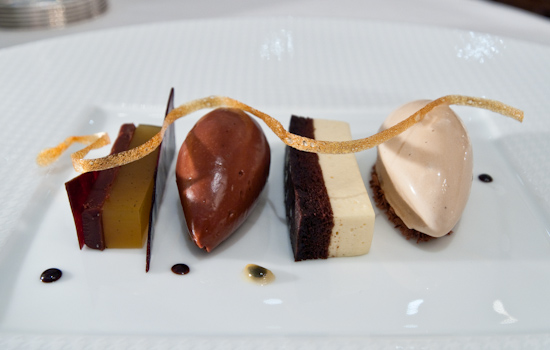 "Coffee and Donuts"