AUTHORS
CATEGORIES
ARCHIVE
ACTIONS
What I Ate: October 17, 2010 (Pat's King of Steaks, Geno's Steaks, Buddakan)
Posted 23 October, 2010 at 2:42am by Michael Chu
Lunch: We met up with our friends Trevor and Signe in Philadelphia where we had cheesesteaks from both Pat's King of Steaks (1237 E Passyunk Ave, Philadelphia, PA (215) 468-1547) and Geno's Steaks (1219 S 9th St, Philadelphia, PA (215) 389-0659) which are situated across the street from each other.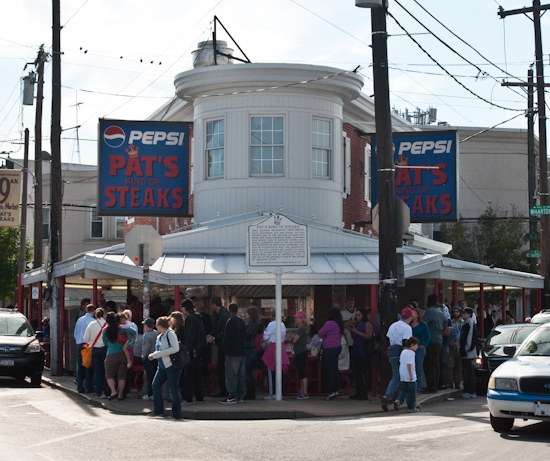 I believe Pat's invented the Philadelphia Steak Sandwich in the 1930's while Geno's came along later with a snazzier shop with brighter lights. Both claim they were the first to add cheese to make the Cheesesteak, but it seems that Pat's was the first to use Cheez Whiz.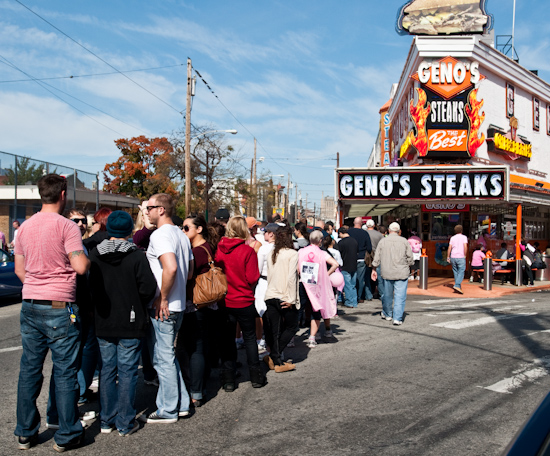 We sent the ladies over to Pat's to order a "Whiz Wit" (Cheez Whiz Cheesesteak "Wit" Onions) and while Trevor and I went over to Geno's to do the same. When we regrouped afterward, we discovered that they had deviated from the plan and purchased a cheesesteak with Cheez Whiz, onions, AND mushrooms and peppers. Now our side-by-side comparison was lopsided and we thought Pat's was sure to win with the extra flavors of grilled mushrooms, and bell peppers.
Geno's Cheesesteak had beef strips that seemed to be browned a bit more than Pat's (who makes the sandwich with chopped steak). The meat tasted a tad sour (a flavor I associate with cheap beef - which, I guess, is exactly what it should be) and not much else, but relatively tender. The Cheez Whiz was a good gooey consistency and helped coat the beef with each bite. The bread was firmer than Pat's but still soft enough to not squeeze out the Cheez Whiz and mutilate the sandwich. I wish the flavor was stronger as the whole thing was fairly bland.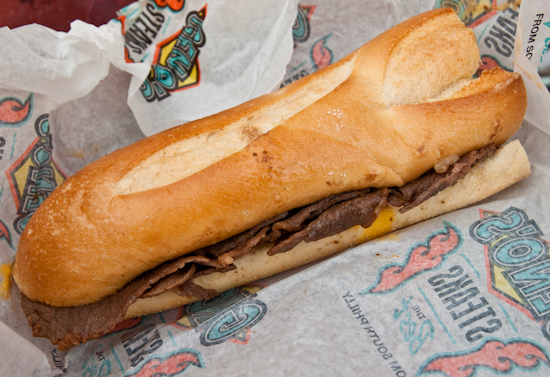 While Geno's Cheesesteak was borderline flavorless, Pat's was almost completely devoid of flavor. Had I not known I was eating beef, I would have been hard pressed to guess the protein in the sandwich. Not only was it flavorless, the beef was chewy and stringy - leaving me with Pat's steak stuck between my teeth until hours later when I got some floss. The Cheez Whiz was strangely runny (really liquidy) dripping out of the sandwich as if it had been diluted in some fatty liquid. It also seemed like there was less Cheez Whiz overall, but this might have been because of excessive liquid introduced by poorly handled grilled vegetables. Overall, I found Pat's to be not worth eating.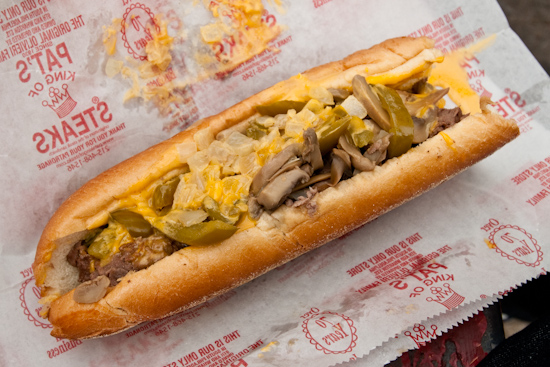 Trevor, who normally prefers Pat's over Geno's, explained that Pat's is usually more flavorful and not as chewy as the one we had today. We split another Cheesesteak with Cheez Whiz and onions.
Dinner: After changing (and flossing), we headed over to Buddakan (325 Chestnut St, Philadelphia, PA (215) 574-9440) for a fun and tasty dinner. We split a couple of appetizers and several mains.
Kobe Beef Satay Vegetable tempura, $16. Tender, flavorful beef and an adequate tempura on the side. It was more tender than most beef satays I've had, but didn't taste particularly exquisite. (I'm guessing a "run of the mill" American wagyu as opposed to Snake River Farms or real Wagyu from Japan.)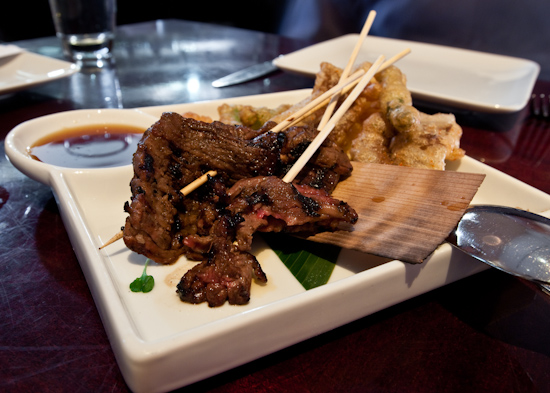 Vietnamese Crepe Shrimp, pork, coconut, mango, $9.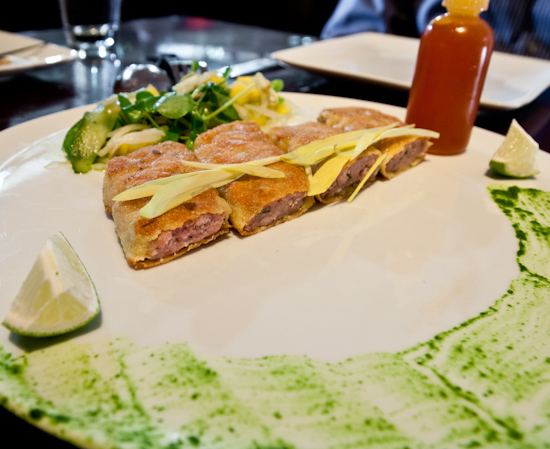 Five Spice Duck Breast Roasted garlic, corn and scallion spoon bread, five spice jus, $26. A lot of the time, I don't like the use of five spice outside of traditional Chinese cooking because the spices just taste weird to me if not properly used. I felt that in this case the spices were rather muted (could have been called something else and I wouldn't necessarily have guessed it was five spice), but that worked really well with the perfectly seared medium-rare duck breast. The highlight of the plate was the corn bread which was incredible flavorful and paired well with breast slices.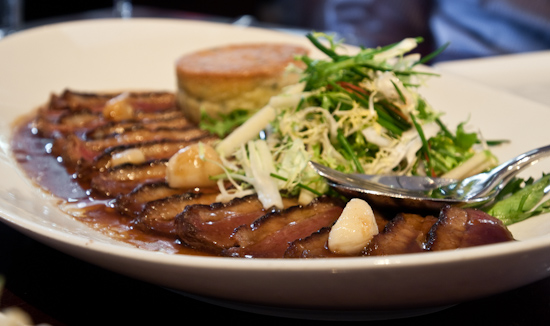 Kung Pao Monkfish Chili-Szechuan sauce, peanuts, $27. I don't think I've ever had monkfish battered, deep-fried, and drenched in a sweet and very mildly spicy sauce, but it worked really well. Monkfish has a firm texture and mild flavor that really lent itself to this type of preparation.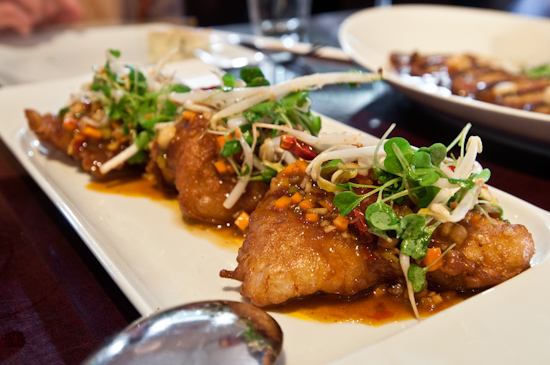 Pan Seared Sea Bass Haricots verts, butternut squash, maitake mushrooms, truffle jus, $31. This Chilean sea bass (a pet peeve of mine is when menus don't call out Chilean sea bass and just state sea bass - sea bass tastes so completely different in both texture and flavor that it's misleading to just say "sea bass") dish was probably my favorite in terms of flavor. The fish was slightly overdone (parts were starting to lose the buttery, fall-apart-in-the-mouth texture of properly prepared Chilean sea bass), but the sauce was incredible (and clung very well to the fish, coating every bite).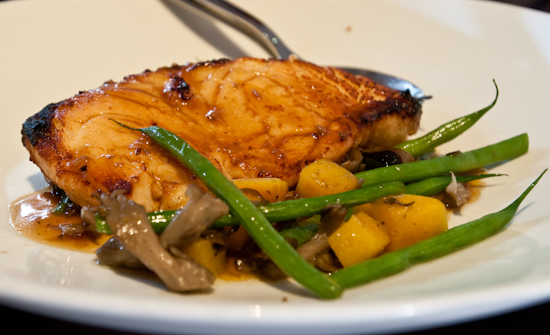 Hot & Sour Scallops Chinese sausage, sweet corn tofu, black mushrooms, $25. Our last main also had good flavor, but the scallops were overdone a little resulting in the protein structure tightening and forming distinct fibers and banding throughout the center of each scallop instead of a perfectly smooth consistency.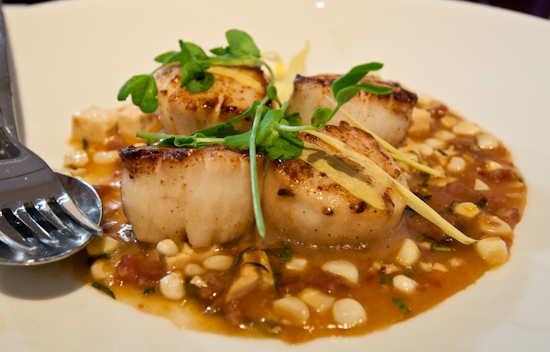 After splitting all that food, Tina and I were still hungry, so we ended up ordering several desserts.
The Chocolate Bento Box Chocolate pagoda, cashew candy bar, warm babycake, white chocolate passion panna cotta, chocolate almonds, banana tower, $14. This was a fun set of mignardises since there was so much variety and each was flavorful and distinct.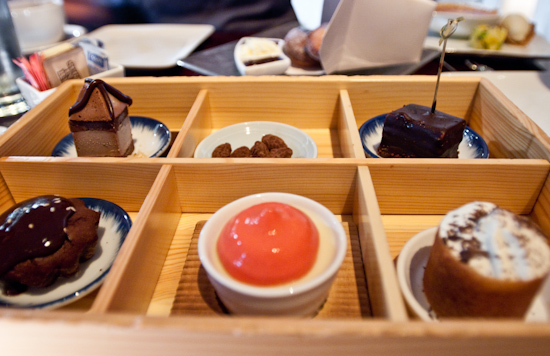 "Dip Sum" Doughnuts Five spice sugar doughnuts, blackberry jam, chocolate sauce, gingered cream cheese, $9. I ordered this because Marc Summers chose this dessert as the best thing he ever ate with his bare hands for the Food Network show "The Best Thing I Ever Ate". They were pretty decent doughnuts, but no where close to the best thing I've ever eaten with my bare hands (and not even the best doughnuts I've had; in fact, the doughnut hole I had at Per Se the following night caused me to exclaim out loud with excitement - which these did not). I especially liked the cream cheese sauce which I believe was Trevor's least favorite. I felt the chocolate sauce was too hard to get onto the doughnut and should have been softened either through blending with a cream or heating. A note about the menu description - there were five doughnuts which were dusted with sugar and spice - NOT doughnuts seasoned with five spice which I originally wondered about (now that would have been interesting and exciting… not sure if it would be good, but it would be a first!).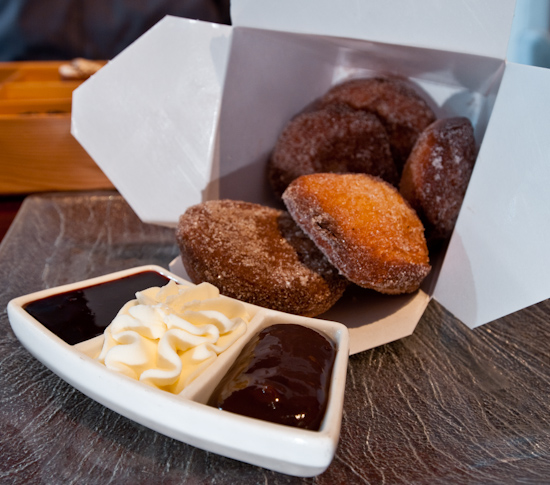 Yuzu Crème Brûlée Japanese citrus, pineapple-lemongrass sorbet, sesame tuile, $9. This flavor of the custard was excellent - citrusy and refreshing. I didn't care for the texture which was too runny for me to consider a true custard. I like creme brulee to have a firm but velvety texture (similar to silken tofu but denser) where scooping some with your spoon carves away rich custard but leaves the rest intact. This one flowed and tumbled into curds. Still, the flavor was a delight.