AUTHORS
CATEGORIES
ARCHIVE
ACTIONS
What I Ate: October 16, 2010 (Absolute Bagel, 53rd and 6th Halal Cart)
Posted 21 October, 2010 at 10:12pm by Michael Chu
Lunch: We stopped at a bagel shop in the Upper West Side called Absolute Bagel (2788 Broadway, New York, NY (212) 932-2052) which had been recommended in a couple different places as an excellent example of the New York Bagel.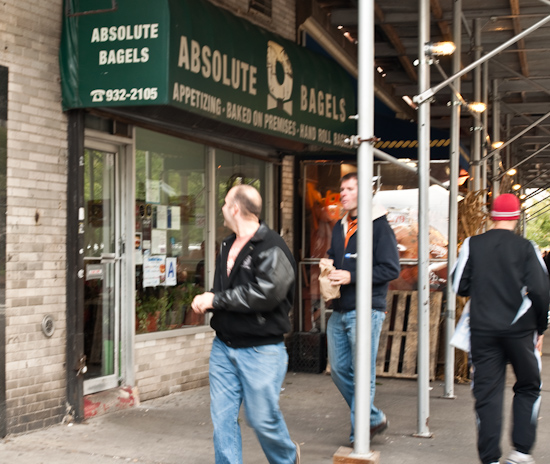 We bought a couple bagels and walked to nearby Straus Park and ate them on a park bench. I had a garlic bagel (toasted) with lox spread and tomatoes and lettuce ($3.65). The lox spread was a little too mild in flavor (really, not much lox flavor that I could taste). The bagel itself had good chew and good flavor.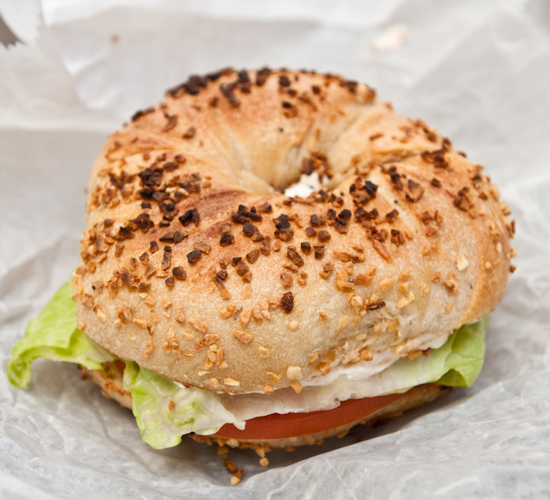 Tina had a toasted everything bagel with liverwurst ($4.10). The combination of the liverwurst (which was fairly salty) with the everything bagel (which had large grains of salt in addition to the normal collection of toppings) made the bagel sandwich a little salty. We ended up swapped sandwiches after eating one half to taste the other's, but had we not done that I don't think we could have handled the saltiness of the liverwurst bagel sandwich.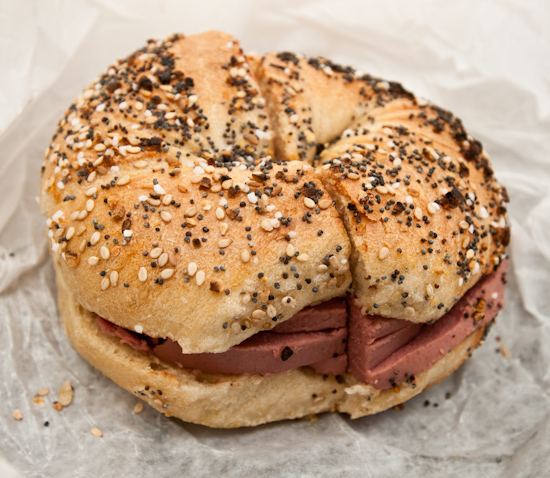 Overall, we liked the bagels, but found the sandwiches to be lacking. While walking back to the subway station, we stopping in again and got a cinnamon raisin bagel ($1.00) which we shared while walking up Broadway.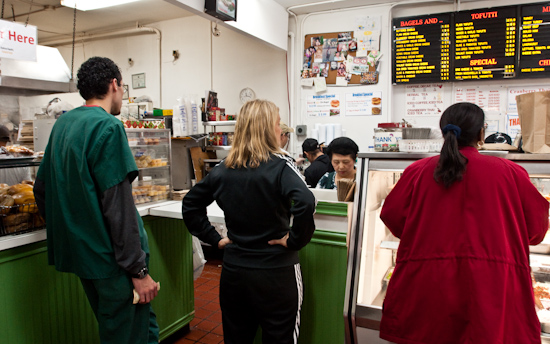 Dinner: After a long day at the Cloisters and Central Park, we grabbed dinner (again) at the 53rd and 6th Halal Cart before going to our 10pm performance of Fuerza Bruta. I avoided the red sauce this time (even though I loved the flavor) and got a "Combo with Rice" which included lamb and chicken (the lamb meat, cooked on a rotisserie in gyro or shawarma style, was flavorful but a bit salty, so it worked really well mixed with the shredded chicken). What was missing was the lettuce that I had last time with the chicken and rice, so I might have ordered incorrectly. Regardless, it was good, almost as good as the first time (I missed the hot sauce that I knew I should eat anymore of). At 8pm, the line was fairly long (although, I was told that it could be much, much longer extending from 6th Ave to almost 7th Ave) but went quickly - about 15 minutes for us to get to the front and receive our food.