AUTHORS
CATEGORIES
ARCHIVE
ACTIONS
What I Ate: October 14, 2010 (Empanada Mama, 53rd and 6th Halal Cart)
Posted 18 October, 2010 at 1:49pm by Michael Chu
Lunch: We walked over to Empanada Mama (763 9th Ave # 1, New York, NY (212) 698-9008) in Hell's Kitchen for a late lunch before heading to the GE Building for a taping of Late Night with Jimmy Fallon (who I got to high five!). We tried a whole bunch of different empanadas as well as a salpicon fruit cocktail that came with a large quantity of chopped fresh fruit (grapes, apples, watermelon, and bananas).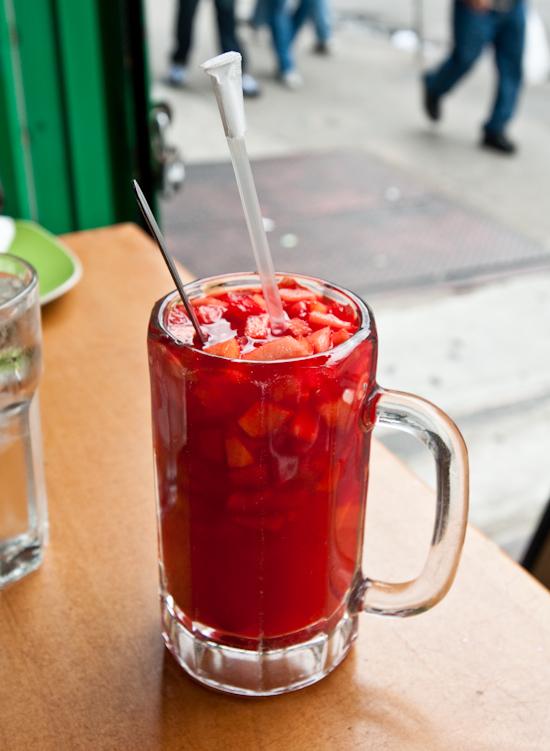 The empanadas arrive in their own paper pastry bags stamped with the type of empanada at the top. I took a picture of each empanada whole as well as cut open to show the fillings.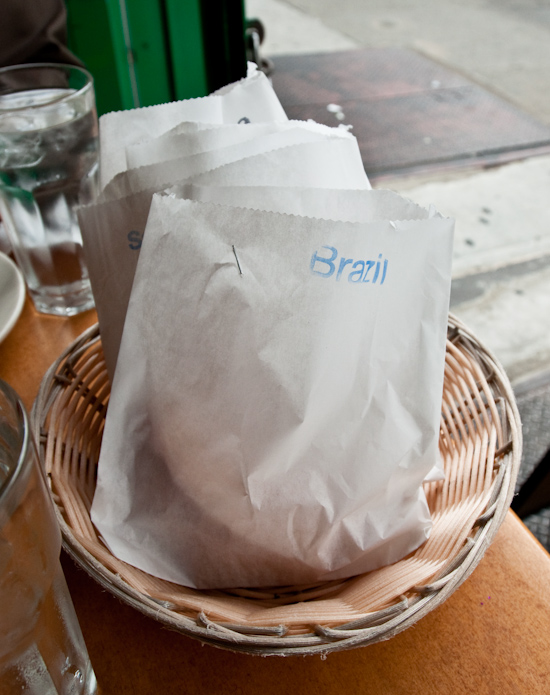 Brasil traditional Brazilian style empanada with ground beef, olives, sauteed onions, and potatoes (in wheat flour shell), $2.77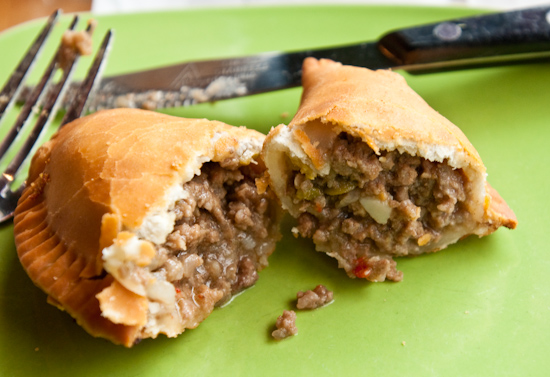 Chorizo ground Spanish sausage with classic Latin herbs and spices (in corn flour shell), $2.60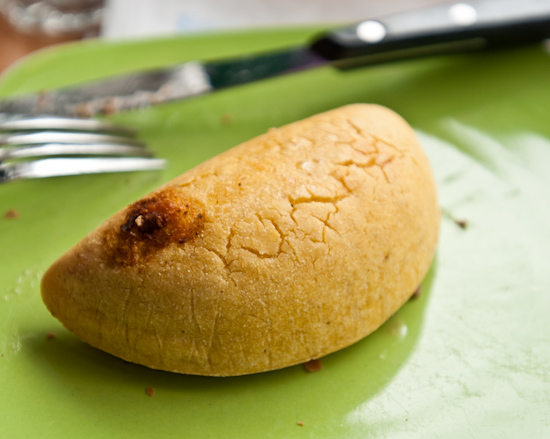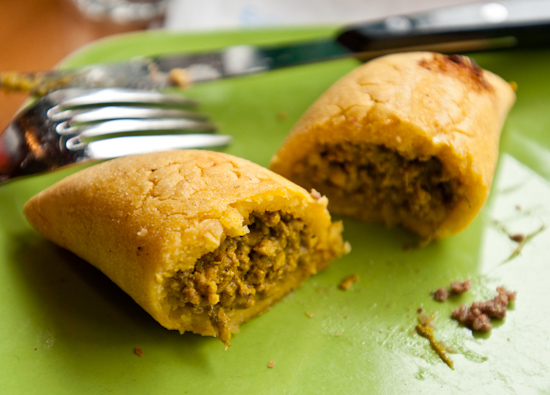 Reggaeton Caribbean style roast pork with sofrito seasoned yellow rice and gandules (peas) (in wheat flour shell), $2.77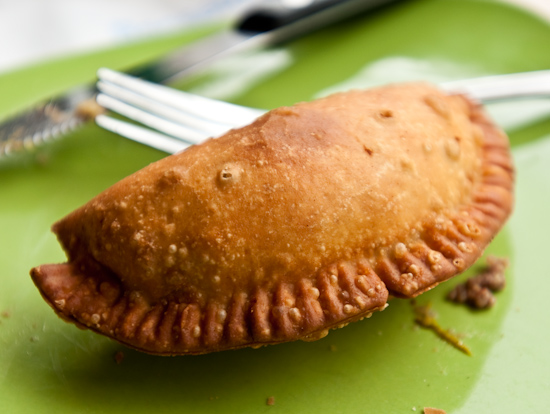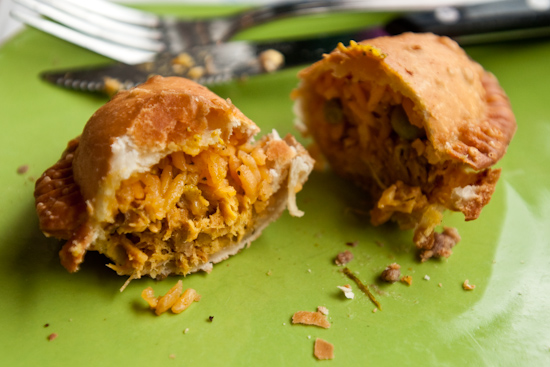 Viagra mama's seafood stew with shrimp, scallops, and crab meat (in wheat flour shell), $3.00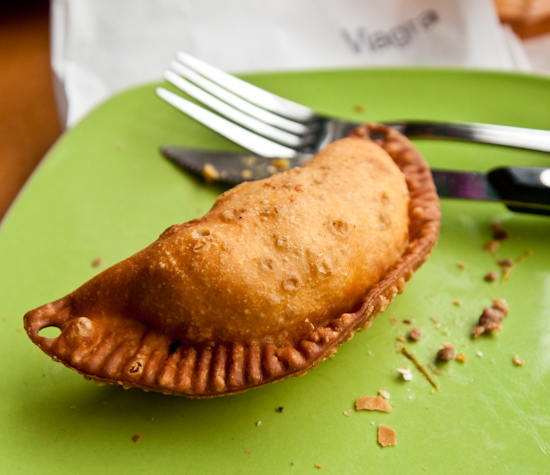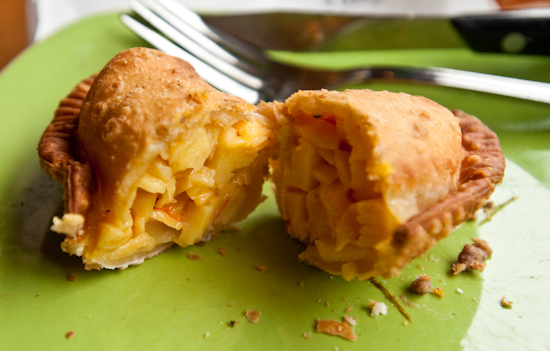 Ground Beef traditional Colombian style ground beef (in corn flour shell), $2.60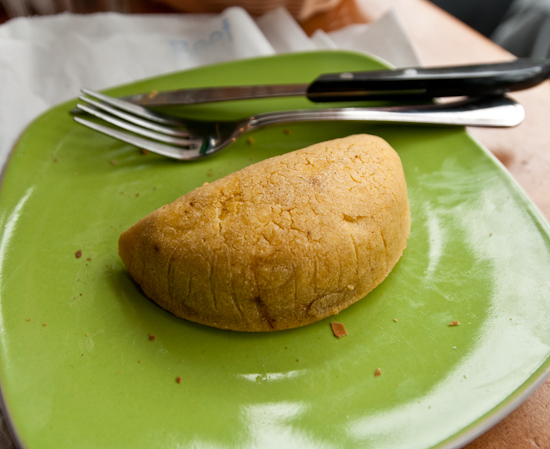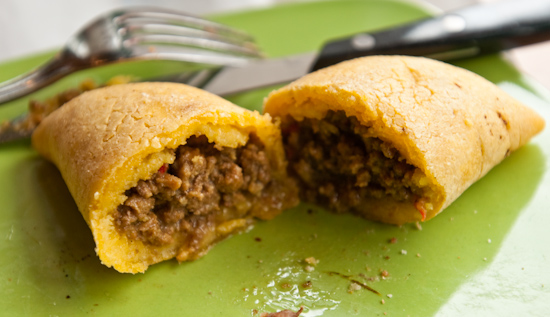 Cheesesteak Skirt steak with mozzarella cheese and a Latin twist (in wheat flour shell), $2.77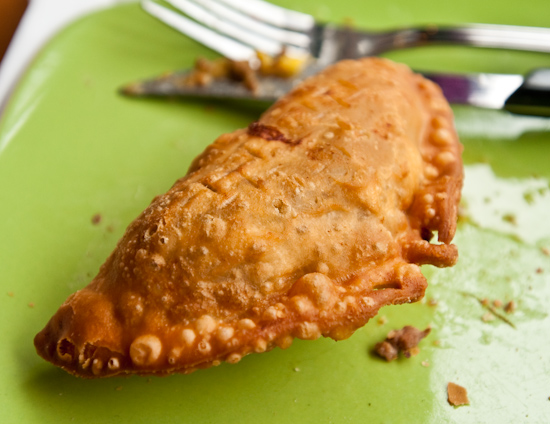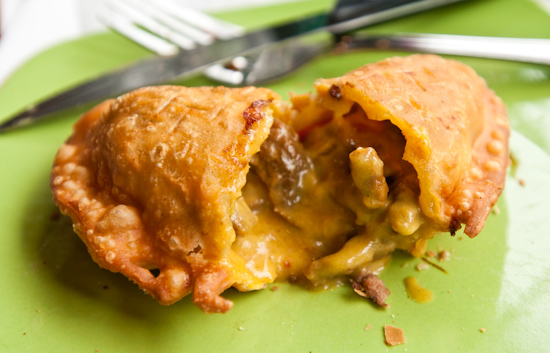 We liked it enough that we had another Chorizo.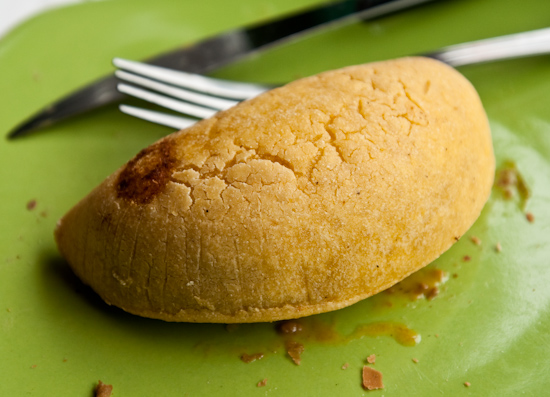 USA apples and cinnamon, $2.52. I should make a note that I thought this one would be like one of McDonald's fried apple pies because that's how it smelled. It wasn't at all like that though - the filling tasted fresh and it wasn't sickly sweet. Just the right balance.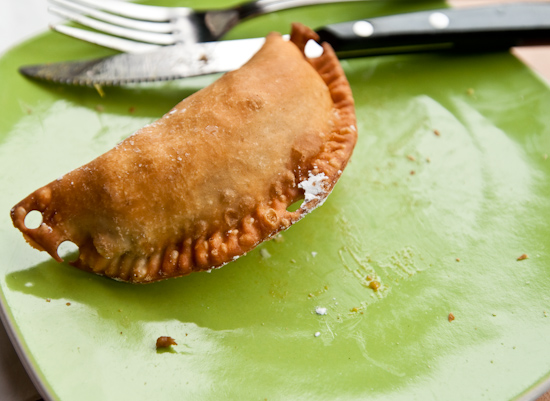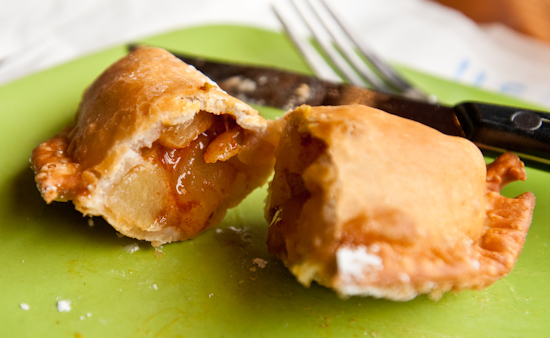 Belgian Milk Chocolate and Banana, $2.77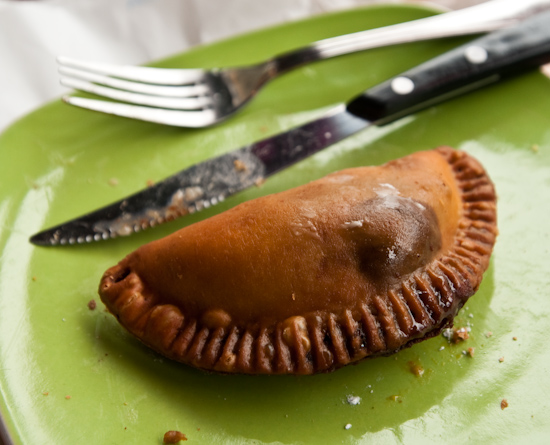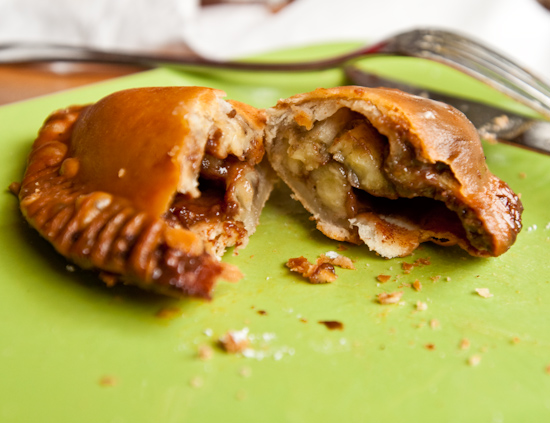 Every single empanada was excellently made with the perfect dry and flaky crust (no a single one was soggy) around a hot and delicious filling. So good. The best thing is they are open 24-hours!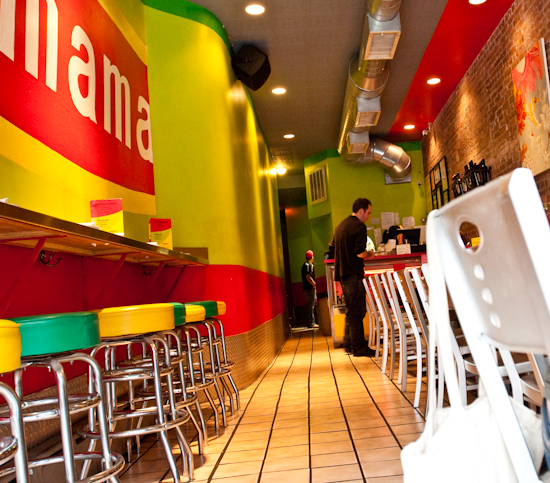 Dinner: After watching a performance of Promises, Promises (without Kristin Chenoweth which disappointed a lot of the audience - I think she was probably en route to Oklahoma where she is performing Friday and Saturday… they were giving refunds to people who wanted them), we had some trouble figuring out what to eat for dinner. We went to Ramen Totto to try their ramen, but ended up at Totto Yakitori a few blocks away. Then we found Ramen Totto, but they closed early due to city maintenance of a major water line (the whole street had been dug open). We then headed back to the hotel to grab a cookie and look up other restaurants on the computer, but decided to swing by Pax Wholesome Foods for a chocolate roll that Tina liked from our last visit two years ago. Unfortunately, Pax was closed already, so we turned back around and got to the hotel which had run out of their cookies. Back in the room, I finally identified a couple other places to try, but upon calling (which was a brilliant suggestion by Tina) found the kitchens to be closed (so don't always assume that if Yelp lists a place as open late night that food will be served while they are open, may places double as bars). Then, I came across a Yelp listing for some street food that had a 4.5 star rating with over 1,100 reviews! I had never seen so many reviews (and most of the food choices near where we were had 100 or fewer reviews), so we decided to head over there and get a couple of plates of chicken and rice. (We actually didn't know what to order since there's no menu, but a guy who said he came in from Brooklyn just to eat this tonight - past midnight - helped us out by telling us just to ask for the chicken and rice.)
I covered mine with their delicious and slightly tart white sauce as well as an ample amount of the red (I saw many of the patrons adding decent amounts of red sauce). Don't do that on your first visit - just use a tiny dollop to see if you like it. I personally LOVED the flavor of the spicy red sauce which I thought wasn't all that spicy until the minor persistent burn began to hit me full force. My mouth wasn't technically on fire (like some hot sauces make you feel), but my body was reacting to it (to the point of producing excessive amount of phlegm and mucus and forcing me to stop eating and hunt down a drink which I bought at a different cart a few feet away). The chicken, seasoned rice, crisp refreshing lettuce, and sauces were so flavorful that I had trouble stopping - I just kept scooping more and more into my mouth even while suggesting to Tina that we take the rest to go and eat it in the hotel room where I had a bottle of soda to help wash everything down.

Finally, when I was forced to stop, we walked (quickly) back to the hotel and ate as much as we could of our plates. For $6 each, this is some of the the most flavorful food and served in quantities large enough to satisfy anyone. We're considering going back to try the lamb and rice. Maybe tomorrow after Mary Poppins.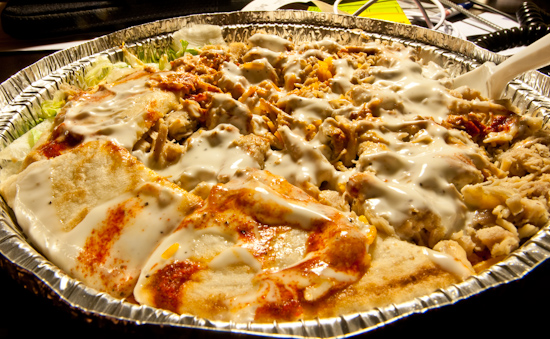 53rd and 6th Halal Cart has a pretty distinctive bag, so if you see anyone walking away from that intersection with this bag, you know they're carrying some delicious stuff!