AUTHORS
CATEGORIES
ARCHIVE
ACTIONS
What I Ate: October 11, 2010 (Nordstrom's Cafe Bistro)
Posted 14 October, 2010 at 9:59pm by Michael Chu
Dinner: We went to Cafe Bistro where we discovered they had revamped their menu. The beet salad and sirloin sandwich that we love so much were gone. We tried a couple of their new dishes and found ourselves very pleased with them.
We started off with a couple cups of tortilla soup (which we really liked on a previous visit). This was the first time where we ate at Cafe Bistro since we had the tortilla soup the first time when they've had it again, so we ordered it. It was just as good as we remembered.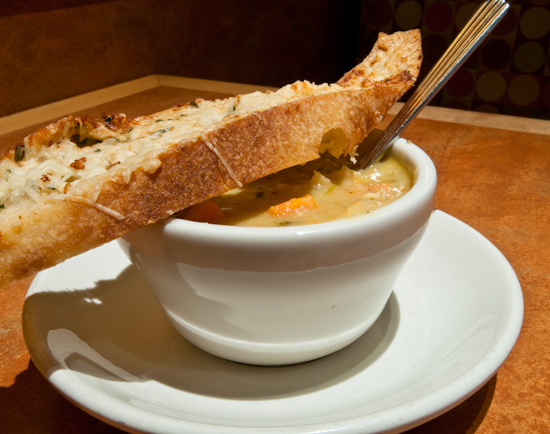 We tried a new salad - the Warm Goat Cheese Salad (crisp goat cheese fritter, organic baby greens, romaine lettuce, grape tomatoes, spiced almonds, dried cherries and champagne vinaigrette). This is our new favorite salad - we liked it even more than the beet salad which we enjoyed so much before. The warm fried goat cheese has a great crunchy texture and smooth creaminess that blends really well with the cold acidic tomatoes. The greens are crisp and refreshing and everything is bound together nicely by the gently tart sweetness of the dressing and dried cherries. We had our almonds on the side (worried about it being overly spiced), but soon tossed them into the salad for that extra nutty crunch. It's good - very, very good.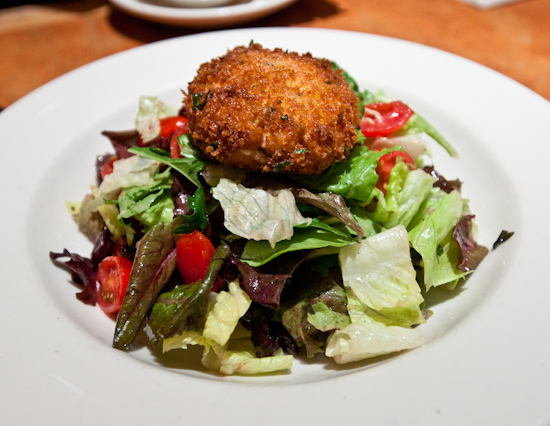 We also ordered the Wild Mushroom & Herb Ricotta Pizza (shiitake, oyster and crimini mushrooms, roasted garlic, caramelized onions and basil, baked with mozzarella, aged provolone, parmesan and ricotta cheeses) which I asked for extra crisp. It was good, but we ended up taking most of it home because the last dish captured my complete attention.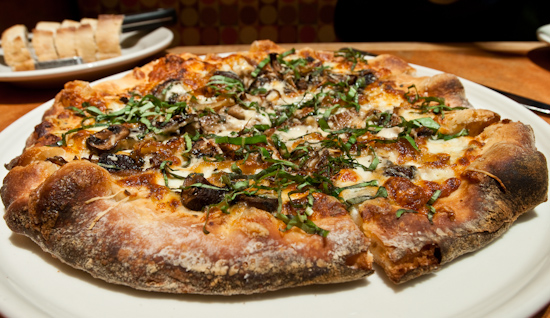 A new sandwich - the Bistro Flat Iron Steak Sandwich (sliced flat iron steak, melted gruyere cheese, organic arugula, crisp leeks and caramelized shallot aioli on toasted focaccia). This replacement to the sirloin sandwich was completely amazing. The flat iron steak, cooked medium rare, was tender and flavorful. The fried leek strips and shallot aioli were excellent flavor agents. They ran out of focaccia (having been slammed this weekend due to ACL), so we chose to have it made on sourdough. The rich sauce soaked through the bread a little, so it wasn't perfect, but focaccia might work really well. The previous roast sirloin sandwich as simple, but perfectly balanced. This new one is a much fancier and more complicated than the previous sandwich, but just as good. (Can't say which one is better since both are crazy good.)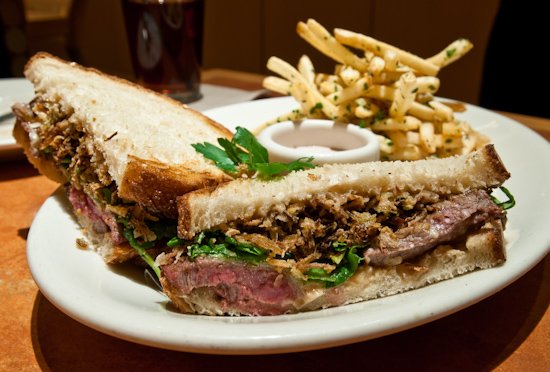 I guess it goes without saying that we were very happy with our dinner tonight.
Lunch: I had Cocoa Puffs with whole milk.