AUTHORS
CATEGORIES
ARCHIVE
ACTIONS
Fixing the Razer Copperhead (or Razer Diamondback) Double Click Problem
Posted 23 October, 2010 at 10:42pm by Michael Chu
I use Razer mice almost exclusively on all my computers, but every year or two a problem arises where clicking results in a double click. This issue is usually caused by dust or lint collecting near the clicker inside the mouse which changes how quickly the button goes from depressed to open circuit. Because the timing changes, the firmware which controls the debouncing logic gets confused and intermittently (and then later always) registers a double click. This is of course very annoying when trying to highlight text (because the double click cause the text to unhighlight) and other mouse clicking activities. Solving this problem is pretty easy and the procedure is the same for both the Copperhead and Diamondback mice that I have.
Flip over the mouse and look at the underside. There is a screw underneath the bottom pad by the heel of the mouse.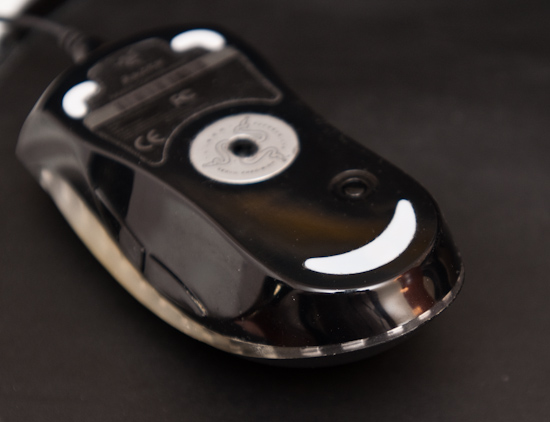 Peel the pad open (or remove it entirely, but keep is from getting dusty since we'll need to reapply it). Use a Philips #1 screwdriver to remove the screw holding the hood of the mouse onto the base.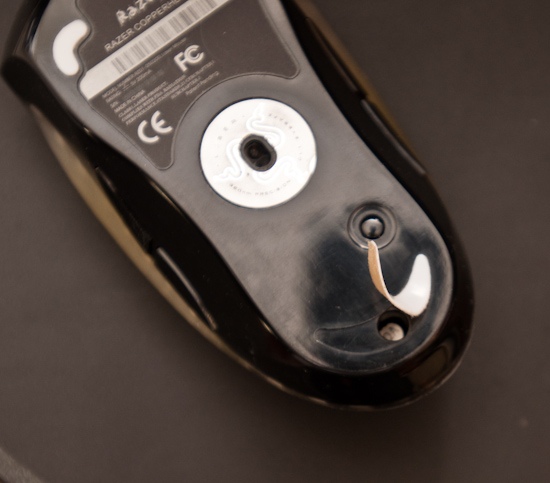 Once the screw has been removed, you should be able to insert your fingernail or a small flat screwdriver into the heel of the mouse and pop the hood up from the base.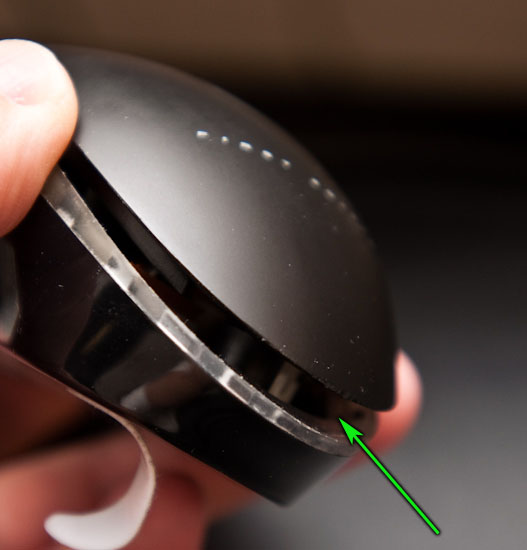 This next part is a little tricky because it's not obvious. The hood doesn't just lift away. You'll need to slightly lift while pulling the entire hood toward the heel of the mouse to release the hood. There are two tabs that hold it in place that prevents you from lifting straight up. Be careful not to break these.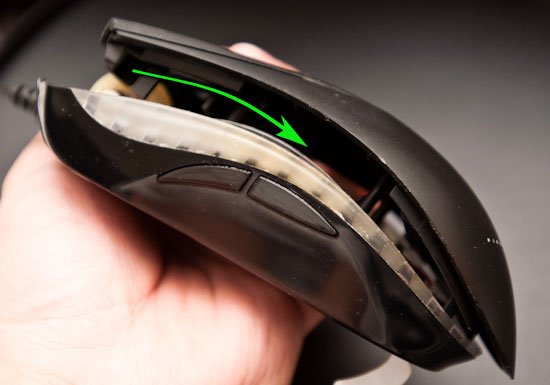 Once the hood is released, unplug it from the base. (This cable supplies power to the hood to light up the Razer logo.)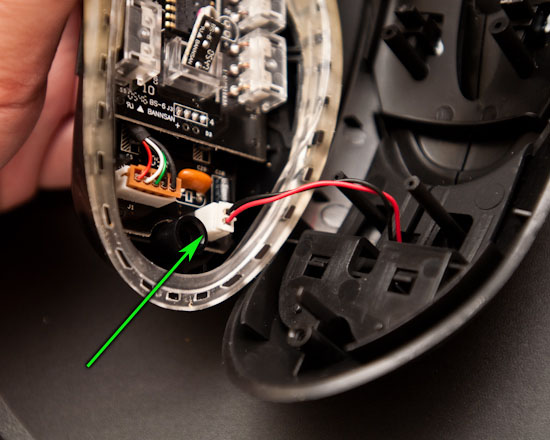 Clean the inside of the mouse if it is dusty using compressed air and/or a lint-free brush. The two contacts that register the mouse clicks should be cleaned with a little bit of rubbing alcohol applied to a Q-tip or small square of paper towel (I usually just tear off a 1-in x 1-in square of paper towel).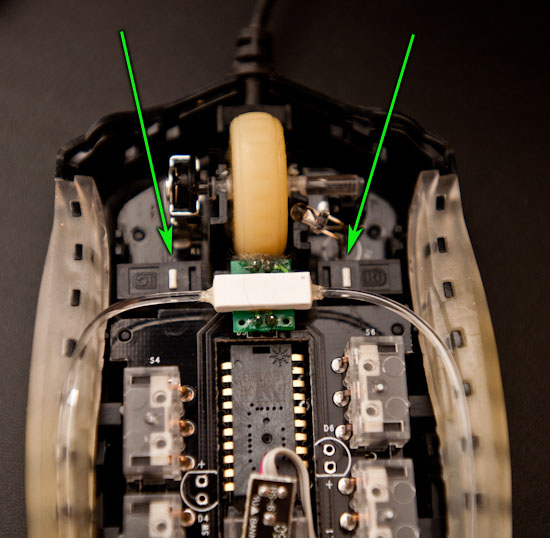 Once clean, reassemble the mouse by sliding the hood back on (make sure it goes on fully before screwing it in), tightening the base screw, and reapplying the pad. This should solve the double click / debounce issue.