AUTHORS
CATEGORIES
ARCHIVE
ACTIONS
What I Ate: September 26, 2010 (Urban, An American Grill)
Posted 28 September, 2010 at 5:14am by Michael Chu
Lunch: We were invited to have brunch at Urban, An American Grill (11301 Domain Drive, Austin, TX (512) 490-1511) where we had a very good meal of what I would describe as North American comfort food. Chef Mizael Saucido (from Bess Bistro and Fonda San Miguel) puts together a remarkable combination of Southern flavors with interior Mexican flair that really resonated with my palate. The lighting was a 50-50 mix of outdoor sunlight streaming in from the large windows and incandescent lighting which made for some challenging color balance issues when photographing.
Mini Chocolate Croissant. This was a small (but well made) croissant served along side a nutella sauce. Simple, but delightful.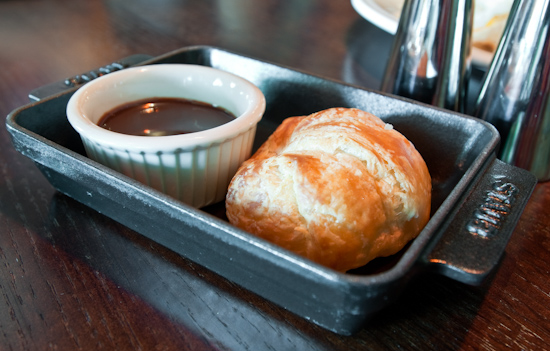 Mini Breakfast Tacos and Lox Sliders. Both of these small bites are amazing. The tacos had a perfect balance of eggs, cheese, chorizo, and salsa that allowed you to taste every ingredient without any single one being dominant (and yet all were assertive). The lox sliders were genius - of all the food we tasted, this was perhaps my favorite (the avocado tres leches cake we ended with is the only possible contender). Quail egg, hollandaise, lox, spinach and a honey wheat round - it's the perfect bite-sized Salmon Eggs Florentine.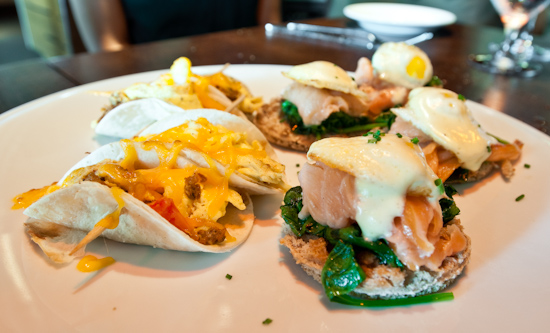 Grilled Shrimp. Both the pineapple and the shrimp were extremely flavorful. The exterior of the shrimp was charred and just a little dry/chewy which intensified the flavor, while the interior was still juicy. Both the shrimp and pineapple had a pleasant smokiness that worked very well.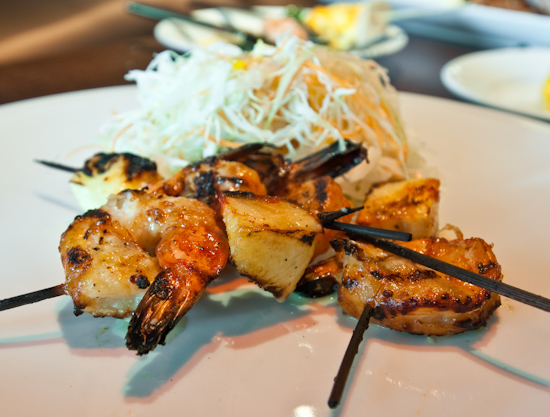 Fried Egg Sandwich. I opted to have this massive breakfast sandwich served with the eggs over medium. Again, a simple set of ingredients that just works when the kitchen does a good job with them - Texas toast, ham, Cheddar cheese, eggs with a just runny yolk, and fresh avocado and tomato salsa. I ended up eating only half, but I wanted to finish off the rest (only there was more food to taste!) so I had them pack it up along with a side of hash browns (also nicely executed - not the soggy, underseasoned shredded potato that I dread, but brown, crispy, and tasting of potatoes).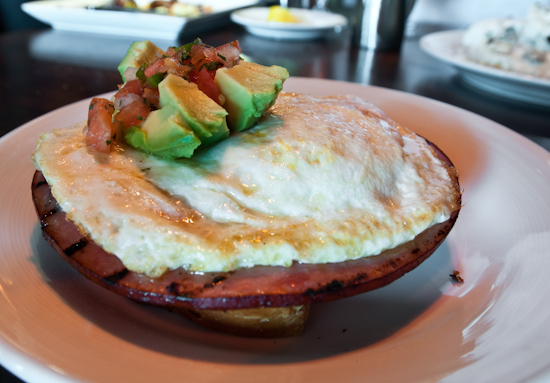 Roasted Corn Pancakes. I've never had corn pancakes before, but was delighted that this pancake captured the fluffy texture of traditional pancakes but with sweet corn flavor. If you like corn, this is something special, especially when eaten with a little butter and agave nectar.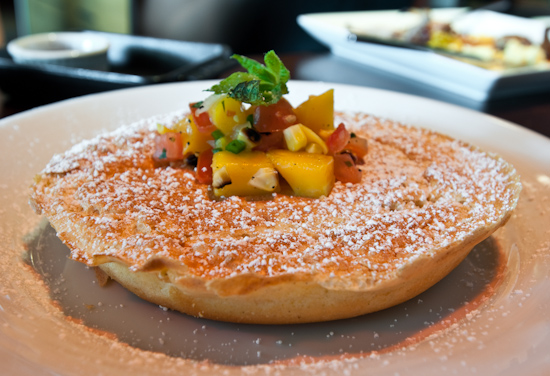 Fried Tomatoes. This creative take on fried green tomatoes was the only thing we had that I didn't think I'd order again. I appreciated the unique construction - cheese and sauce sandwiched inside two slices of green tomatoes, breaded, and deep-fried. Cutting into the fried tomato results in a flavorful mixture of gouda and piquillo peppers oozing out, but unfortunately for me it was a tad too cheesy. I guess when it comes to fried green tomatoes, I still prefer the plain tomato slice, breaded, and fried and ranch dressing. There's nothing wrong with Urban's preparation of the fried tomato and it certainly is worth trying.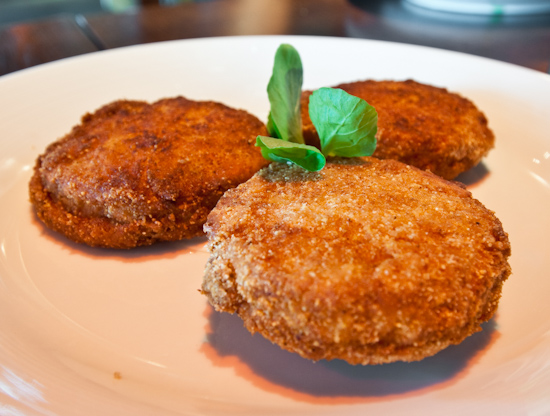 Avocado Tres Leches Cake. This could very well be the best tres leches cake, I've ever had. Infused with not only cream, evaporated milk, and condensed milk, Chef Saucido (this was based on his grandmother's recipe) added coconut milk and pureed avocado into the soaking liquid which added another flavor of richness (without it being overwhelming - in fact it help bind everything together). It was topped with a subtle whipped cream of sun dried tomatoes.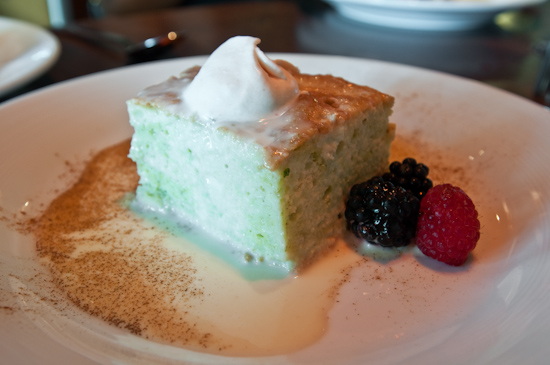 Given our meal at Urban, I will definitely return to sample their dinner menu. From what I've tasted at brunch, I think the kitchen is firing on all cylinders and Chef Saucido (who is funny, humble, and genuinely excited about food - and reminds me a little of comedian Horatio Sanz) has a firm grasp of the balance of flavors (both of ingredients and of regional cuisines) and how to combine them to make a pleasant dish. Except for the avocado tres leches cake, nothing really startled us or gave us a "wow" moment, but every dish was wonderfully executed - exactly what I'd ask for when looking for a meal of comfort foods that isn't boring.
Dinner: Grilled vegetable kabobs, roasted banana peppers, sauteed asparagus, grilled spicy corn, and grilled nectarines.