AUTHORS
CATEGORIES
ARCHIVE
ACTIONS
Things We Like: Cuisinart Smart Stick Handheld Blender
This article is part of the Things We Like series.
Click here to find out more about Things We Like.
We have two of these handheld blenders - one for soap making and one for soup making (I still get these two words mixed up sometimes!). I got the first one when I started making soap at home (as a hobby) in the winter of 2007, after I hand whisked a batch of soap mixture for an hour and thought my right arm was going to fall off. The stick blender works wonderfully after many batches of soap. Then we bought a second one when I learned to make dahl soup from an Indian friend, and we've been equally pleased with its performance in the kitchen.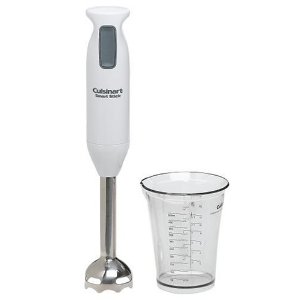 Its 200-watt motor is powerful enough for both my soap and soup applications. It's light weight so my arm doesn't get tired and the push-button control is simple to use. Clean up is easy given the stainless steel blending shaft is dishwasher safe. Just to clarify - the picture makes it looks like cordless but it does have a power cord. We've used it in prep bowls, stock pots, and mason jars, and have never had splatters (especially important when mixing caustic soap mixtures). Making creamy soups and emulsifying oil and vinegar for salad dressings is now a breeze. We are pretty happy with this handheld blender which costs about $30 + tax. The model number is CSB-76 (I believe it's the least expensive Cuisinart handheld blender, but there's no reason to pay more :). It can be purchased online and from local stores (availability varies), such Bed Bath and Beyond, Best Buy, Home Depot, etc.
Buy online at Amazon.com: Cuisinart SmartStick Hand Blender