AUTHORS
CATEGORIES
ARCHIVE
ACTIONS
Things We Like: Bar Keeper's Friend Multi-Purpose Household Cleanser and Polish
Posted 26 July, 2010 at 12:49pm by Tina Jiang
This article is part of the Things We Like series.
Click here to find out more about Things We Like.
One cleaning product that we find indispensable in the kitchen is Bar Keeper's Friend. It's a fine white powder that contains no phosphates, bleach, or abrasive substances. It works wonders on getting stainless steel pots and pans sparkling clean, especially after sauteing vegetables or browning meat which often leaves a thin film and slight discoloration on the inside bottom of the pan after normal washing. Regular use of Bar Keeper's Friend also helps to prevent stain buildup.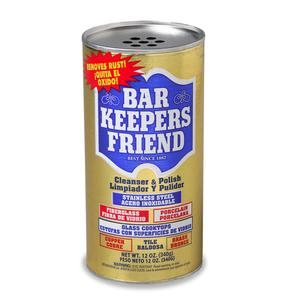 We've been using Bar Keeper's Friend every time after cooking, and our stainless steel pots and pans still look like new after several years - the look of shiny pots always make me feel good :). It doesn't add much work to dishwashing (given we've always hand washed cookware) and is easy to use - after regular washing with soapy water, pour some bar keeper's friend into the wet pan and rub in a circular motion with a wet sponge (add a bit of water if too dry). I usually cover the entire inside bottom and sides of the pan. Rinse thoroughly. A bottle lasts a long time - we have not finished the 21oz bottle we bought over a year ago.
In addition to stainless steel surfaces (pots and pans, kitchen sink), we also used it on enameled metal (stove top), stiles stone (kitchen counter), chrome (kitchen and bathroom fixtures), cultured marble (bathroom sinks and counters), all with great results. It gets the grime off, polishes the surface, and brings back the shine (on shiny surfaces) without scratching or dulling. According to the manufacturer's website, it can also be used on laminate and composite countertops, nonporous solid surfaces such as Corian, glass and ceramic cooktops and cookware, copper and brass, porcelain, plastic, fiberglass, and it is effective on tough hard water stains and rust. (Caution: check the product label before using to make sure it's ok for the particular surface you are cleaning. For example it is NOT for use on gold, silver, pewter, marble, lacquered metals, anodized aluminum according to their website.)
We highly recommend the powder version (not sure about the liquid version since we haven't tried it, but a friend says it doesn't work very well on their stainless steel cookware). Bar Keeper's Friend is recommended by All Clad cookware, Calphalon cookware, Kohler, and many other manufacturers of kitchen and bath products. It can be purchased from local stores and online for ~$2-$4 a bottle depending on the size.
Buy online from Amazon.com: Bar Keerper's Friend