AUTHORS
CATEGORIES
ARCHIVE
ACTIONS
What I Ate: June 27, 2010 (Uchiko)
Posted 28 June, 2010 at 5:12pm by Michael Chu
Dinner: We had the opportunity to have dinner at Uchiko (4200 North Lamar Blvd., Austin, TX) tonight. Uchiko is the second restaurant by Uchi chef Tyson Cole and he's brought Paul Qui and Philip Speer in to be Uchiko's executive chef and executive pastry chef. Their combined talents have made Uchi into the best fine dining in Austin, so a lot of people are wondering how Uchiko will turn out. After tonight's dinner, I am happy to report that Uchiko is every bit as good as Uchi. The dining space is larger (about twice as big as Uchi), the place seems less loud, and the kitchen is definitely a lot bigger. We sat at the sushi bar for this meal (and had Yoshi as our sushi chef and Erica as our server).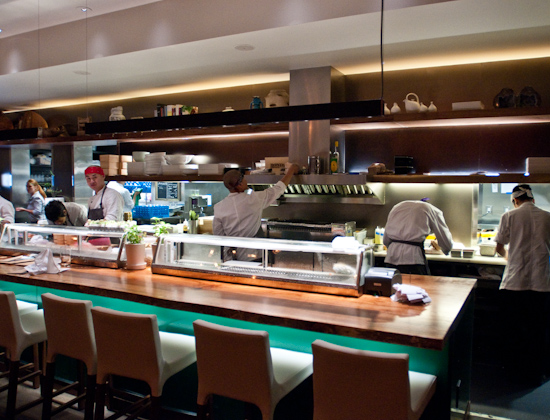 tempura nasu japanese eggplant crisps, mitsuba, sweet chili sauce, $4. Our friend Willet was on the fry/tempura station tonight (I think he said it was his second day on the station), and he was hitting it right on the mark. The eggplant was perfectly fried with just the right amount of seasoned tempura batter to give it both delicate flavor as well as delicate crispiness. For tempura frying, we still prefer the Brussels sprouts from Uchi, but eggplant is pretty good (just a tad more greasy due to the shape of the cut vegetable which results in much more surface area).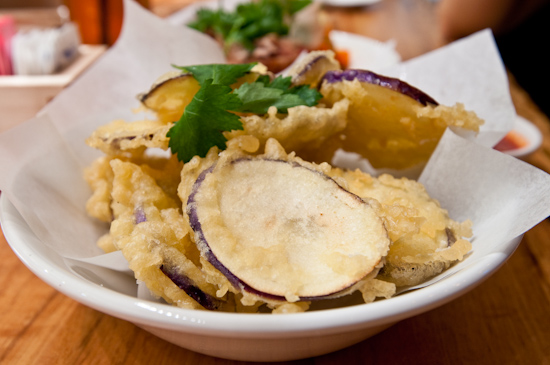 bacon onigiri crisp fried pork belly rice, banh mi pickles, $8. This was my favorite dish of the evening - a seasoned rice ball, fried, cut in half, and topped with two small pieces of fried pork belly, pickled cucumbers and carrots, and bonita shavings. I could have eaten the rice ball without the pork with no problem. The fried exterior was perfectly crunchy and the pickled vegetables added just the right amount of sweetness and acidity. The pork belly was good, but I think I would have preferred a different shape. The way it was cut, it was much, much smaller than the rice ball, so it was difficult to get pork belly in each bite of the rice ball. Had it been a larger and thinner slice of pork belly, that would have helped spread it around a bit more.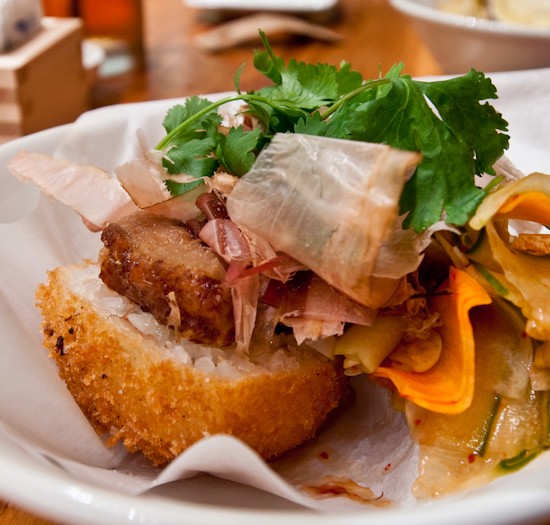 akami te big eye tuna, watermelon, cilantro, coriander, $14. This dish is probably the best example of what Chef Cole and Chef Qui do best - the harmonious blending of strong distinct flavors and textures into one mouthful. The watermelon was cold, crisp, and very sweet which at first seemed like it would overwhelm the slices of savory tuna, but it doesn't. The two match very well - who would have thought? Then comes the heavy herbaceousness of cilantro which also blends right in. Lastly, the thinnest sliver of thai chili sneaks in a tingle of spiciness that completes the mouthful. Good thing there were six of these on the plate!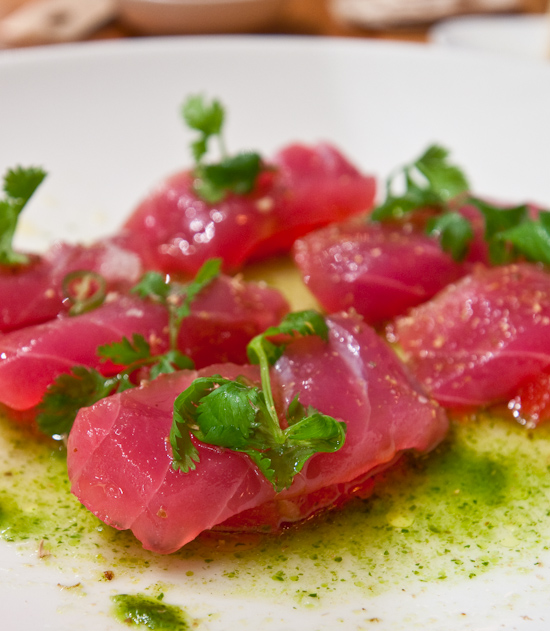 ao saba norwegian mackerel, bluefoot mushroom, onion, juniper, huckleberry, $12. This is another dish that showcases the playful balance that I like about Uchi so much, so I was glad to see it being shown off at Uchiko. The meaty and slightly acidic mackerel provides a delicious base that would be excellent if eaten alone, but is elevated with the addition of earth bluefoot mushrooms and sweet huckleberries. I found that a small piece of mackerel with one mushroom laid on top and one or two huckleberries made a perfect mouthful. Rubbing the mackerel in the crushed juniper berry contributed mostly texture and not much flavor (the other flavors are too strong), but it was still an excellent grouping.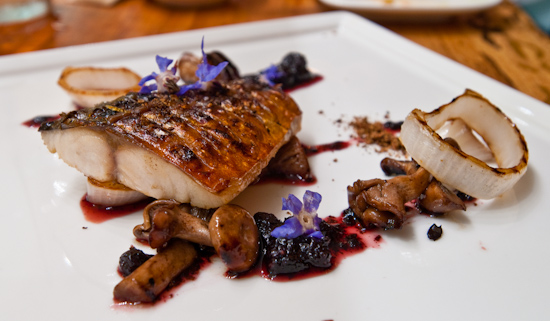 bacon sen berkshire pork belly, fried apple puree, apple kimchee, $18. Of the three pieces of sliced pork belly, two of them were under salted. The belly itself was perfectly cooked resulting in incredibly tender meat and just the right amount of chew. I felt that the kimchee apple could have been a little stronger, spicier. By themselves, they tasted great, but, paired with the pork belly, they needed to be a bit more assertive.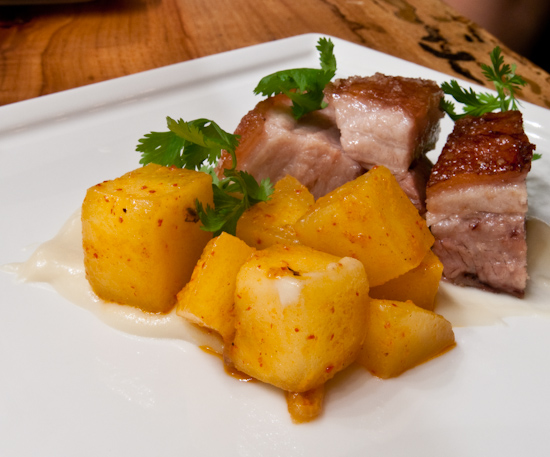 gyutan sushi grilled beef tongue, fish caramel, maldon, $3 each. I didn't feel like this nigiri worked all that well for me. I'm a big fan of beef tongue and the grilled slice I had was definitely cooked nicely (not tough and chewy with good flavor), but I didn't like it with the zushi rice. It felt a little too heavy for the rice - in my mouth it seemed like the rice was being overwhelmed by the beef and it just didn't balance out for me. I think that's partially due to my preference for beef tongue in heavily seasoned dishes.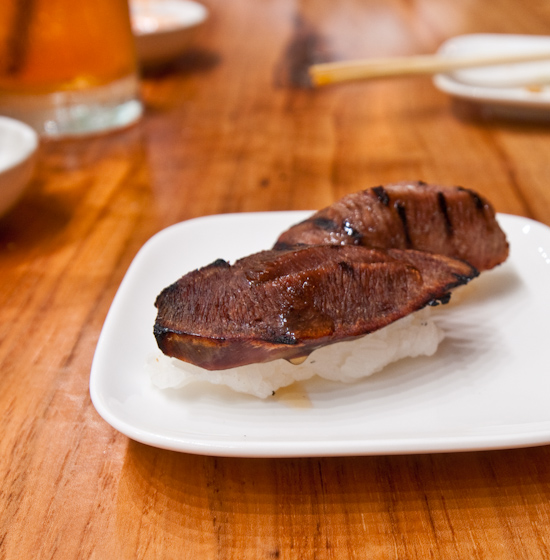 boquerones spanish white anchovy bottarga, lemon zest, $4 each. I really liked the anchovy nigiri - the salty/briney sourness of the anchovy worked really well with the sweet sourness of the rice.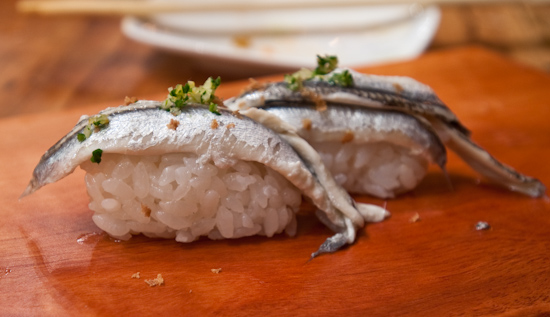 take nabe japanese mushroom, koshi hikari, farm fresh egg, bushi, $16. We liked the flavors of this dish so much we had it twice! In actuality, the first time we received it, it was too salty to eat more than a few bites. We liked the flavor so much that instead of setting it aside and moving onto the next course, we asked for them to make it again. The second time was much better and after mixing all the components together, we got to enjoy this great combination of enoki mushrooms, rice, egg, saltiness, and sourness all mixed into one bowl.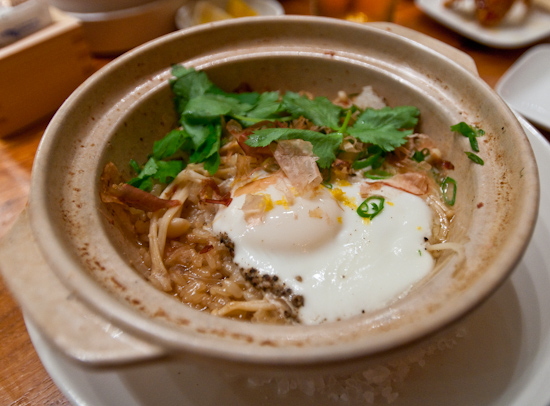 chicken karaage fried half cornish game hen, sansho pepper, lemon zest, $14. Although the breast of this tiny fried chicken was a little bit dry, the other parts were magnificent. Tender, juicy, and flavorful with just enough crispy crust to provide texture and a trap for the sweet and mildly spicy sauce.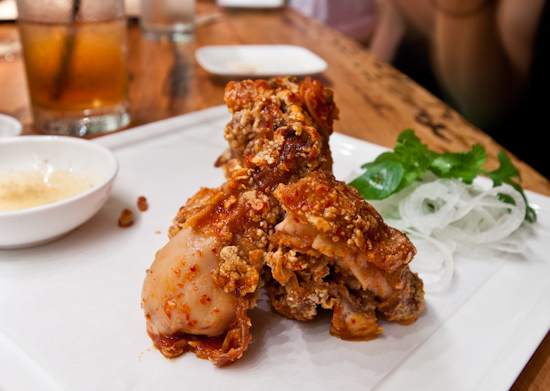 sweet corn sorbet polenta custard, caramel salt, lemon, $9. Dessert began with Uchiko's take on what can only be described as a corn lover's dream (luckily, Tina loves the flavor of sweet corn). Everything on the plate was corn flavored from the cornbread crumbs to the corn sorbet to the corn custard to the corn sauce. The droplets of lemon added a nice brightness to the dish, but they weren't as perfectly formed as they could be. Of course, since Uchiko is in it's first month of business and isn't technically open to the general public yet, I'm giving them an allowance for this minor mistake. With only the over salted take nabe (which was corrected quickly) as the other problem, Uchiko is doing extremely well for having just opened their doors.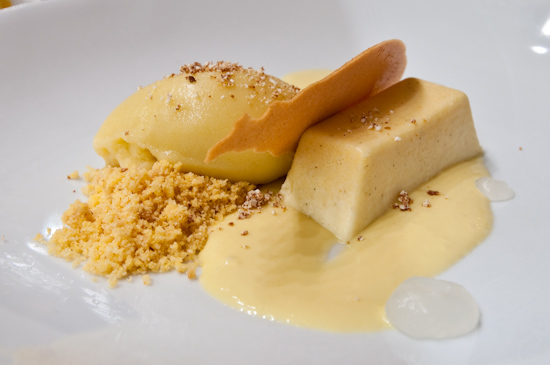 tobacco cream chocolate sorbet, maple budino, huckleberry, scotch, $9. This dessert featured a rich cylinder of tobacco flavored custard which I found quite good - not overly sweet and slightly salty. It was a little on the heavy side, but that worked very well up against the nicely bitter chocolate sorbet that perfectly match the cream.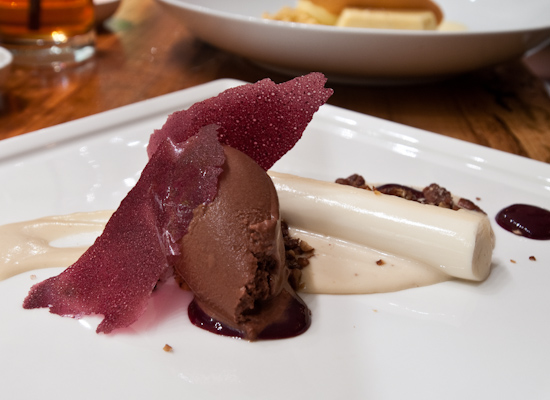 After that meal, I have to again reiterate that I think Uchiko is just as good as Uchi. Chances are, we'll dine at Uchi more than Uchiko simply due to location, but it's nice to know that Austin just gained another excellent restaurant.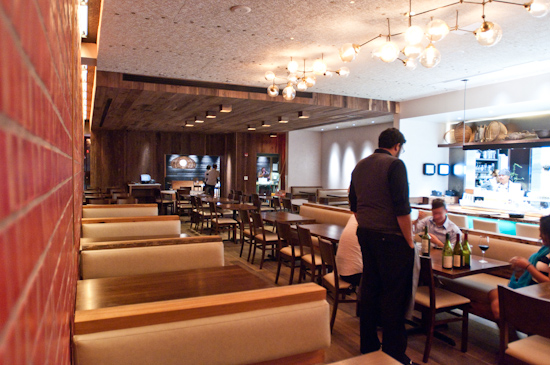 Lunch: Tina and I shared a our few remaining slices of Domino's pizza.