AUTHORS
CATEGORIES
ARCHIVE
ACTIONS
What I Ate: June 18, 2010 (Romano's Macaroni Grill)
Posted 20 June, 2010 at 12:12am by Michael Chu
Lunch: I had a slice of white bread loaded with moist BBQ brisket for a quick lunch.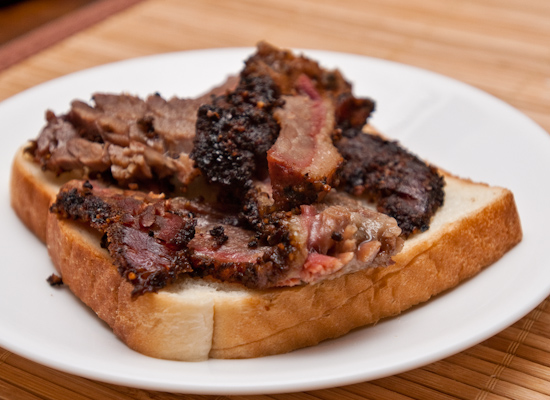 Dinner: We went to Romano's Macaroni Grill before going to see Get Him To The Greek (which was hilarious). Macaroni Grill was suckier than the last time we were there. I started with the Romano's Sampler (Tomato Bruschetta, Fresh Mozzarella Fritta, and Calamari Fritti served with arrabbiata sauce). The bruschetta was weird in that you had to assemble it yourself. Unfortunately, the bread wasn't as toasted as I generally like it and the flavors just weren't all that strong or good. The fried mozzarella was heavy and chewy (we left that on the plate), but the calamari was passable.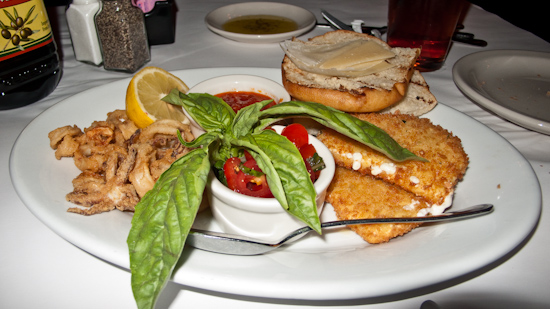 For my main course, I selected the Shrimp Portofino (Jumbo shrimp sauteed with fresh spinach, mushrooms, and pine nuts in a lemon butter sauce with imported capellini pasta) which was a little better once I added salt, pepper and a ton of parmesan cheese. I'll probably order it again if I return here, but compared to other restaurants in this price range of this cuisine, Olive Garden is better.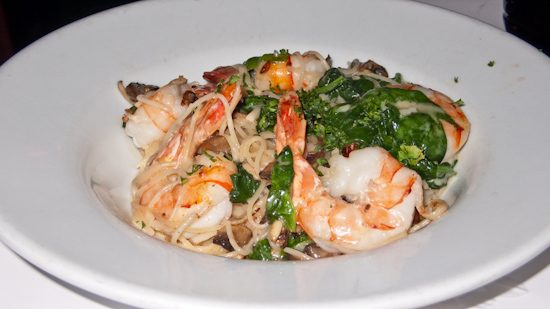 I forgot my normal camera, so I had to use my point & shoot with flash to get the photographs taken under the poor lighting conditions where we sat.