AUTHORS
CATEGORIES
ARCHIVE
ACTIONS
What I Ate: June 13, 2010 (IKEA, Uchi)
Posted 14 June, 2010 at 11:58pm by Michael Chu
Dinner: We went back to Uchi to try the Iron Chef America inspired Ginger themed omakase meal. We ordered one person's worth of the ginger omakase and supplemented with additional dishes. As usual, the food was excellent. An amuse bouche of canary melon slices marinated in lime juice with micro-basil came out while we surveyed the menu.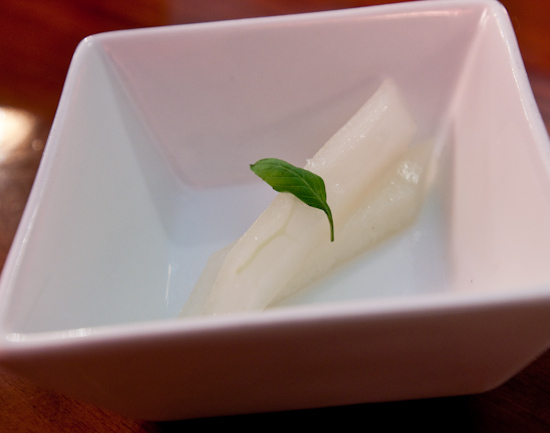 madai carpaccio Japanese sea bream from tsukiji market with ginger oil, myoga, and ginger "caviar". We found the ginger flavor extremely subtle in this dish. Fried fish scales provided a nice crunchy texture that I appreciated.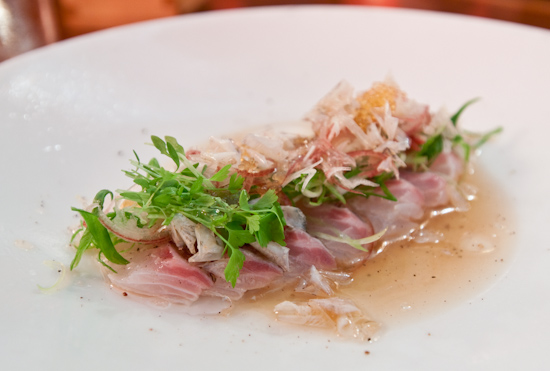 machi cure Cold-smoked baby yellowtail, asian pear, gingered golden raisins, and candied garlic. Of the 6 or 7 mouthfuls we had of this dish only 2 had enough ginger to appreciate. The other bites had either a nonexistent amount of ginger or it was hiding in the background so much it was hard to notice. The raisins soaked in ginger syrup were delicious by themselves.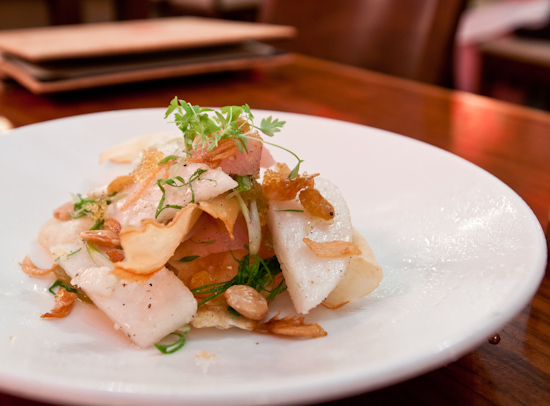 sunomono a variety of seaweeds, japanese cucumber, and radish sprouts in ponzu. The main elements here were the dried shiitake mushroom slices and the snow fungus (also called silver ear fungus) which had a texture like jellyfish but without any fishiness.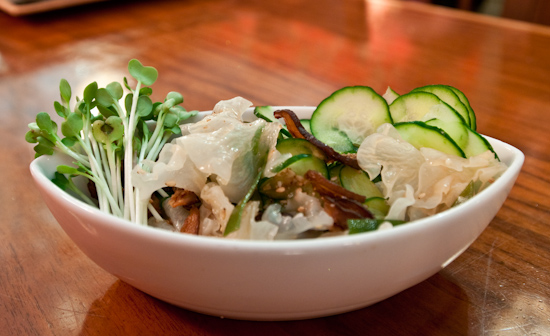 suzuki shoga pan-seared bass, ginger-lemon puree, pickled peach. I loved the fish as well as the slightly tart and crisp peach slices, but felt the sauce was more lemony than gingery.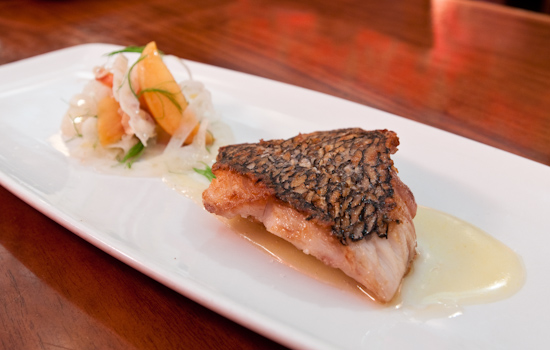 sake donburi grilled salmon belly, watermelon, fresh ginger, sauternes. The watermelon rind was pickled in ginger and was quite sharp and spicy. However, when eaten with the buttery salmon belly, the flavor faded to the background and perfectly complimented the fish. We absolutely loved the salmon, but this dish really showed us that it takes a lot to properly balance the strong flavor of ginger. In the previous dishes, the flavor was really subtle and we felt we couldn't really appreciate it. In this one, I knew that the ginger flavor was quite strong, but while eating the fish with the gingery elements, I found it to be just as subdued as in the previous dishes. What I took out of that was that the ginger in the previous dishes really were all quite well balanced. Any stronger and five savory courses of ginger would have been overwhelming.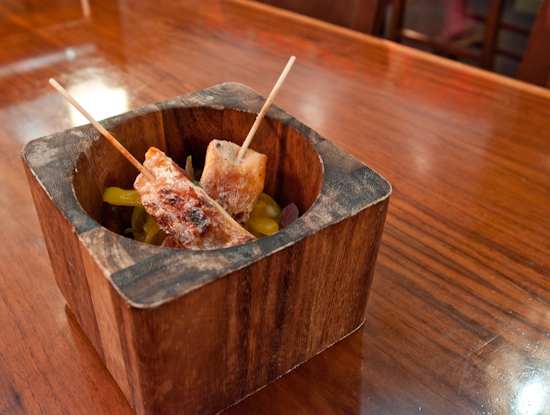 japanese pumpkin tempura. We felt it was a bit too greasy.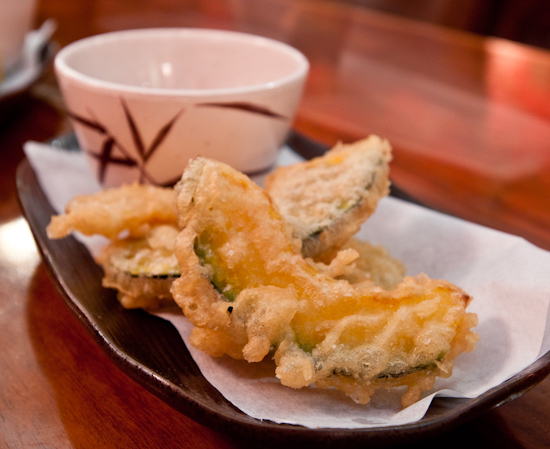 tempura brussels. These brussels sprouts were tied with the salmon belly as our favorite dish of the evening. Better yet, it was just $5 and completely worth it.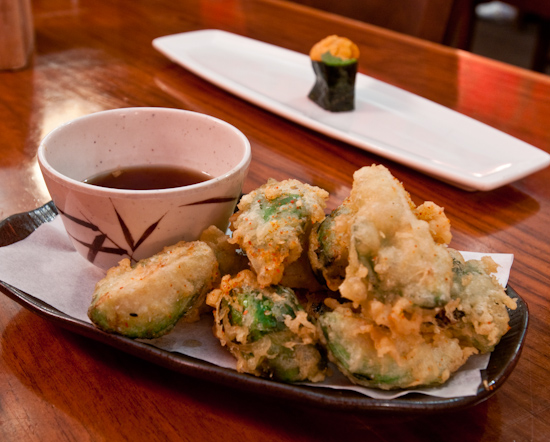 uni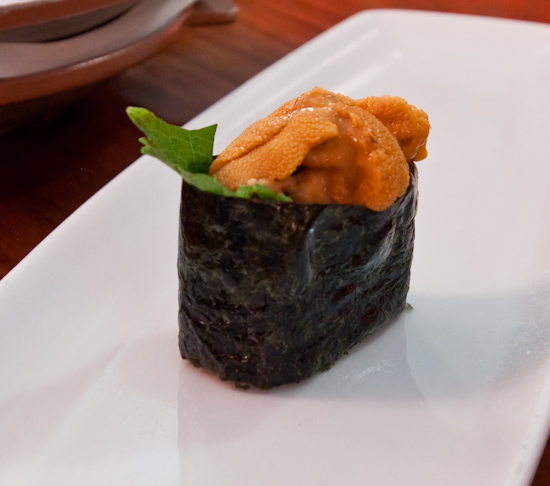 scallop hot rock with orange oil and san baizu. After our last visit at Uchi, I couldn't help ordering this dish again. Somehow we didn't get the same aroma or effect as last time - maybe the rock wasn't hot enough or maybe we were missing some aromatics (noticed there were no cloves) in the salt around the rock or maybe the wind wasn't blowing right and we just didn't smell the wonderful searing scallops. Flavor and texture was good but the wonderful smells just weren't there.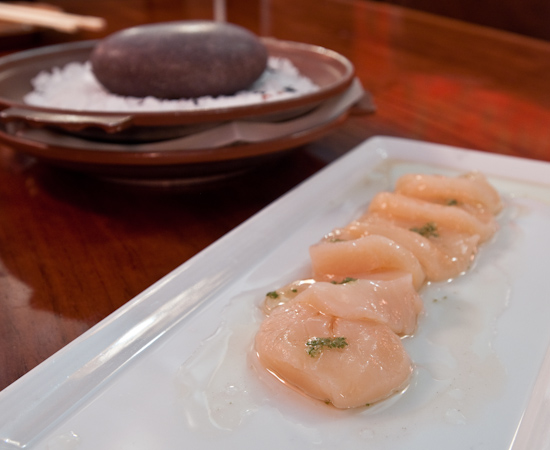 maguro sashimi and goat cheese with cracked pepper, fuji apple and pumpkin seed oil. The combination of tuna and mild goat cheese makes this one of Tina's favorite dishes at Uchi. Tonight, the tuna had a little more of a fishy taste (very mild, but slightly present) which detracted from the usually perfect flavors.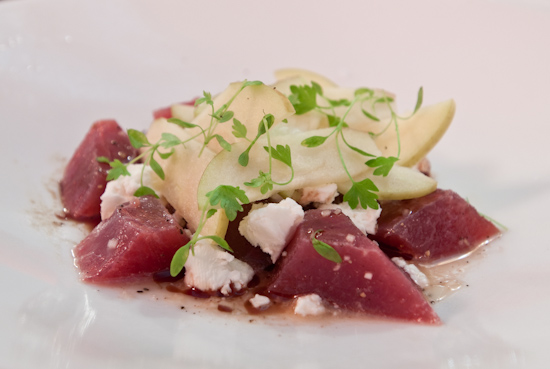 mustang roll freshwater eel, avocado, yellowtail, and golden flying fish roe


spider roll softshell crab, flying fish roe, english cucumber and white soybean paper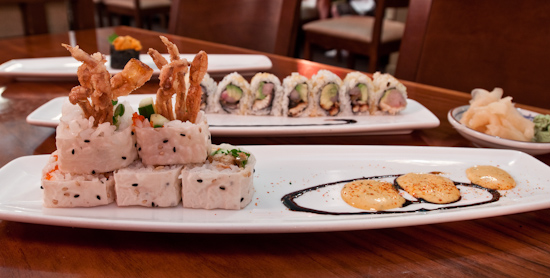 jizake creme caramel with brown butter sorbet & ginger consomme. The creme caramel was a little denser than Tina likes it and seemed a tad more eggy than last time. Otherwise, it was excellent - especially the combination of brown butter sorbet and sweet ginger consomme.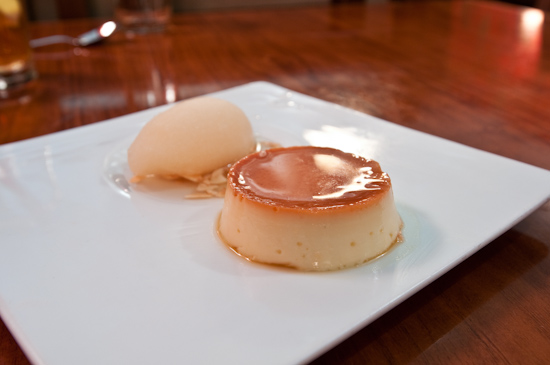 Lunch: We ate lunch at IKEA where I had the marinara pasta with meatballs and a side salad. The penne was really gummy and I just couldn't eat it.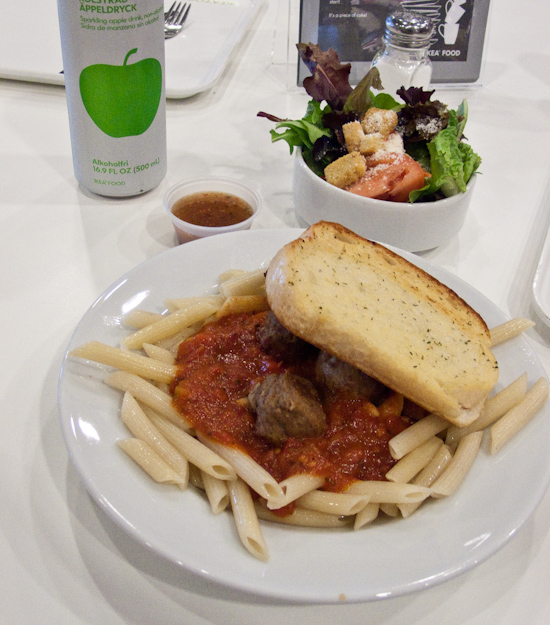 I went back and got a couple of bowls of child sized meatballs (it's only 99 cents each which is a lot cheaper than $5 for the adult portion which comes with sides when you don't want the sides). After seasoning with salt and pepper, the gravy is much better.