AUTHORS
CATEGORIES
ARCHIVE
ACTIONS
What I Ate: June 12, 2010 (Prime Rib Dinner)
Posted 13 June, 2010 at 11:39pm by Michael Chu
We had the members of the Austin Fearless Critic council who were available over for dinner. It had been over two years since we last entertained, so we were a little bit rusty. In the end, it worked out well and everyone seemed happy with the meal. I started the day by trimming a USDA Prime rib-eye roast that I had been dry aging for the last few days (didn't have time for more since we were traveling) down to about eight pounds. I then seared it on the grill before slow-roasting it in the oven for a few hours.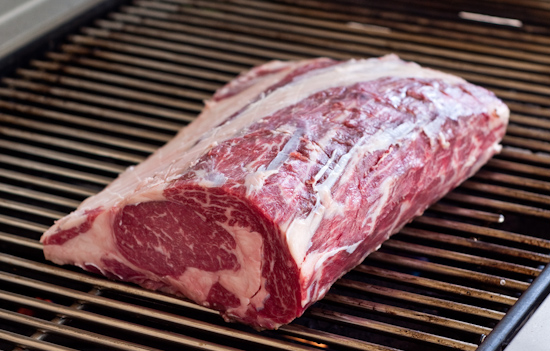 My oven runs hot. (About 50 degrees hotter than expected according to the digital air temperature thermometer and data logger I hooked up to collect accurate temperature readings - because baking during the last six months has been hit or miss, I suspected the temperature was off even though Whirlpool claims their appliances are perfectly calibrated and perhaps my old ovens were off and I was used to that, ugh.) I started with the oven set to 185°F (but, in actuality, it cycled between 235°F and 200°F). At 1:10pm, I dropped the temp to 175°F (170 is the lowest setting my oven goes to) and continued to track the temperature increase inside my prime rib. The temperature drop resulted in a temperature swing from 230&176;F to 193°F which was a little better but not even a full ten degree drop as I would have expected from lowering the target temperature by ten degrees. At around 3pm, I shut the oven off entirely and turned it on two more times briefly to help keep the oven at around 130°F so I could hold the roast at an internal temperature of 130°F until we got closer to serving time. I then turned the oven on to 170°F to finish off the roast (stopping at an internal temperature of 133°F). The oven cycles between 222°F and 186°F when set to 175°F. The air temperature probe was positioned in the center of the oven rack about one inch below the sheet pan holding the rib roast.
Oven Temperature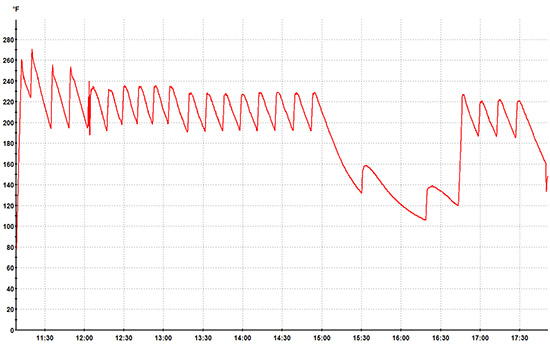 Internal Roast Temperature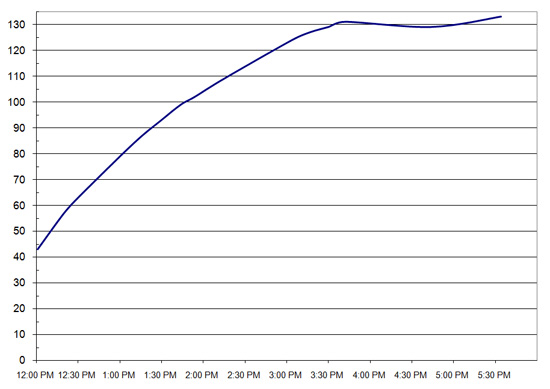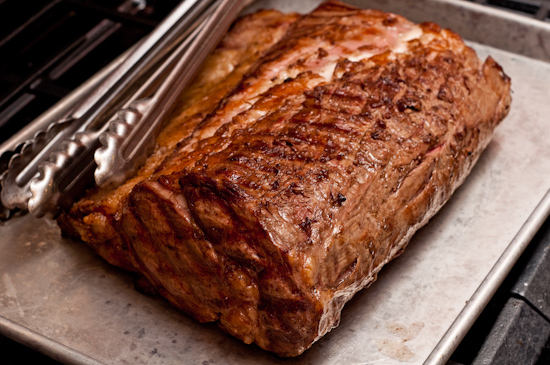 While the beef was roasting, Tina and I prepared the other side dishes and set the table. We set out several bowls of cherry tomatoes to start off the meal.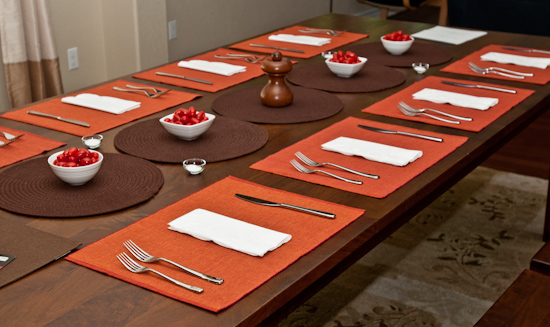 When everyone had arrived, we assembled a wilted spinach salad with a sweet shallot and garlic dressing, marcona almonds, and small farm eggs that I cooked in the shell in a 63°C water bath for 45 minutes so the egg yolk would flow out and blend with the dressing.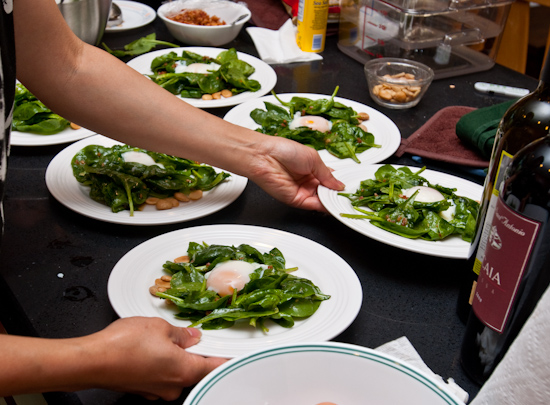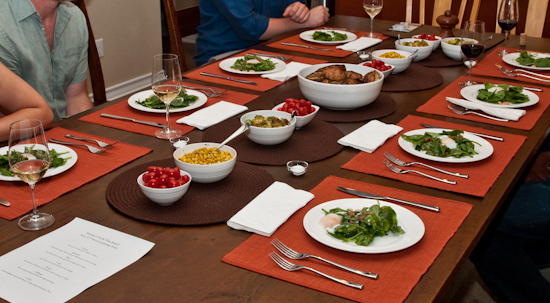 In the center of the table, I had a large bowl of red potatoes grilled with paprika, garlic powder, rosemary and thyme.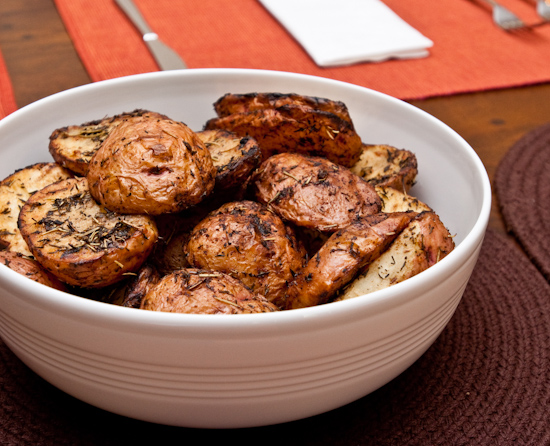 Two small bowls of Brussels sprouts cooked in bacon grease and topped with crispy bacon was provided for greens. The sprouts were a little more bitter than usual and it wasn't clear if it was because I hadn't parboiled them long enough or if this batch was just naturally more bitter. We typically buy our Brussels sprouts on the stalk (they seem fresher and there's less waste as you trim them; cutting the dried bases off the pre-cut sprouts means losing quite a few leaves), so that might have something to do with how these ended up tasting. (I had to buy then in mesh bags which were dripping wet from the local grocery store and several heads had to be tossed due to insect damage.) So, for the record - I am blaming the sprouts for the bitterness. Our guests were very gracious and said they enjoyed the sprouts and ate most of what we provided on the table (about two pounds out of the four we prepared… if we do this dinner menu again, I'll just prepare two pounds.)

Our last side dish was a simple dish of sweet corn kernels tossed with dried and fresh tarragon.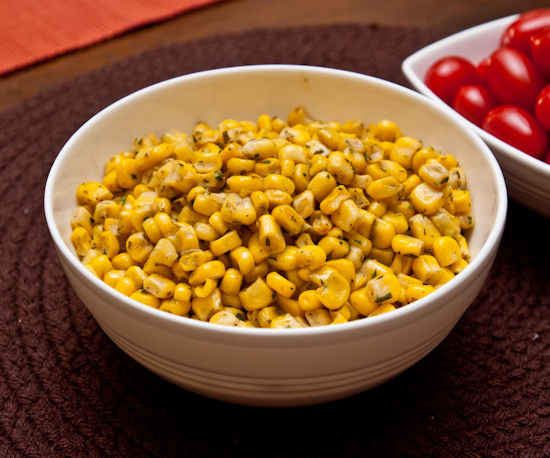 Once everyone was done with the salads, we cleared the salad plates and I sliced one inch thick slices of prime rib for everyone. Cooked in this way - at low temperatures over several hours - the roast can be medium-rare from edge to edge. A little bit of jus (made from beef broth and the renderings of the ribeye trimmings) was poured on top to provide a little additional saltiness.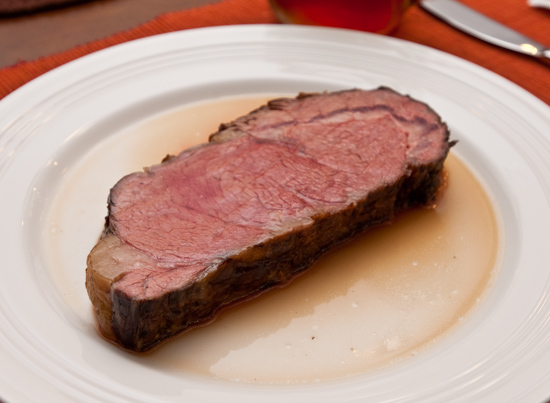 We ended the meal with slices of tiramisu.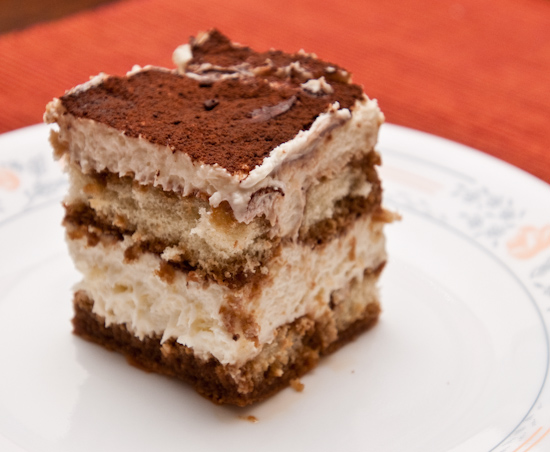 Here's a photo of the menu I prepared for the dinner.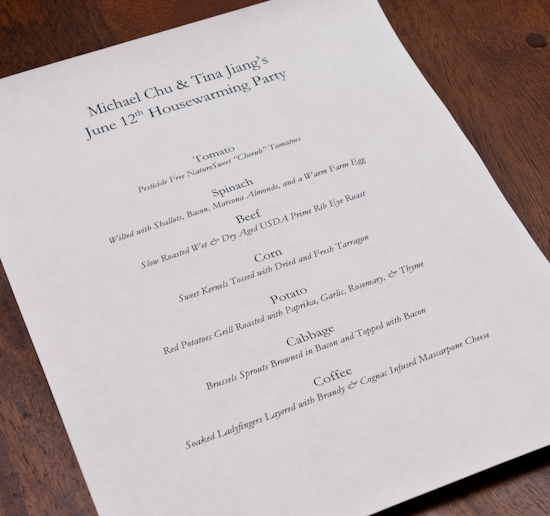 I ate a tiny and quick lunch while preparing dinner of tater tots.