AUTHORS
CATEGORIES
ARCHIVE
ACTIONS
What I Ate: May 22, 2010 (KFC, Romano's Macaroni Grill)
Posted 23 May, 2010 at 9:20pm by Michael Chu
Dinner: We tried for that 9:50pm movie again, but this time left much earlier for dinner. Across the street from the theater is a Romano's Macaroni Grill - an Italian food chain that we haven't dined at in years - so that's where we ate.
We started with their Prosciutto e Arugula Neapolitan Pizza which had a nice crispy and chewy texture. Unfortunately, the pizza could have been a little more flavorful (it was fairly subdued). A few mouthfuls were perfectly flavored though - great balance of mozzarella, peppery arugula, and savory prosciutto.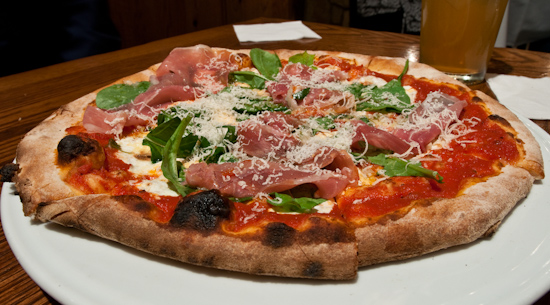 I had a Caesar Salad with the entree.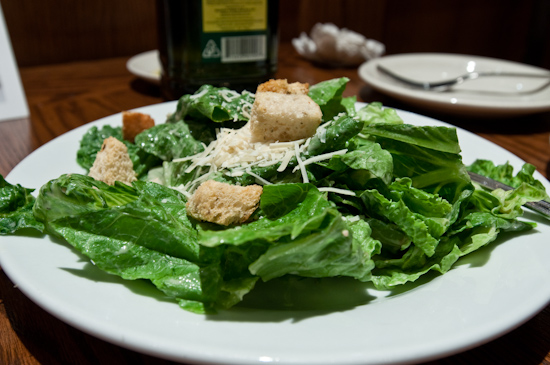 Sausage Salentino (Italian sausage sauteed with orecchiette pasta, tender broccoflower, garlic, roasted tomatoes and extra virgin olive oil). This was pretty good once a little extra salt and black pepper was mixed in. The water in which the pasta was cooked in should have been salted, but adding salt at the table fixed that problem.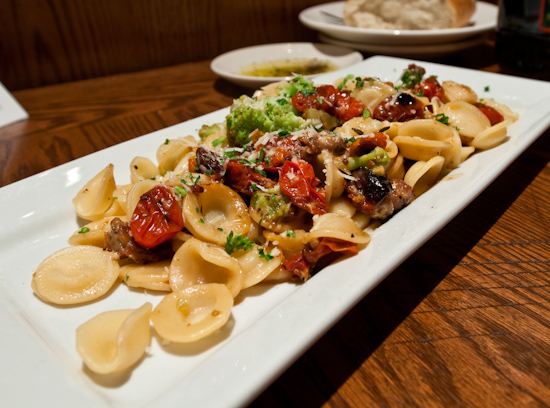 Center-cut Lamb Rosemary Spiedini. These lamb loin slices were grilled on a skewer and I thought they were pretty tasty. Tina felt it was too gamey for her taste however. The roasted vegetables worked very well with the lamb.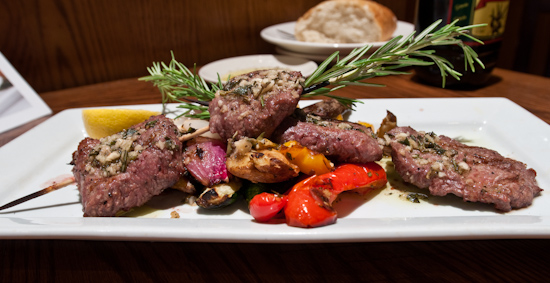 For dessert, we shared a Vanilla Gelato. Even after almost a year and a half of photographing my meals, there are still times when I forget. This was one of them. I didn't remember to take a picture until after we both had a bite.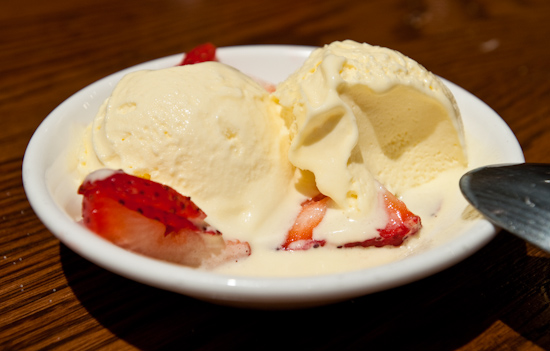 Lunch: After watching a KFC ad (I think it was promoting their pink chicken buckets for which every one sold they will donate $0.50 to breast cancer research), I couldn't stop thinking about fried chicken. So, I grabbed a six piece meal (legs and thighs - original style) with a large cole slaw and mashed potatoes with gravy and shared it with Tina for lunch.