AUTHORS
CATEGORIES
ARCHIVE
ACTIONS
New 3rd Edition Fearless Critic Austin Restaurant Guide Released!
Posted 4 May, 2010 at 10:35am by Michael Chu
Hey, everyone out there who lives in Austin or plans on visiting or has friends and family out here - the latest edition of The Fearless Critic Austin Restaurant Guide has just been released and is available at bookstores as well as online at Amazon.com. I spent the last year with the 2nd edition in my car and used it extensively while Tina and I tried out new restaurants. Our experience with the 2nd edition is that the Fearless Critic doesn't pull any punches. If the place is a local favorite but the food is mediocre, the review says so. Everything is rated on an absolute scale unaltered by nostalgia or "just wanting to be nice" (unfortunately, a problem that exists with the restaurant reviews I find in the newspapers here in Austin - how can Get Sum Dim Sum be great dimsum???). Occasionally, our opinions will differ from those of the Fearless Critic, but those slight deviations come down to personal taste. We're always in the same ballpark, so I thought 2nd edition was a great reference to have.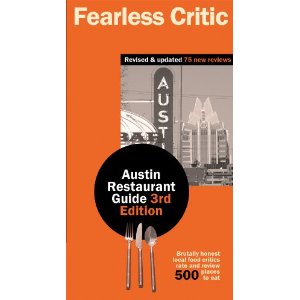 This new edition covers 75 additional restaurants and updates the reviews of pretty much all the restaurants previously included (unfortunately, some restaurants got worse over time) for a total of over 500 restaurants. I'm proud to say that Tina and I contributed somewhat to this edition by being one of the "local critics" that provided reviews and input into which restaurants were good (personal favorites this last year were Ryu of Japan and Zoot) and which were bad (worst experience was Romeo's - a very popular and supposedly "romantic" restaurant that was just the worst food we've had in Austin and more cheesy than romantic. If you read my review and then the 3rd edition Fearless Critic review, you'll see where my input went).
If you want to have a great restaurant guide that tells you the plain truth about Austin restaurants, then $11 (on Amazon; $16 at the bookstore unless it's on sale) is a small price to pay to make your restaurant dining choices a little better. Click here for the 3rd Edition Fearless Critic Austin Restaurant Guide on Amazon.com.