AUTHORS
CATEGORIES
ARCHIVE
ACTIONS
May 3, 2010 (Sous Vide Korean BBQ Flank Steak)
Posted 4 May, 2010 at 1:15am by Michael Chu
Dinner: I cooked a flank steak sous vide at 55°C (131°F) for about 44 hours in a Korean BBQ marinade (from a jar - but essentially soy sauce, sugar, asian pear puree, garlic, scallions, and ginger). I wanted to try the marinade on a cut not typically used for Korean BBQ. The result was very interesting - the flavors of bulgogi but the texture of the finest and most tender steak. I finished the steak by reducing the liquid in the bag, brushing it over the steak, and searing it over a propane searing burner. I tried cutting the steak across the grain as well as along the grain to see if there would be any difference. With these lengthy cooking times, the collagen has all broken down into gelatin, so there was no longer any toughness to the steak and grain direction makes no difference. It was still firm (not mushy like what some tenderizing agents will do) but very tender.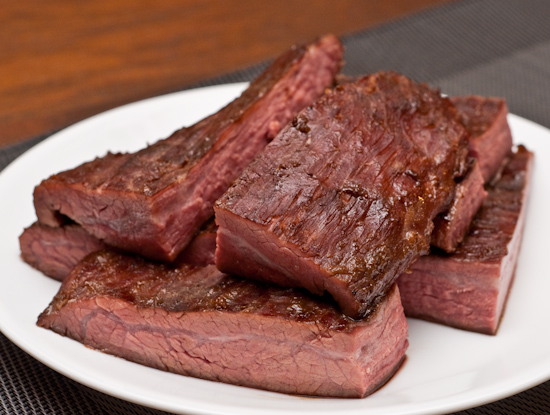 Tina sauteed some turnip greens with garlic and cooked rice to go with the steak.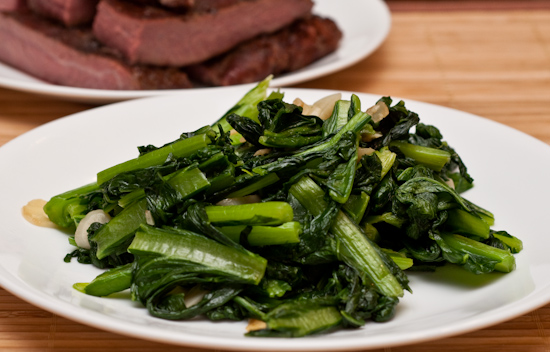 Lunch: I ate leftover catfish and fries with hushpuppies and cole slaw from Cherry Creek Catfish Company.