AUTHORS
CATEGORIES
ARCHIVE
ACTIONS
What I Ate: April 23, 2010 (Get Sum Dim Sum, Sous vide rack of lamb)
Posted 23 April, 2010 at 11:17pm by Michael Chu
Lunch: We went to Get Sum Dim Sum to try their dim sum. We ordered an assortment of various dim sum items and found all of them extremely underwhelming. Previously, we had stated that Shanghai's dim sum was mediocre, but many in Austin consider Shanghai one of the best at dim sum. Given the quality of dim sum at Get Sum Dim Sum (which the Chronicle had called "great"), I can imagine how Shanghai could be considered excellent. Our Chinese broccoli was overcooked (gone from the bright green of perfectly steamed to the dark yellowish green of soft, soggy, and flavorless), dumplings all had chewy skins (especially the potstickers which was like eating a lump of dough), and vegetable fillings were gooey and gummy. The only things passable are the shrimp dumplings and the shao mai, but even those are a pale imitation of the real thing. Drive ten more minutes to Fortune or Shanghai for your dim sum and avoid Get Sum Dim Sum. You won't be catching us there again. What I would give Get Sum Dim Sum on a scale of 0-10: 5.5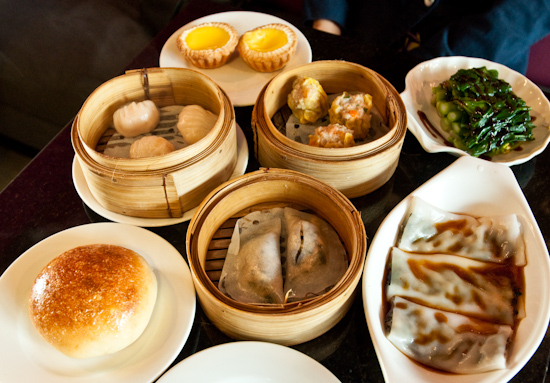 "Siu Mai" Pork - Steamed Pork & Shrimp Open-Faced Dumpling.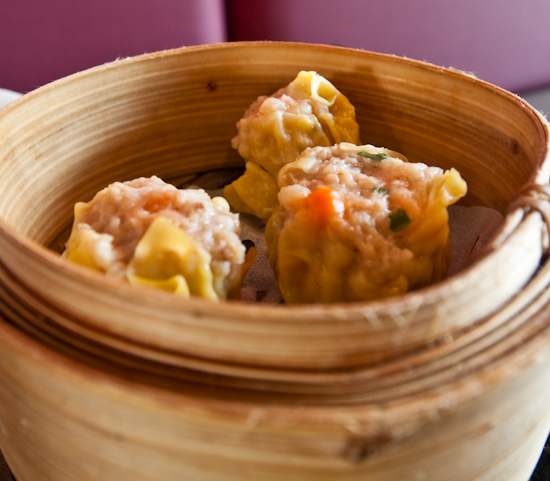 "Har Gao" - Steamed Shrimp Dumpling in Wheat Starch Wrapper.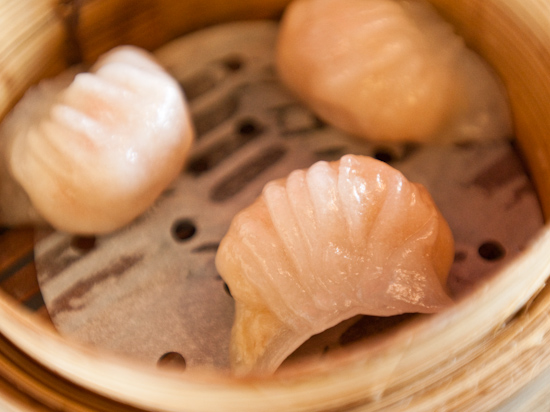 "Churng Fun" - Buddha's Delight - Handmade Rice Noodle Rolls filled w/Shitake Mushrooms & Bamboo Shoots served w/Chef Chan's Soy Sauce. The rice noodle was a bit more dense than it should have been and the filling was gooey and tasted a little like cardboard.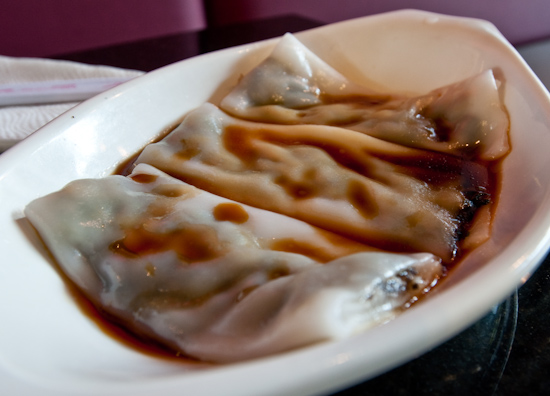 Chicken Dumpling - Steamed Chicken & Water Chestnut Dumpling in Wheat Starch Wrapper. Skin too chewy and inside was a sticky gummy mess.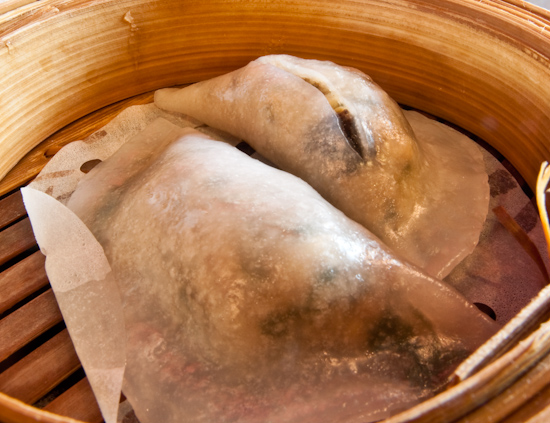 "Cha Siu" Baked Bao - Chinese BBQ Pork Baked Bao. Pork tasted a little stale.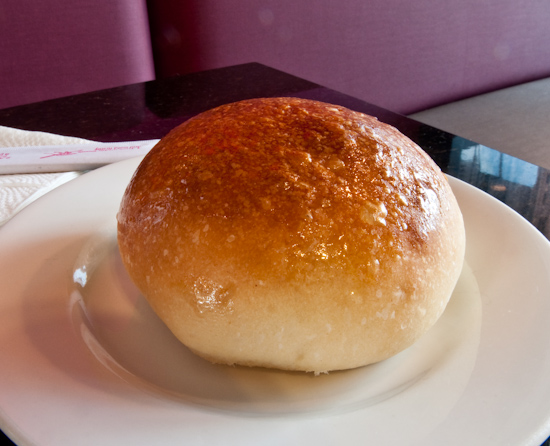 Chinese Broccoli - Steamed Chinese Broccoli w/Light Oyster Sauce. Overcooked.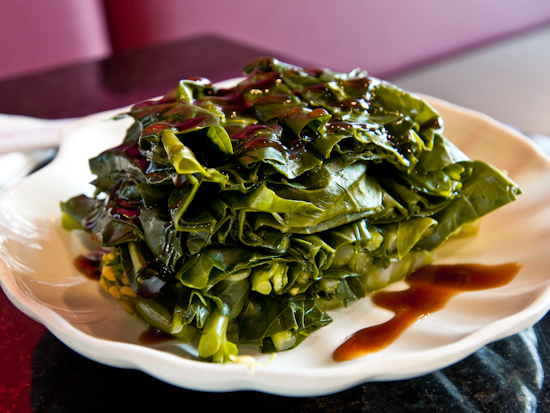 "Law Bak Go" - Pan Fried Turnip Cake with Chinese Sausage - made w/rice flour. Shredded root vegetable in the luobo gao was sweet which is kind of weird. Turnips shouldn't be used but instead a type of radish called daikon (luobo). I don't know if they used daikon or not, but I've never had it where it was a little sweet. The texture is supposed to be soft but still somewhat firm (like firm tofu), but ours was a little gummy and some parts were fairly wet.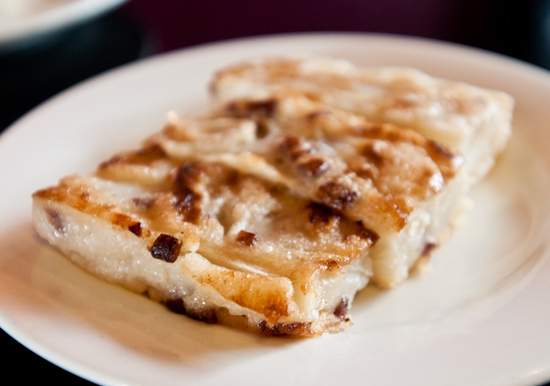 Chicken "Wor Teep" - Chicken Pot Stickers. The dough was so thick and chewy that it was just a chewy lump.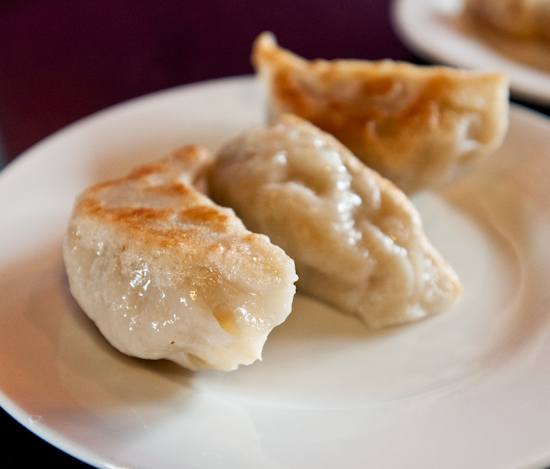 Dinner: I seasoned a rack of lamb with garlic powder, dried rosemary, dried thyme, salt, and paprika and cooked it sous vide at 55°C for 7 hours. The lamb was very tender, but not as flavorful as I had hoped. I think next time, I'll cut the rack up into sections of two ribs each so more of the lamb will come into contact with the seasonings.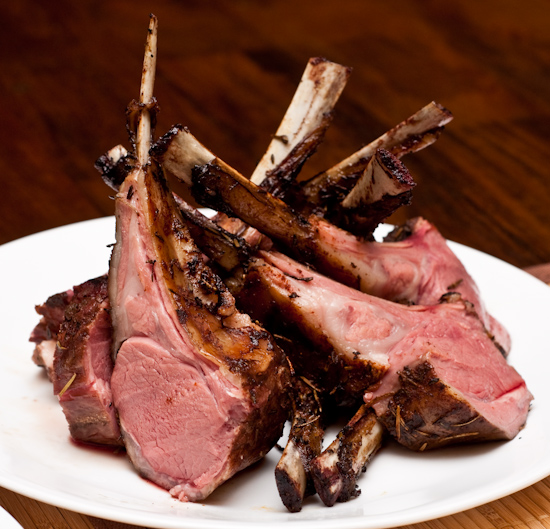 I also prepared mashed potatoes and grilled zucchini.