AUTHORS
CATEGORIES
ARCHIVE
ACTIONS
What I Ate: April 21, 2010 (KFC's Double Down)
Posted 21 April, 2010 at 9:26pm by Michael Chu
Dinner: After my HOA meeting, I drove over to KFC to try their new sandwich - the Double Down. The Double Down has two pieces of fried chicken breast (also available with grilled chicken) instead of buns and sandwiched in between is a slice of cheese, a couple of thin strips of bacon, and some secret sauce of some sort. The sandwich was pretty decent but I didn't much care for the sauce. I felt the fried chicken went well with the bacon (although I would have preferred some tastier bacon instead of the super thin yet limp bacon that fast food places always seem to serve) and cheese, but the sauce was a bit too salty and I didn't much care for the slight sourness to it.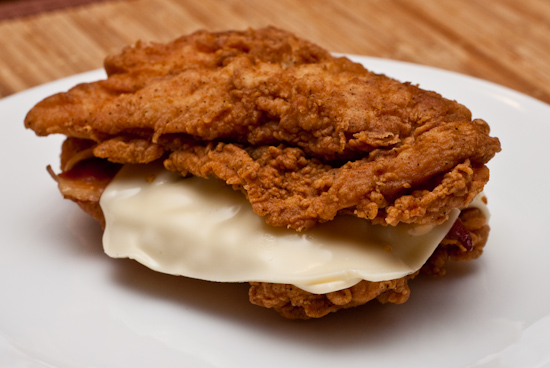 There's been a lot of stuff written about the burger and how it's a "heart attack" waiting to happen, but it is my belief that most of these "articles" have been written because it's low hanging fruit. I mean, if you describe this sandwich to anyone, it has to sound like it's the most unhealthy thing in the world, right? So, these reporters jump on this since it's an easy story to write. Unfortunately, it's a bit misleading. The Double Down is no more worse for you than a bacon cheeseburger or a Big Mac or your typical restaurant ordered Chicken Caesar Salad. I put together a quick and dirty comparison chart of some of the published nutrition information for your comparison.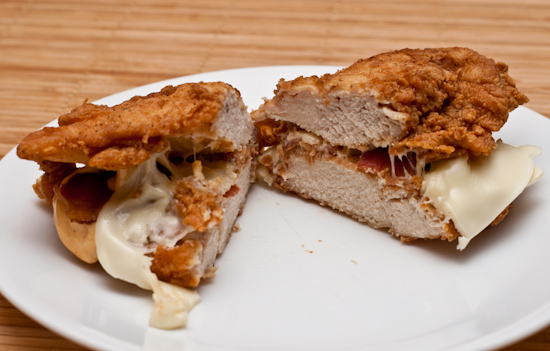 The Double Down has 540 calories (290 from fat), 32 g fat (10 saturated, 0.5 trans), 145 mg cholesterol, 1380 mg sodium, 11 g carbohydrates, 1 g dietary fiber, 1 g sugar, and 53 g protein.
KFC Double Down
McDonald's Big Mac
Typical Bacon
Cheeseburger
Subway Cold Cut
Trio Footlong
Typical Caesar
Salad
calories
540
563
595
880
900
(from fat)
290
295
299
378
640
fat
32
33
33
42
71
saturated
10
8
13
14
13
trans
0.5
1
2
0
0
cholesterol
145
79
105
110
110
sodium
1380
1007
1422
3360
1740
carbohydrates
11
44
40
94
28
dietary fiber
1
4
3
8
6
sugars
1
9
10
12
unknown
protein
53
26
33
42
37
As you can see, the numbers aren't all that bad. Sure, it's high in sodium and cholesterol (but that's because it's quite a bit of chicken - essentially a whole half breast) but the calories and fat aren't in the instant heart attack range. It's just the idea of replacing hamburger buns for fried chicken makes it sound so bad.
Lunch: I had a bowl of Nong Shim Seafood Ramyun which Tina cooked with Napa cabbage and added a water bath soft boiled (65°C) egg.