AUTHORS
CATEGORIES
ARCHIVE
ACTIONS
Things We Like: Wamsutta Comfort Soft Cotton Sheet Set, 400-Thread Count
Posted 24 February, 2010 at 5:08pm by Tina Jiang
This article is part of the Things We Like series.
Click here to find out more about Things We Like.
Over the years, we've bought various bed sheets, but found ourselves using the same set over and over - Wamsutta Comfort Soft cotton sheet set, 400-thread count. We like it the best given its soft, smooth, and silky hand and because it stands up to repeated washing with minimal shrinkage and fading.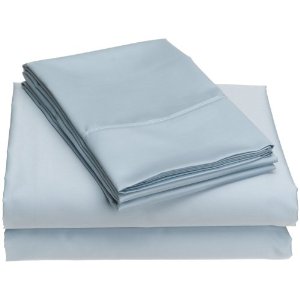 We used to think bed sheets are all about thread count, that low count sheets would be coarse and uncomfortable and high count sheets would be luxurious and decadent. Having purchased sheets all across the spectrum (from 200-count K-Mart sheets to 1000-count "hotel" sheets), we have come to the conclusion that although generally speaking higher thread count indicates higher quality, the best sheets in terms of quality + comfort (we like soft and smooth sheets) do not necessarily have the highest thread count.
Thread count is a measurement of the number of threads in an inch. This means a higher thread count has a finer (less coarse) weave. Below 300-count, this is easy to see - when you hold the fabric up to a light, you can see between the threads. Higher than 300-count, the fabric is dense enough that you usually cannot see through it. The 1000-count sheet we had was so dense that it felt almost like a solid piece (not woven) and if tented could hold its own weight up. Although very high quality, this sheet wasn't as soft as we liked. The type of cotton also makes a difference. We've found Egyptian cotton to be softer than Supima, and both to be softer than other cottons. The Wamsutta Comfort Soft sheet set is made of extra fine Egyptian cotton, and feels softer, silkier, and lighter than the 600 thread-count supima cotton sheet set we have.
Another factor that is important in sheets is how well they stand up to washing and drying. One 300-count sheet set we bought felt soft and smooth coming out of the packaging, however after the first wash they became rough and uncomfortable. It seemed that the fabric was treated with something to give it a initial soft touch, but once laundered its true inferior nature was revealed. Excessive shrinkage has also been a common problem with many of the sheets we had, as well as fading. Luckily we have not had these problems with the Wamsutta Comfort Soft sheet set, which we've used for about a year and wash and dry weekly. Being lighter (less dense), they take up less space in the washer and dries more quickly than the 600-1000 thread count sheets we have. They also have a nice subtle sheen and billows out and settles slowly (like a parachute settling) when tossed up to cover the bed.
The Wamsutta Comfort Soft Cotton Sheet Set can be purchased from Bed Bath and Beyond, and Amazon.com. They come in five colors: white, egg shell, mint (light green), truffle (dark brown), and wind (light blue). Queen size sheet set costs $90 and King set costs $100. It is more expensive than a lot of sheet sets on the market, but given the quality and unsurpassed comfort, this could be the only sheet set you need to buy in a long time.
Buy online at Amazon.com: Wamsutta Comfort Soft cotton sheet set, 400-thread count