AUTHORS
CATEGORIES
ARCHIVE
ACTIONS
Things We Like: Gold Bond Ultimate Healing Skin Therapy Lotion with Aloe
Posted 18 February, 2010 at 3:54pm by Tina Jiang
This article is part of the Things We Like series.
Click here to find out more about Things We Like.
I have very dry skin in the winter and have tried many different brands of lotion (conventional and natural) to relieve the itchiness in my arms and legs. Most of the lotions are ok for providing temporary relieve from the tightness and flakiness of dry skin, but none provided long lasting relief from itchiness. Recently I discovered the Gold Bond Ultimate Healing Skin Therapy Lotion with Aloe. I decided to give it a try after reading many positive reviews on Drugstore.com, and have found it to be the "ultimate" lotion that I've been searching for.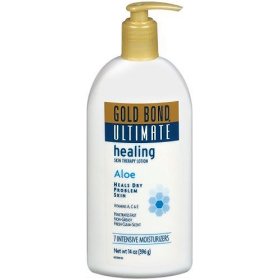 This is a very thick lotion with cream like consistency. The scent is light and fresh and doesn't linger on the skin, so it's suitable for both women and men. It spreads easily, absorbs quickly, and has no greasy residue. It is long lasting - one application lasts all day, and my hands do not turn back to sand paper after washing. Other lotions I've tried often requires reapplication throughout the day and seem to rinse away completely when I wash my hands. The most important thing for me though, is that my arms and legs no longer itch since I started using this lotion! It also helped Michael's hands when they became raw and chapped from wind, cold, and frequent washing.
This lotion is sold everywhere and sells for $8.50 for a 14oz bottle from Amazon.com (fulfilled by Target). Although somewhat more expensive than some other brands, it's well worth the money due to its effectiveness. Right now the Costco in my area (Austin, TX) has a set (two 16.8oz bottles of lotion and one 3.5 oz tube of cream) for $14, so I stocked up :). I hope this is helpful for everyone who suffers from dry itchy skin!
Buy online from Amazon.com: Gold Bond Ultimate Healing Skin Therapy Lotion with Aloe