AUTHORS
CATEGORIES
ARCHIVE
ACTIONS
What I Ate: December 26, 2009 (Nordstrom Cafe Bistro)
Posted 26 December, 2009 at 11:57pm by Michael Chu
Lunch: We headed off to the Barton Creek mall for some Day After Christmas Sale shopping and stopped in at Nordstrom Cafe Bistro for lunch. The last several times we ate here, the food has been excellent, but not today. The soup was fine, but the pasta dish was lacking and the pizza was merely okay.
Potato Soup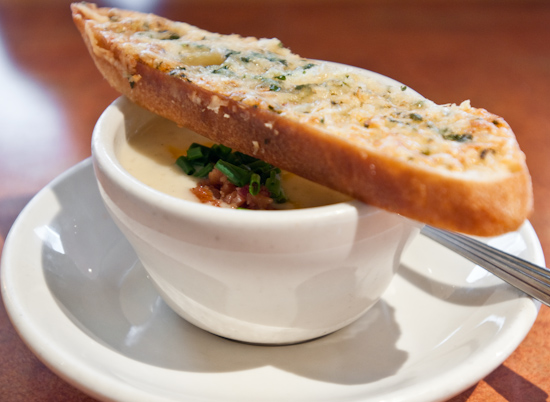 Sauteed Chicken & Angel Hair Pasta breast of chicken, roasted garlic tomato sauce, fresh spinach, oyster mushrooms and rosemary butter sauce. The chicken was very tender, but flavorless. That meant the sauce had to pick up the slack, but the tomato, mushroom, and spinach sauce, although flavorful, didn't coat the chicken well since it was a bit watery. The cream sauce would have been fine too, but it was also mild in flavor. For us, this combination just didn't work. We ended up liberally salting and peppering and didn't finish the dish.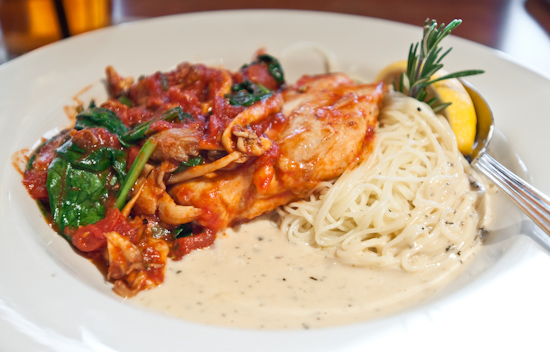 Sausage & Sweet Cherry Pepper Pizza fennel sausage, sweet tomato sauce, cherry peppers, baked with mozzarella, provolone and parmesan cheeses, fresh basil. This pizza was fine - the flavors were nice and strong and worked well together, but I felt the pizza could have been in the brick oven another minute or two to firm up the limp crust a bit. Also, the pizza dough could have used a pinch of salt before rolling out.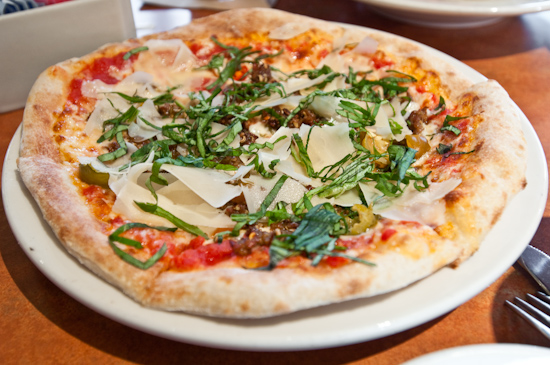 Triple Berry Shortcake freshly baked shortcake, seasonal berries with whipped cream and raspberry sauce. The shortcake itself was a little too salty. Salt is important in sweets to bring out the flavors, but too much throws off the balance - this was too much and we ended up having to avoid the shortcake and just eat the berries and cream.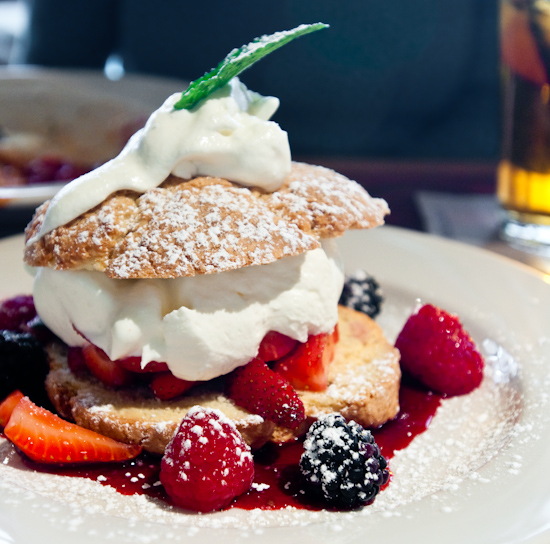 Dinner: We ate a slice of prime rib (reheated in a convection toaster oven), a couple slices of Yorkshire pudding, and polished off the green bean casserole and vegetable skewers.