AUTHORS
CATEGORIES
ARCHIVE
ACTIONS
What I Ate: November 17, 2009 (Jack-In-The-Box, Pho Thaison)
Posted 18 November, 2009 at 2:25am by Michael Chu
Due to an ultra-busy day at work (just finished up for the night), I didn't get a chance to process my food pictures yet, so I'll update this entry tomorrow with the pics.
Lunch: Jack-In-The-Box on 1626 in Kyle. I had a breakfast burger (cheese, egg, sausage patties) with hash browns for lunch. I believe this means that I have now dined at every restaurant (and I define that by any business who primarily serves lunch or dinner) in Kyle. As far as I know, the only other places that serve food are the bar on Center Street, the Shipley's Donuts, and the pizza you can buy at the gas station on 150.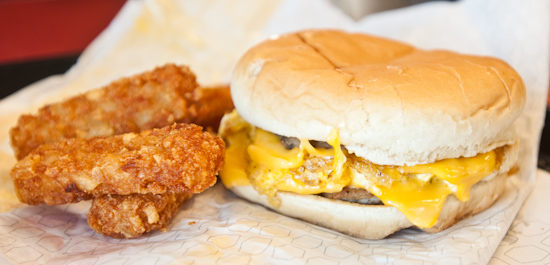 Dinner: Tina wanted something Asian (and we are never going back to the Chinese Food / Donut shop off of Center St.) so we went to Pho Thaison where I ordered a bowl of brisket, flank, and tendon pho. Unfortunately, the meat tasted a bit old/stale so we ended up avoiding the meat. Tina ordered some sort of beef soup with egg noodles which she didn't much like and we ended up switching. I didn't really like the beef in the soup because the chunks were large and chewy, but preferred it over the pho. We're not going back there again (not a bold claim since we are only spending two more nights in Kyle).