AUTHORS
CATEGORIES
ARCHIVE
ACTIONS
What I Ate: October 5, 2009 (Zoe's Kitchen)
Posted 5 October, 2009 at 10:00pm by Michael Chu
Lunch: Tina and I went to a press and blogger invite lunch to taste the food of the soon to be opened Zoë's Kitchen or Zoës Kitchen (their website and promo materials seem to alternate between the two - doing a look up on the USPTO website for the trademark lists both Zoë's Kitchen and Zoës Kitchen as trademarks AND company names). Zoë's Kitchen is a chain of twenty or so "fast food" restaurants which specialize in what I would describe as fresh, "healthful" Mediterranean-inspired fare. It started in Birmingham, Alabama, and Austin's first location will open on Wednesday, October 7, 2009 in the Arboretum (10000 Research Boulevard, Austin, TX - (512) 372-9080) in the same lot as the Renaissance Hotel.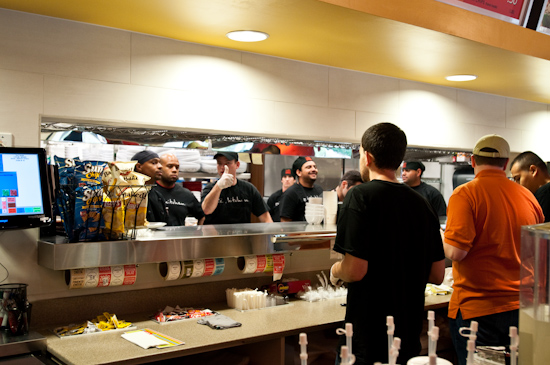 Lots of people in the kitchen today for training - actually, there were lots of employees in the restaurant in general
We tried the steak roll-up with rice pilaf, chicken roll-up with grilled vegetables, and the hummus salad plate (Hummus with pita chips and a Greek salad). The roll-ups where light and tasty while hot. Once cold, they aren't as crispy and the cheese isn't as pleasant, so eat them immediately and don't sit around chatting like we did. The rice pilaf looked a little bland when I got it, but I was pleasantly surprised at how flavorful it was. Unfortunately, the batch that I got was also a little over-salted, but after chatting with Hasoum, the owner and operating partner of the Austin Zoë's Kitchen, he acknowledged a little overzealous salting may have occurred and that should not be a problem in the future. The grilled vegetables were excellent - they tasted fresh, were nicely browned on the grill imparting a nice flavor, and cooked just enough to soften but still hold a little crunch. The hummus was decent as was the Greek salad when enough of the salad dressing (found on every table) was applied.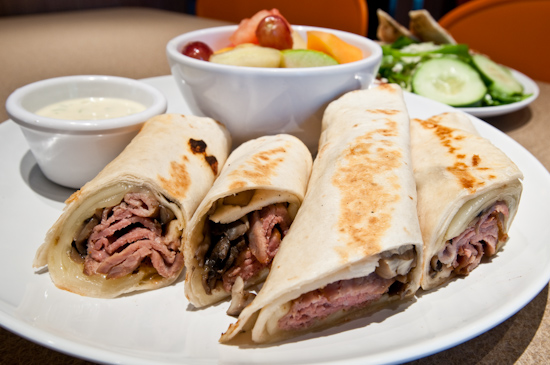 Steak Roll-Ups (sliced tri-tip, lettuce, tomato, caramelized onions, salsa) with a side of Seasonal Fresh Fruit, $7.65
As an alternative to the typical burger or fried chicken fast food, Zoë's Kitchen is definitely something to keep in mind if you're in Northwest Austin. If you do happen to live in Austin, I've got a few coupons to try a free sandwich or entree at Zoë's Kitchen - just leave a comment (make sure you either register or leave me your email so I can contact you) saying you want a coupon.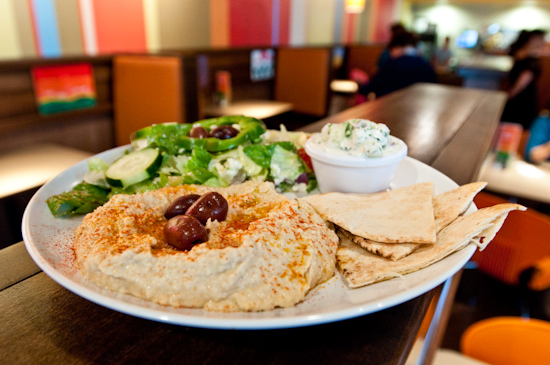 Hummus Salad Plate (with greek salad, cucumber raita, olives), $6.95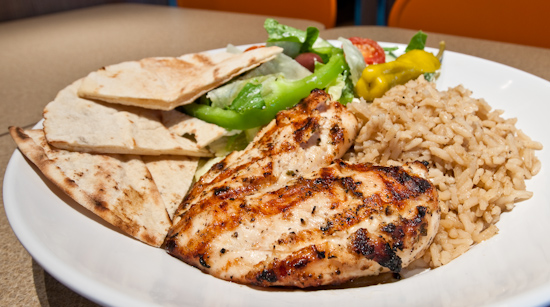 Grilled Chicken Dinner, $8.95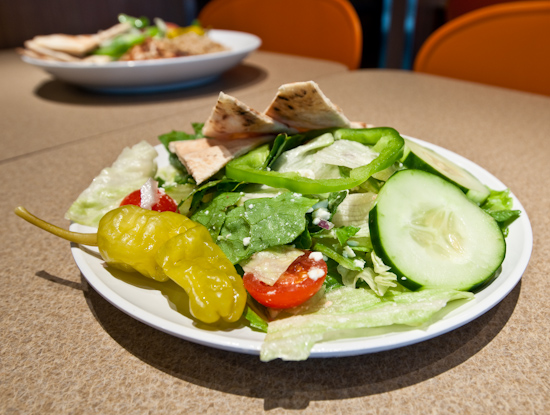 Side Greek Salad, $3.24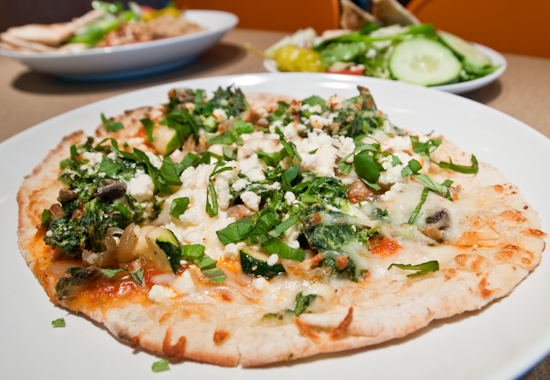 Veggie Pita Pizza (roasted vegetables, mozzarella, feta, fresh basil, caramelized onions, marinara, side greek salad), $7.95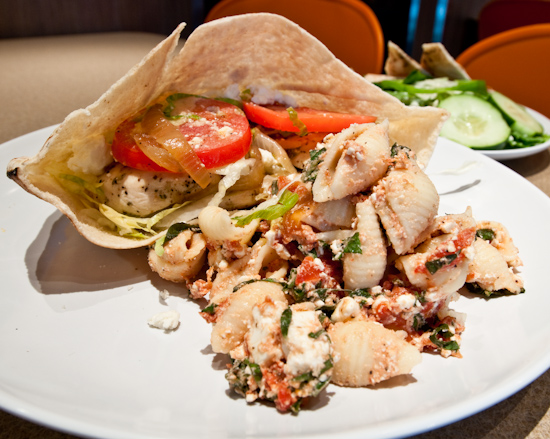 Greek Chicken Pita (lettuce, tomato, caramelized onions, feta) with a side of Pasta Salad with Fresh Basil, $6.99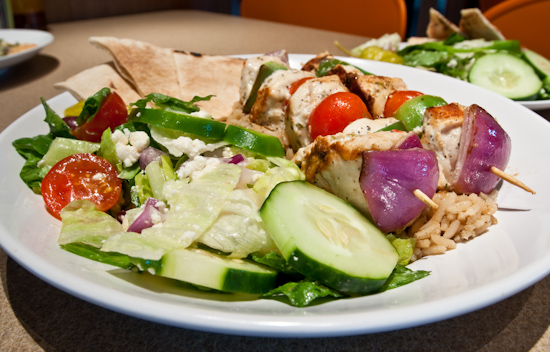 Chicken Kabobs (two charbroiled kabobs, grilled peppers & onions, tomato, rice pilaf, side greek salad), $8.95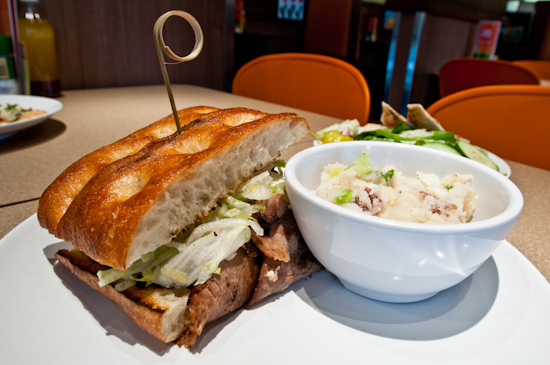 Steak Stack (sliced steak, grilled portabello, mozzarella, caramelized onions, tomato, lettuce, focaccia) with a side of Potato Salad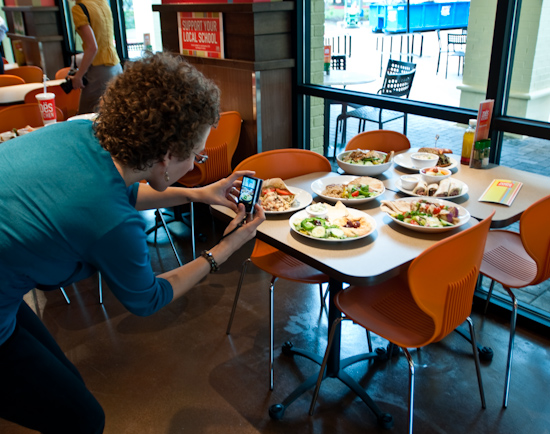 Addie Broyles of the Austin American-Statesman takes a picture of Zoë's Kitchen sample food
Dinner: I went over to Tina's parent's place to attempt to fix their computer. While there we ate potstickers, cabbage with green peppers, and tomatoes with egg.