AUTHORS
CATEGORIES
ARCHIVE
ACTIONS
What I Ate: September 4, 2009 (Olive Garden)
Posted 4 September, 2009 at 10:27pm by Michael Chu
Lunch: I heated the remaining piece of Dai Due cider-braised pork belly. I cooked down the apple cider and onion braising liquid and mixed in a little slurry of corn starch to thicken and used it as a sauce. Then I paired it with sweet corn and wilted arugula with cherry tomatoes.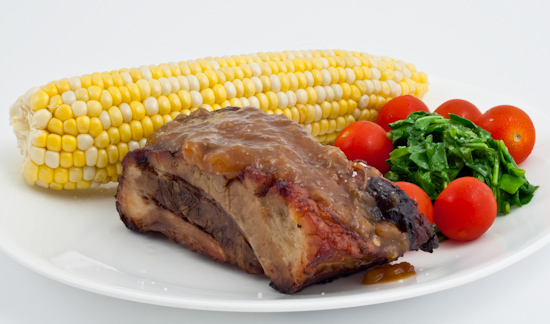 Dinner: After watering the trees on our home site again, Tina and I headed over to Olive Garden (we tried the exact same thing two nights ago) and this time got there early enough that they hadn't closed. It also helped that on Fridays they stay open one more hour. The lighting was dim and the table small, so I didn't have much room to work in. I decided to take the pictures, handheld, at ISO 6400 (HI-2 on my camera) at f/2.8 with 1/50 sec exposure. Even at 17mm (36mm equivalent if I was using 35mm film or a full frame sensor), there's a little camera shake. To reduce noise and color splotches (blue is most common), I took several shots in a row and merged them together, averaging the pixels (with Photomatix Pro 3.2). (This can be done with Photoshop CS4, but I'm on CS3 and am waiting for CS5 to upgrade.) Enough photo talk - we started with the salad.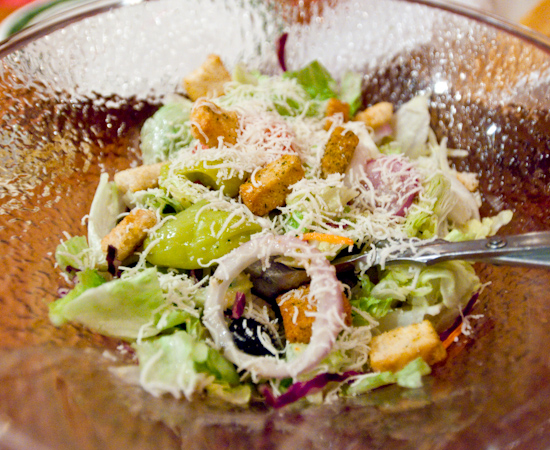 I had a bowl of minestrone soup.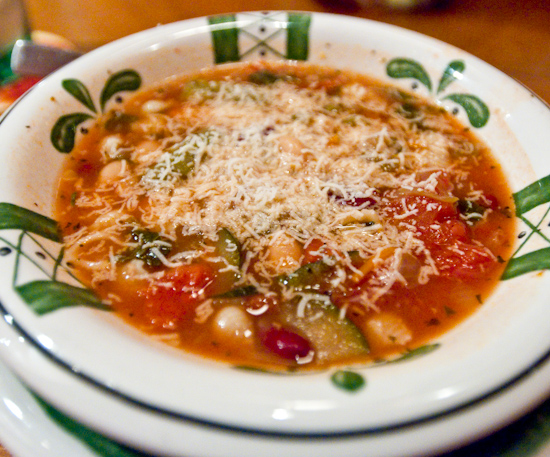 My main course was the Grilled Shrimp Caprese (with angel hair pasta) which had good garlic and basil flavors and a decent amount of grilled shrimp. The shrimp were cooked well (not at all tough and overcooked).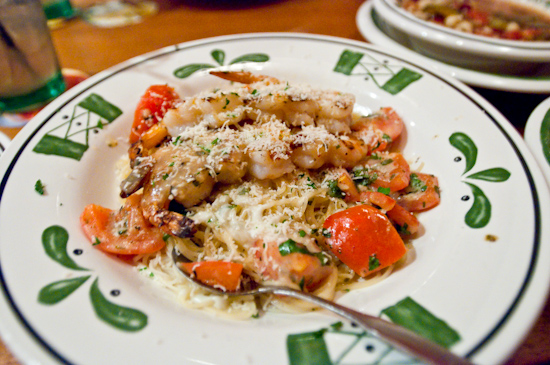 Tina had the Seafood Portofino which she found to be a bit bland. They brought her some more sauce and after mixing some sauce in with some salt, it was a great deal better, but still not great. Both pastas were a little overcooked.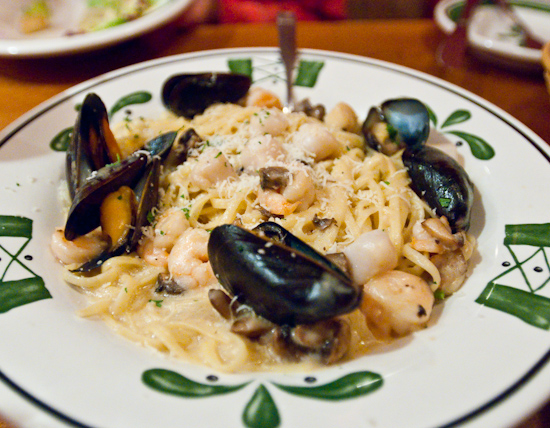 Overall, I have to agree with Conan O'Brien who is known to say that Olive Garden isn't great but it's good for the money.