AUTHORS
CATEGORIES
ARCHIVE
ACTIONS
What I Ate: August 23, 2009 (Alamo Drafthouse, KFC)
Posted 23 August, 2009 at 8:10pm by Michael Chu
Dinner: Having gotten home in a pretty tired state, I decided not to cook dinner but to go out and get it from somewhere. After going through the list of restaurants that we knew of in Kyle, we were feeling pretty discouraged. I suggested that I swing by KFC to grab some of the grilled chicken that I had last time and liked so Tina could try it. I was going to get the grilled hot wings for myself (having seen the commercials all over TV). I drove over to the KFC and found out that they did not have the hot wings at that location. So, I got two orders of grilled chicken (leg and thigh meals) with seasoned rice, corn, cole slaw, and potato wedges. This particular KFC was also a Long John Silver's and there was a bit sign up for Buttered Lobster Bites, so I got some of that as well.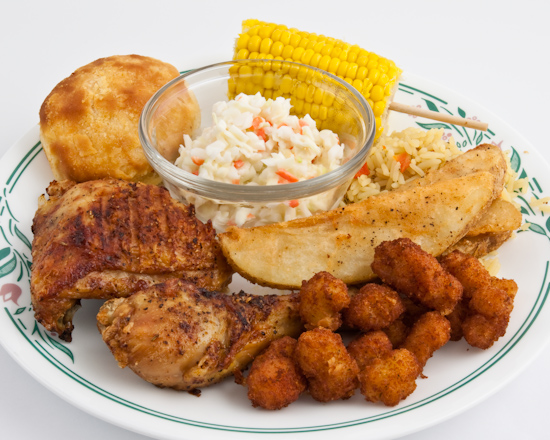 The grilled chicken wasn't as good as the last time I had it - but it did look better. It was just a bit dry this time - not super juicy like last time. The Buttered Lobster Bites tasted a bit like artificial butter, but otherwise were pretty tasty.
Lunch: For lunch, Tina and I ate inside at an Alamo Drafthouse. We watched "Julie & Julia" while I ate boeuf bourguignon. Unfortunately, I could not take a picture since I was in a theater. The beef bourguignon was served in a white square bowl (about 3 to 4 inches deep) with beef, bacon, carrots, pearl onions, egg noodles, and what I think was chives all over the top. The beef was prepared very well - falling apart with streaks of gelatinized connective tissue and decent flavor. Some of the pearl onions could have had one more layer of the onion removed (a little chewy on the outside) and the egg noodles could have been boiled in salty water for more flavor. In fact, when Julie's husband, Eric, salts his serving of beouf bourguignon in the movie, I was a tad envious - except I had already finished mine. It occurred to me later that I could have written salt on the little order paper and a waiter would have brought me a salt shaker, but I was busy watching the movie and eating already. At the end of it all, it reminded me that my friend Harold had mentioned he was curious on how I would go about preparing beouf bourguignon (actually, I think what he said was that he wanted to eat my take on the dish) but I never got around to it. Perhaps, it's time I did.