AUTHORS
CATEGORIES
ARCHIVE
ACTIONS
What I Ate: March 28, 2009 (House of Annie)
Posted 29 March, 2009 at 12:51am by Michael Chu
I got up early today and took Harold to CQB City in Stockton, California (currently my favorite place to play Airsoft). After playing a couple games, we broke off to eat grilled hamburgers for lunch. The hamburgers tasted different than what I was used to because they used some red colored seasoning (didn't catch the name) as well as a healthy dash of Lea & Perrins Worcestershire Sauce. There's nothing like a lot of exercise and an coming off an insane amount of adrenaline coursing through the body to make a burger taste great. I had a Pepsi and a bag of Frito's Corn Chips with the burger.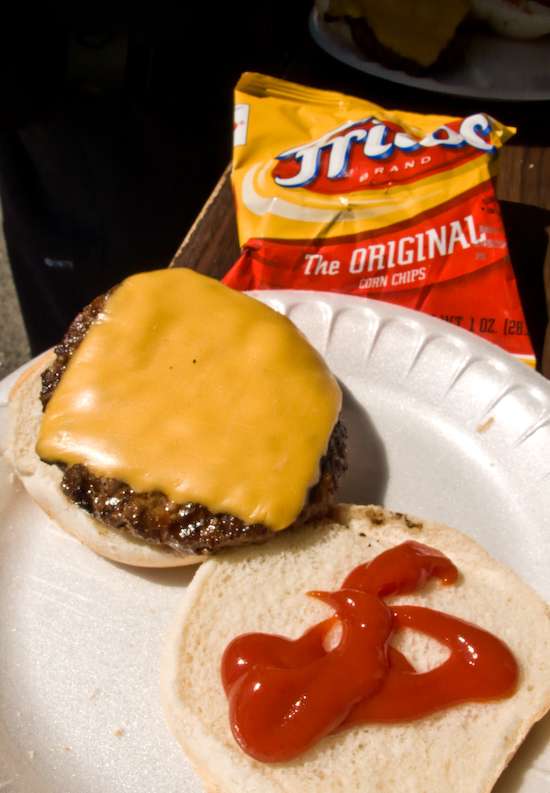 After coming back from Airsoft, Tina and I headed over to Nate & Annie's home to participate in a barbecue rib taste test where we sampled four different ribs (one purchased from a local BBQ restaurant and the other three prepared in different ways - grilled, boiled then baked, and smoked).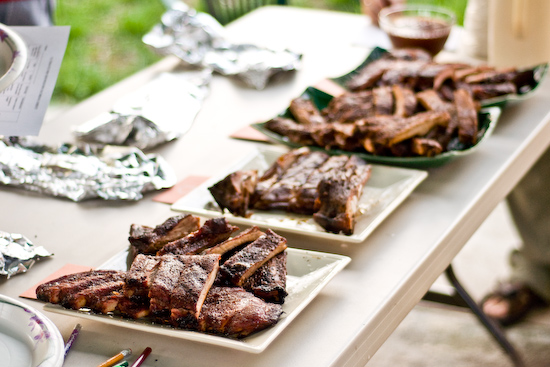 I especially liked the smokiness of the smoked ribs, but felt that the grilled one ended up having a lot more flavor from the spice rub. (We weren't told which was which until after the tasting was complete.) What was interesting was that the spice rub used on all but the restaurant ribs tasted different even though it was the same rub. It turns out that the cooking method makes a big difference in the final taste of the rub. The restaurant ribs were purchased from Texas Smokehouse BBQ in San Jose - a solid 4-star restaurant on Yelp. These ribs had awful texture - they were more mushy than tender. The flavor was also really weird - pretty much nothing except for smokiness and the smoke tasted artificial/synthetic. I rated them bad to inedible. Later Nate told us where he got the ribs and how he watched them load their grills with Kingsford charcoal and light them with lighter fluid. No wonder the smokiness tasted bad - it's not the gentle sweet smoke from fresh wood, but, instead, the harsh smoke from charcoal made from random scrap wood and the petroleum vapor from the lighter fluid!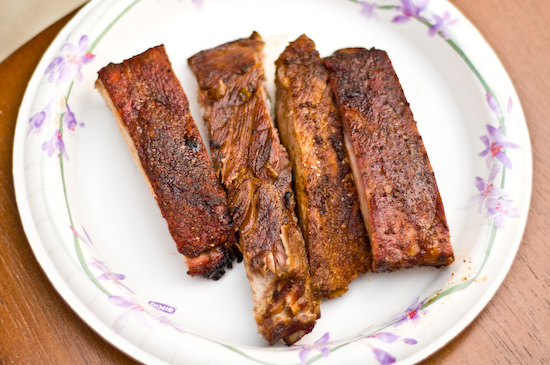 One of their guests brought pavlova (two kinds made from two different recipes) as a unique birthday cake for another guest (unfortunately, I forgot both their names).