AUTHORS
CATEGORIES
ARCHIVE
ACTIONS
What I Ate: March 27, 2009 (Google, Chez Panisse)
Posted 27 March, 2009 at 10:52pm by Michael Chu
Today pretty much concludes my rapid fire tour of the famous dining places in the Bay Area. For lunch, I ended up eating at Charlie's (named after Charlie Ayers - see Calafia from a couple weeks back), the main cafeteria on Google's Mountain View campus. I grabbed some perfectly cooked tender asparagus, barbecue chicken, baby artichokes (which were a little undercooked) and a nice fresh greens, fennel and citrus salad.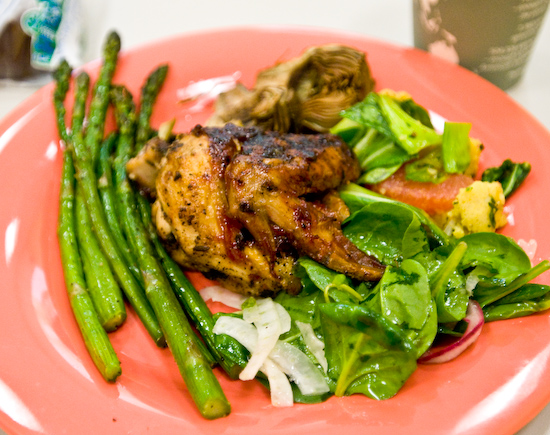 I also had a Google-branded It's-It for dessert.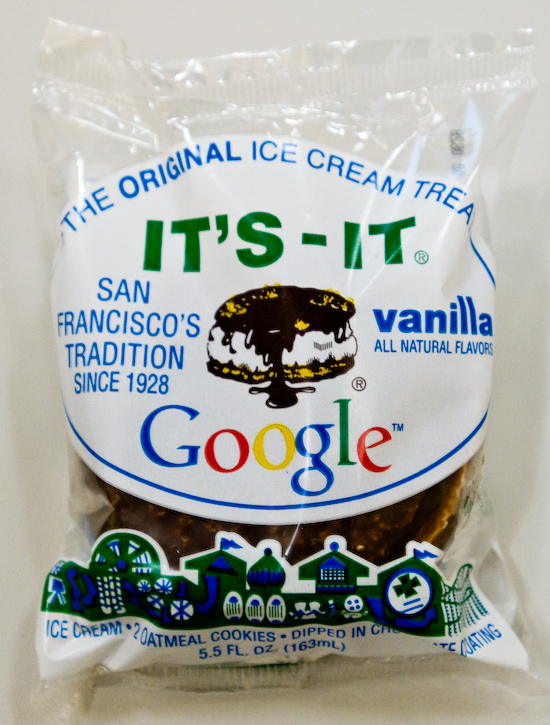 In the evening we headed up to Berkeley to dine at Chez Panisse (which many consider to be the birthplace of California cuisine). I've been living in the Bay Area since 1995 and always meant to dine there, but never made the time. Since, I'm moving to Austin in a couple weeks, I made sure I'd eat at Chez Panisse before leaving. The meals at this Michelin 1-star are set (everyone in the restaurant eats the same four course meal which costs $95 per person on Fridays and Saturdays). An amuse bouche of crab and dill salad served on what looked like and tasted like melba toast started us off.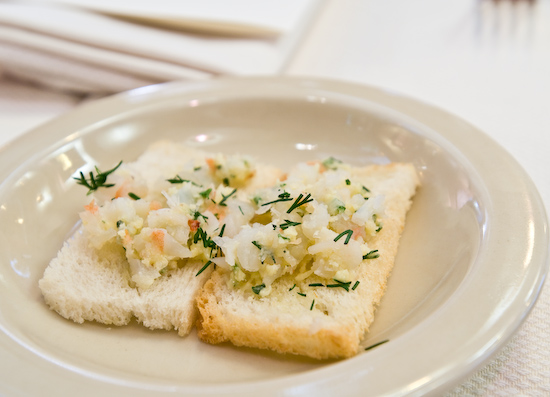 An apéritif - This was a drink made by mixing sparkling wine with rum, blood orange and lime syrups. We liked the taste - it was sweet, slightly bubbly, and refreshing. After a while though, it started to feel too sweet so we had to just sip it.
Tuna tartare and green asparagus salad with mustard flower vinaigrette - The tuna tartare tasted fresh (fresh is a recurring theme in this dinner) with some curry flavor. The asparagus was cooked until extremely tender (but not mushy). I could not discern any flavors that the flowers brought to the dish.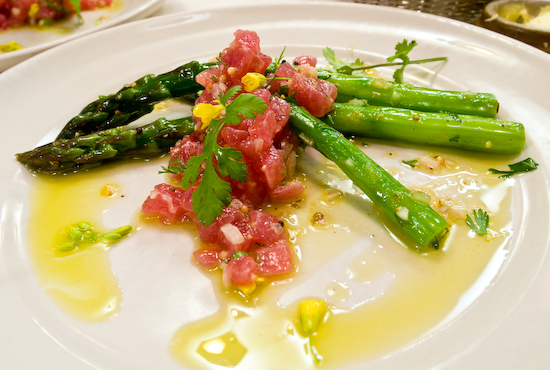 House-made pasta with morels and green garlic - The pasta was well made and cooked perfectly - with a wonderful mouthfeel and slight chewiness. The mushrooms - morels and chanterelles - were tender and flavorful, but the real highlight of the dish were the super sweet, ultra-fresh green peas. Although the dish was pretty simple (I definitely felt like I could make this dish at home with just a little patience and attention), this was my favorite of the meal. The fresh, simple ingredients were allowed to hold their own.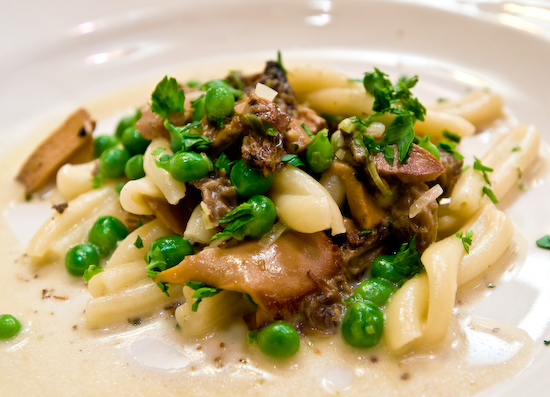 Grilled rack and loin of lamb with tapenade sauce, artichoke and spring onion ragoût, and warm chicories - The meat course was good, but nothing really special. I liked the pairing of the olive tapenade with the lamb but wasn't too pleased with the flavor and texture of the loin pieces. My pieces were so mild that I would have had a some difficulty identifying the meat if you blindfolded me. They were also a little chewy. The rib was much more tender, tasted of mild lamb, and better seasoned than the loin. The chicory salad and artichoke hearts were the best part of this dish.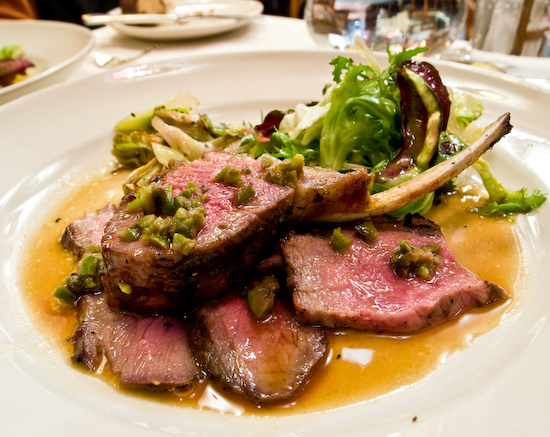 Passion fruit ice cream and tangerine sherbet meringata - Dessert was a multilayer creation featuring (from top to bottom) a meringue, passion fruit ice cream, meringue, tangerine sherbet, and another layer of meringue with fresh kiwi, kumquat slices, and pineapple. By themselves the meringue was super-sweet, the tangerine sherbet was too tart, and the passion fruit ice cream was just right. Together, they blended together very well especially with a spoonful of the fresh fruit.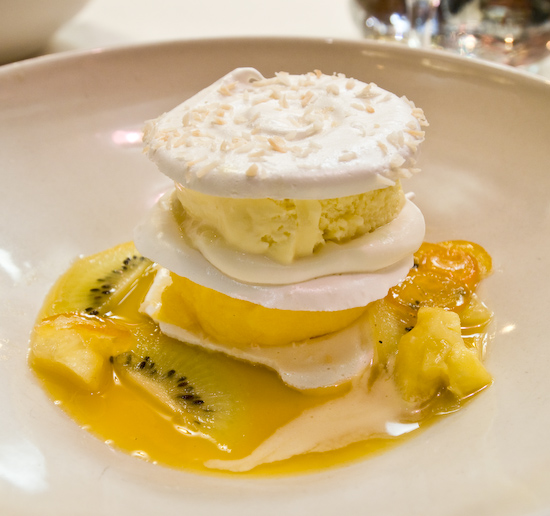 After settling the check, we were presented with a few parting bites - dark chocolate truffles and thumbprint cookies.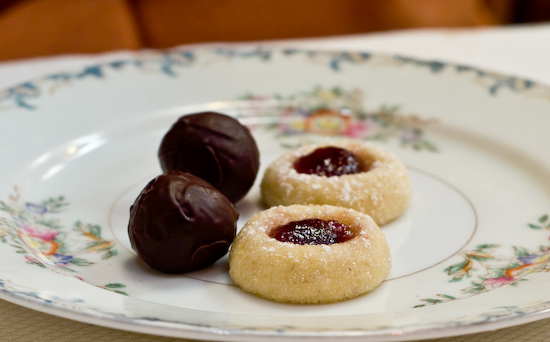 I think overall the meal was pretty good. Certainly, every dish was well executed and the fresh ingredients are welcome. Unfortunately, there are many top notch restaurants that are also using fresh, local ingredients in their cuisine and at these prices I'm left wanting more. Both Tina and I were feeling like we could have eating more food after the meal was over. I really felt like we needed one more course - perhaps another fish course. Another problem is that when I dine at expensive restaurants, I'm not looking for simply a good, well-executed meal. At prices around $100 per person, I'm looking for a meal that I can't possibly conceive of preparing at home. This means I need the use of ingredients in new and ingenious ways to create taste sensations that alter the way I think of food. Or, if the restaurant isn't the innovating type - then extremely well executed dishes (like the ones we had tonight) in numbers and variety that can't be accomplished in the home. Four dishes just isn't enough for me to justify the price and the hour drive.
Was I glad I ate at Chez Panisse? Yes, definitely. Was I happy with the meal? Yes, but I wasn't satisfied. Would I go back to try their food again? I don't think so.