AUTHORS
CATEGORIES
ARCHIVE
ACTIONS
XBox 360 Live Support is busted
Posted 17 January, 2009 at 9:37am by Michael Chu
So, out of the blue, I began to receive these emails from XBox 360 Live. I've been receiving them for the last month, and I don't even have an XBox! I'm guessing someone signed up with my email address and apparently Microsoft doesn't do the standard email verification. They also don't include an unsubscribe link on the emails. Finally, this evening, I got fed up and decided to figure out how to unsubscribe. I started by logging into the account. How? I just told it to reset the password for the email (it IS my email address), confirmed the reset in my inbox, and then logged in. Then I looked for some way to deactivate the email or close the account. I couldn't find it easily, so I clicked on Contact Support and all of a sudden my browser window expanded to almost maximum size with a side browser opening up to mimic the Microsoft Help interface. Unfortunately, this makes the computer really difficult to work with since I have a large widescreen workstation monitor and work with text on the right hand half most of the time. Now imagine this blown up to a large monitor, one second I was looking at my web browser, the next - all I see is white: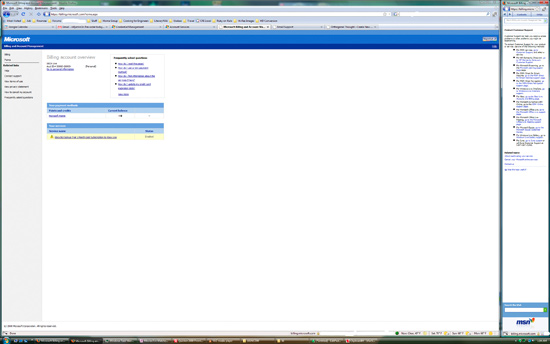 So, I get over this website user interface design faux pas, look to the left to find that nothing has changed - it didn't take me to the contact page. I look to the right and find a list of help sites for various Microsoft products. Some how, logging into the XBox Live page and doing the password reset has taken me to all of Microsoft's account stuff instead. The XBox help instructions tell me to access the contact support from the Xbox Live Accounts and Billing Page. So, I click on it (resize my windows so they are not ridiculous anymore) and try to find the page I'm looking for. I don't see it immediately, but I find a Support page where there is an "Email Support". (There was also telephone support, but it was too late to call.) I click on email support and there is a nice sane looking contact form. I'm guessing I could have gotten to this form without hijacking this guy's XBox account, but who knew?
I filled out the form, left a pull down blank that was labeled with: What type of problem do you have? (Select the option that most closely matches your problem. your selections enable us to quickly provide the most accurate response.) - none of the choices had anything to do with accounts (even though a previous pull down allowed me to select XBox 360 Live as the service I needed support on). Then I wrote a few sentences explaining that someone had used my email address, perhaps by accident, and that I needed the emails to stop and maybe they should try contacting the individual. Then I hit submit and received an error that said: Select problem type. Okay, I guess I'll have to pick one of these: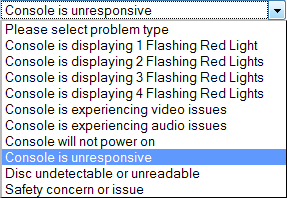 Clearly none of them are even remotely related to my problem. I don't even have an XBox 360! So, I randomly picked one and tried to submit again - but my problems weren't over yet…

I received this back: Description cannot be more than 500 characters. You got to be kidding me! How many characters did I use? At least tell me that so I know how many to shorten by! I'm not even asking for a live javascripted count, just let me know how many I'm over by so I have an idea if I wrote 100 characters too many or 10. I shorten the message a little. Resubmit, same thing. Okay, I cut and paste the description into EditPad Pro (one of my favorite editors for coding in the Windows environment) and look at the character count. I'm now 550 or so. So I start shrinking sentences and using a little IM speak. I feel like I have to explain to the tech support guy on the other side that I'm not one of those idiots that writes in scrunched up sentences and text message speech so I have to put in a sentence at the beginning to explain why the sentences are so weird now. So I wrote:
This form sucks: must use <500 characters so I need abbr. sentences! Problem: someone signed up (xxxxxxxxxx) with my email addr (accident??)! My email addr = xxxxxxxxxx@gmail.com. Getting emails frm XBox360 Live & no UNSUBSCRIBE in body. This is ridiculous. Used link in latest email, reset pass, logged in 2 send support msg to remove from mailing list. Pls STOP sending me email. I don't own XBox 360. thx, Michael (P.S. I forced to choose a prblm from drop down; didn't have "other" choice, srry.)
Then I hit submit and I got Invalid characters found in description.
NOOOOO!!!!! I guess that it's the "<" so I change the first part from "must use <500" to "only use 500" and resubmit.
This is what I received: