AUTHORS
CATEGORIES
ARCHIVE
ACTIONS
What I Ate: January 30, 2009 (Alexander's Steakhouse)
Posted 31 January, 2009 at 12:42am by Michael Chu
We had reservations at Alexander's Steakhouse for dinner tonight, so I didn't eat am overly heavy lunch. I meant to go out for a salad, but realized I had some left overs in the refrigerator, so I heated up some of that. I ended up eating the scallop and egg white rice with left over lamb and one last piece of naan.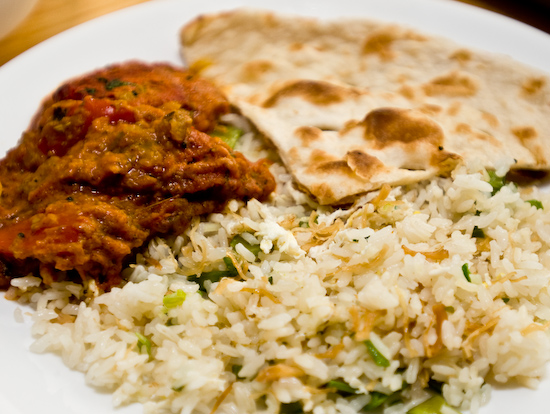 We went to Alexander's for dinner because we had heard from many people that it had the best steaks in (San Francisco) South Bay. We spent quite some time examining the menu at Alexander's. I really wanted to go for the $180-$200 cuts of Japanese Wagyu beef, but talked myself out of it because it wouldn't be the average person's experience at this steakhouse. I did want to order something dry aged since so few restaurants bother to dry age their beef these days. They only offer New York strip, T-bone, and Porterhouse steaks dry aged. (The reason for this became clear when I got a chance to visit their dry aging locker - they only dry age short loin primal cuts. When the 28 days are up, they had an band saw in the kitchen that they use to cut the short loin into the strip, T-bone, and Porterhouse.) We ended up ordering a dry aged Porterhouse steak cooked medium-rare. The beef was delicious but not the best steak we've ever had at a restaurant. That honor belongs to Peter Luger's where we also had a dry aged Porterhouse. (Later when chatting with owner and general manager of Alexander's, he said, "That's not fair! You can't compare us to Peter Luger's, they're the best. I'd say they are a 10 and we're around an 8.") My trouble with steaks is that if you buy a good quality steak and pay attention when you cook it, you can pretty much make a perfect steak at home. The only problem with that is the access to quality beef - it's not always easy to get Prime, Wagyu, or Dry Aged beef. After having the steak at Alexander's, I'd seriously consider them as my first choice of a steak dinner if I didn't feel like grilling my own.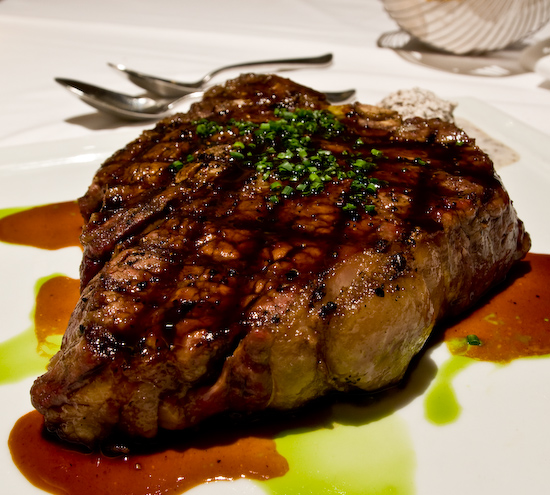 Before the beef, we started with a Leek Salad. (A bit too mild for our taste - we don't really recommend this dish.)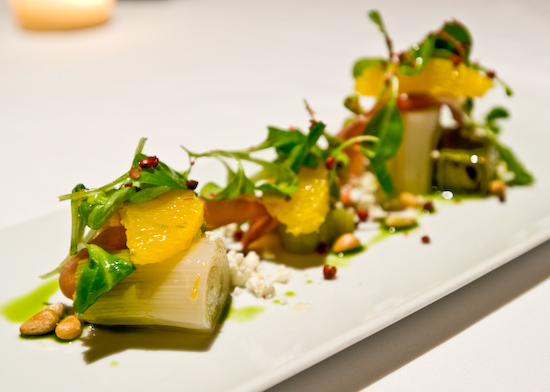 We ordered Beets & Greens and Mac 'N Cheese as our sides: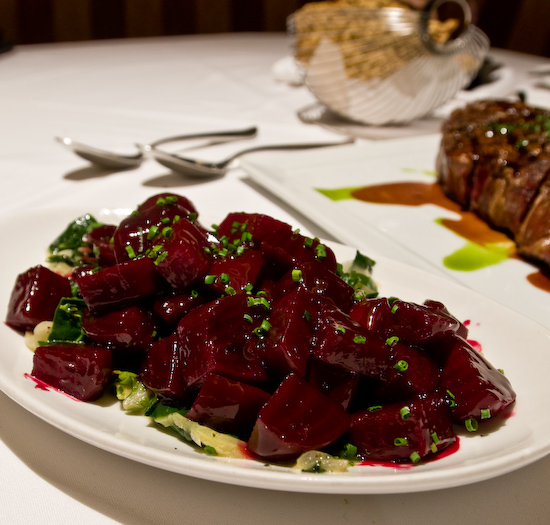 The Mac 'N Cheese (with white truffle oil and Maine lobster) was the highlight of the meal for me. It was incredible - the mozzarella, gruyere, and cheddar cheese blend went incredibly well with the white truffle oil and decadence of the lobster chunks. If you go to Alexander's, ORDER THIS!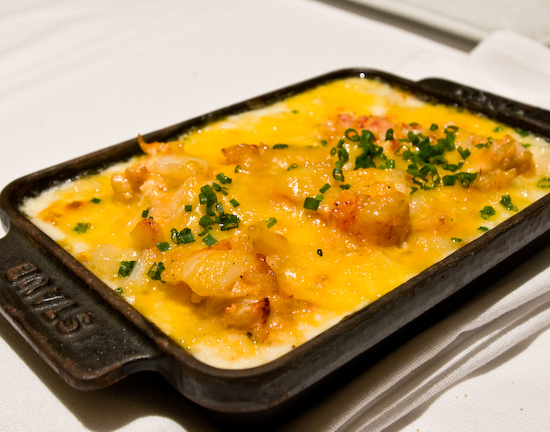 The best thing about Alexander's is how nice and accommodating everyone is. The atmosphere is fine dining, the food is a blend of steakhouse, fusion, and playful haute cuisine, but you also can't help but feel comfortable and relaxed when chatting with the waiter and just having a good time. Because we enjoyed our total experience so much, I'll be doing a longer write up for Cooking For Engineers.