AUTHORS
CATEGORIES
ARCHIVE
ACTIONS
What I Ate: January 18, 2009 (McDonalds, Sozai Restaurant and Sake Lounge)
Posted 19 January, 2009 at 1:54am by Michael Chu
We went to Day One of the Fancy Food Show today. On the way there, we stopped at McDonald's for a quick lunch. Tina got her favorite: Southwestern Chicken Sandwich (which she puts up with while we're not in Texas with access to Chick-Fil-A's). I got my favorite pair of fried foods at McDonalds.
A Filet o' Fish - what I don't understand is how hard is it to place the fish patty on the bun squarely? I think it's been years since I've had one constructed properly.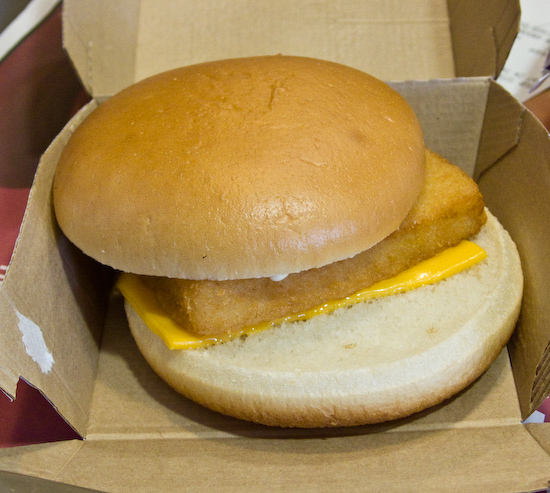 Six Pieces of Chicken McNuggets (which I ate with Hot Mustard Sauce)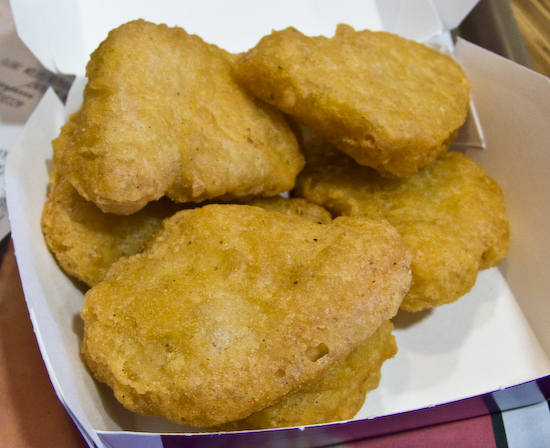 We spent the rest of the day tasting new food products at the Fancy Food Show. Afterward, we went to our friend Christine's Birthday dinner at Sozai Restaurant and Sake Lounge (1500 Irving St., San Francisco, CA 94122, (415) 681-7150) in the Inner Sunset Neighborhood of San Francisco. We ordered a variety of foods at this izakaya style dining establishment.
I wanted to like this family run restaurant so much, but unfortunately, the food is just too expensive for the quality of preparation. We started off with a couple shared dishes that we ate while ordering the rest of our meal. We started off with some edamame hummus with fried won ton skin chips (quite tasty), a mizuna salad (also quite good), and chicken kushiyaki (decent).
Edamame hummus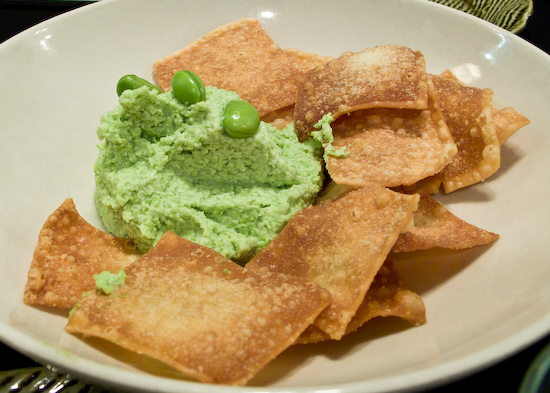 Chicken Kushiyaki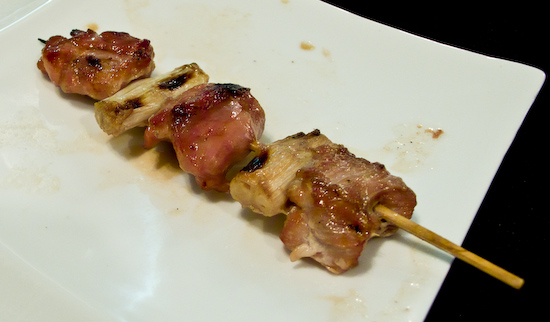 At this time, Tina and I ordered the rest of our dinner and the disappointments started arriving. The first thing we received was the grilled chicken gizzards. I like the chewy/crunchy texture of chicken gizzards but these are much too chewy. There's a membrane on the gizzard that is best removed, but that was clearly left on and needed to be swallowed whole. There was also a weird off flavor (kind of gamey; maybe the chicken was too old or left out or something) that caused me to not want to eat any more of it.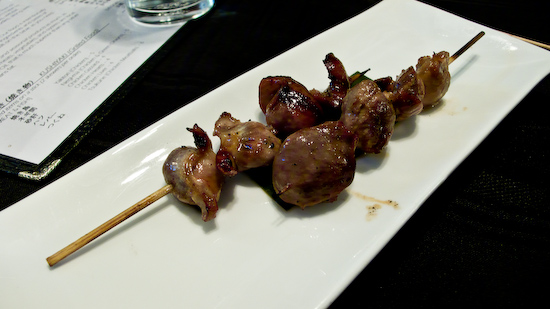 Next up was a "special" - the yellowfin tuna sashimi. We received 4 pieces of salmon, 4 (fairly large) pieces of yellowfin tuna, and 2 pieces of mackerel. The salmon and the tuna were a little mealy, not quite firm, and some pieces were actually a bit chewy. I like my raw fish to be firm and not deform or squish as I bite down on the fish. The flesh should also cut cleanly as I bite down. This wasn't quite the case with the sashimi. The tuna also didn't have the characteristic sweetness that I look for. For a $19 plate of sashimi, I expected higher quality fish.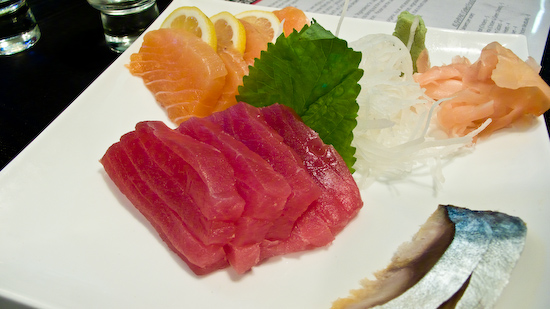 Cooked hijiki was a dish I ordered without knowing what it was. A friend of Christine's, Maiko, tried to explain to me what it was but all I got was that it was black and good for you (health-wise). She also drew a picture that looked like black sesame seeds that were slightly elongated. It turns out to look like dried tea leaves. The texture even feels like cooked tea leaves if it was a bit meatier. The flavor was that of a mild seaweed.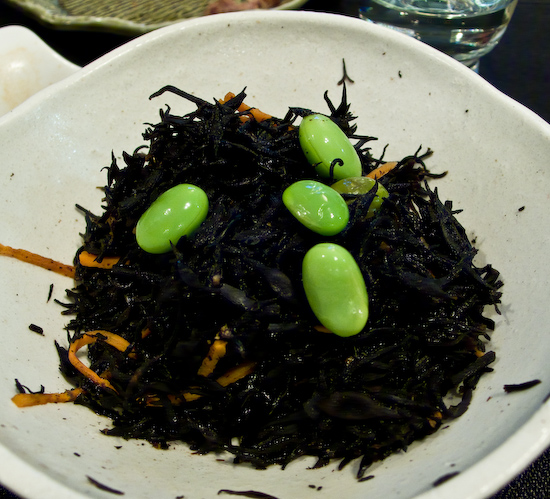 Kurobuta pork belly with shichimi arrived next. It was badly burnt with the meat cooked until very dry (almost chewy). The fatty parts were flavorful and bordering on delicious. The slight liquid left on the plate was grey from ash.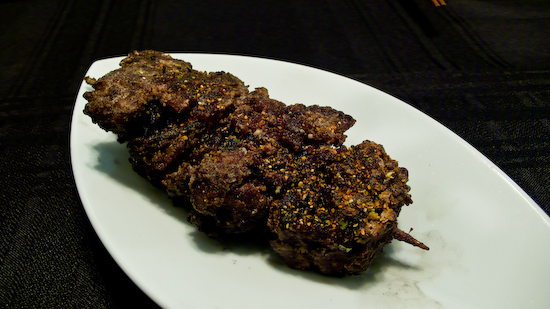 Kobe beef tataki arrived with unexpected jalapeno chiles laid on each piece. The beef was chewy and stringy.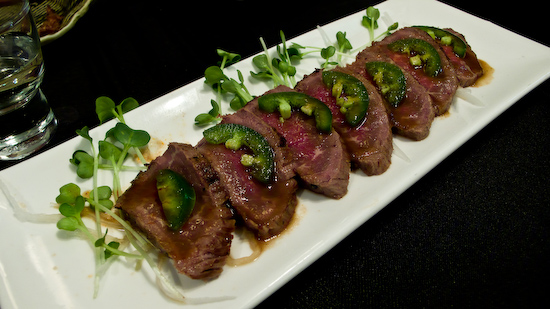 Bacon wrapped prawns with nigori sake & cream sauce was one of the only dishes we truly enjoyed. The prawns were flavorful and cooked just right. Delicious.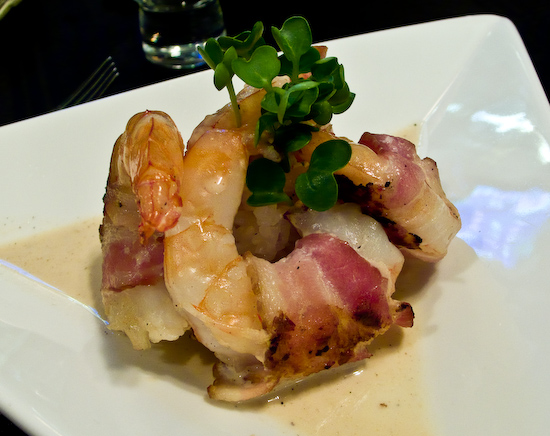 We ended the meal with cupcakes (in lieu of a birthday cake). Tony and Christine had purchased them from Kara's Cupcakes. Tasted part of a passion fruit cupcake and split a chocolate cupcake with my wife. They were amazing. The frosting part was light and creamy while the cake portion had a great crumb, nice and airy, and not moist and dense like some cupcakes.