AUTHORS
CATEGORIES
ARCHIVE
ACTIONS
Smitty's Market (Lockhart, Texas)
Posted 30 December, 2008 at 9:20pm by Michael Chu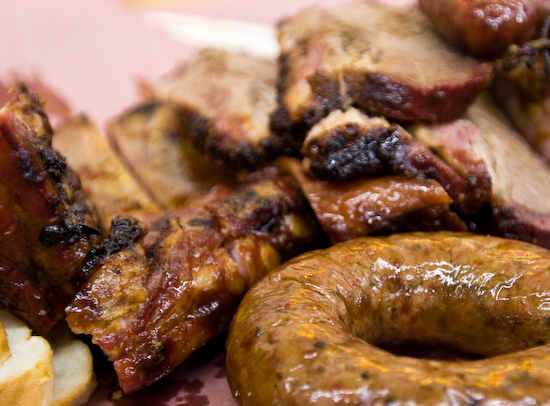 Blogged via phone (photos added later)
Dec. 30 - Lunch
Smitty's Market
208 S Commerce St, Lockhart, Texas
512-398-9344
Highly Recommended: Pork Ribs
Avoid: None

Smitty's is one of the highest rated barbecue joints in all of Texas. I ordered 2 pounds of pork ribs, 2 sausage links (they call them hot rings), and 1/2 pound of brisket for our small group to taste. All of this cost about $35. (I picked up a pickle, two sweet teas, and an orange cream soda for about $4 more brining the grand total to about $10 per person.)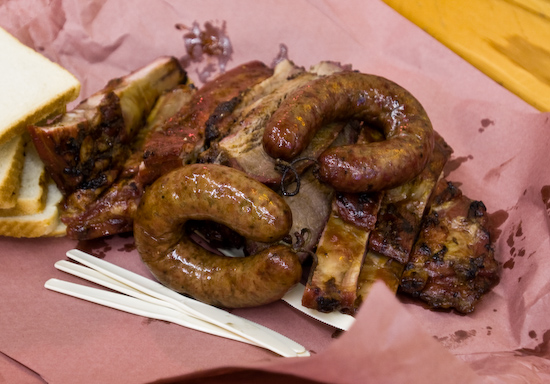 The ribs were my favorite - with deep smokiness throughout, wonderfully salty flavor, and tenderness without falling apart (the perfect amount of chew). Even the flap meat (the extra meat above the ribs), which are often tough, were succulent and tender.
Sausage was loosely packed and tasted like they were all beef. Tina described it as "meatloaf-like". The seasoning was different than the standard salty sausage that you get (I'm thinking of the keilbasa or Polish sausage which has a similar taste to the other sausages we've had at BBQ places in Texas in the past).
Brisket was a bit tougher than the other two meats - heavy smokiness which is a major plus, but still a little chewy. I guess I've never been much of a brisket man and again I'm not too fond of it. Would I go back? You can bet on it.