AUTHORS
CATEGORIES
ARCHIVE
ACTIONS
Vanilla Ice Cream Test
Posted 28 June, 2008 at 8:51pm by Michael Chu
Tina set up the vanilla ice cream test right after I set up the Choctal test. We tried the three vanillas in our freezer - Strauss Family Creamery Vanilla, Choctal Madagascar Vanilla, and Trader Joe's Vanilla Ice Cream. I also tried to guess which was which and was COMPLETELY wrong. I guessed that the flavors were Choctal, Strauss, and mystery brand (I forgot the third brand in the freezer). It turned out they were Strauss, Trader Joe's, and Choctal.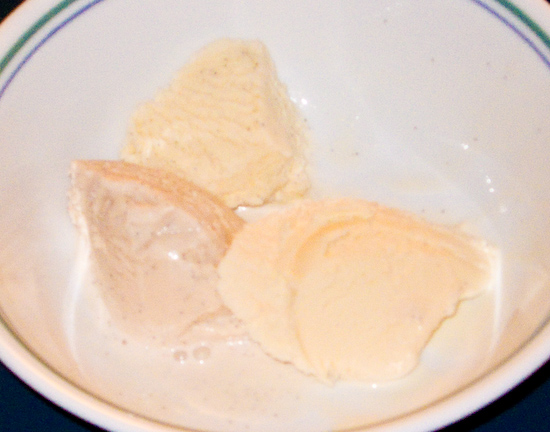 Here's how Trevor and I thought (Tina disqualified herself because knowing the brands really screwed with her perceptions):
Strauss: Both commented it was more like a homemade ice cream - a little gritty and loose (not dense). I found it to start off very sweet and felt the sugar flavor was dominating and the vanilla was background.
Trader Joe's: Ultra-creamy, strong vanilla with a well balanced sweetness. Both Trevor and I chose this as our favorite.
Choctal: Vanilla flavor was present, but not enough sugar. A little more sweetness would have brought out some more flavor.