AUTHORS
CATEGORIES
ARCHIVE
ACTIONS
Make Soap Using A Slow Cooker (Hot Process)
Posted 29 June, 2008 at 8:58pm by Tina Jiang
After making a few batches of cold process soaps and waiting patiently for 3+ weeks while they cure, you are probably wondering if there's another way of making soap that doesn't require such a long waiting time. What if you need to make gifts for an upcoming party/holiday/special occasion, and there's not enough time left? What if you are like me and sometimes just don't have the patience to wait that long to use your new soaps? Then you should try hot process soap making - make it in the morning and use it in the afternoon! Hot process involves cooking the soap mixture in a slow cooker, double boiler, or stock pot for a couple of hours until it becomes neutral (heat speeds up the saponification process), and the soap is usable right away.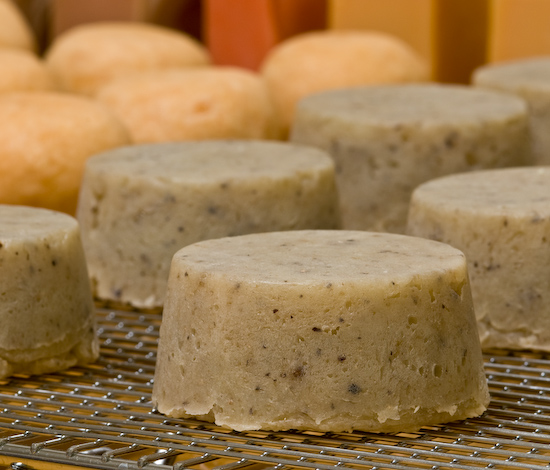 Hot process soap making has other advantages over cold process as well. For one, it requires less fragrance oil, since it's added after the soap has become neutral and it's no longer affected by lye. Also, if you are adding oatmeal/almond meal/corn meal or any additives that may settle to the bottom of cold process soap mixture, they will stay well mixed in hot process soap. There are also disadvantages - the texture of hot process soap can be spongy depending on the amount of water added, and usually is less fine than that of cold process soap. Sometimes hot process soaps have a marbled look without any colorants added (could be good or bad depending on what you had in mind). Also it's harder to fill smaller molds with freshly cooked hot process soap due to its thick and goopy consistency (needs to be scooped with a spatula rather than poured) - if not packed firmly the finished soap may have holes on the surfaces. All in all, both hot and cold processes have their places in soap making, and I have enjoyed doing both.
To make hot process soaps you'll need the following tools and equipment:
- safety goggles to protect your eyes
- thick rubber gloves to protect your hands and arms from the lye (wear long sleeve shirt, long pants, and socks if possible so none of your skin is exposed in case there's a splash/spill)
- a good scale for weighing the water, lye, and oils. it should measure down to 0.25 oz, and preferably have a "tare" function which allows you to reset the reading to 0 after putting a container on the scale, or after you add each ingredient so you have a clean reading of how much of the next ingredient you are adding (I recommend the MyWeigh i5000 digital scale - it's fast, accurate, and about the same price as the slower readout Salters they sell everywhere. My husband wrote an article on scales a while back: http://www.cookingforengineers.com/article/82/Kitchen-Scales)
- a instant read digital food thermometer to measure the temperatures of the lye water, oils, and the soap mixture
- one 3 quart stainless steel bowl for mixing the oils and lye water
- two heat proof 4 cup/32 oz glass measuring cups (e.g. Pyrex or Anchor brands), one for the lye & water solution, the other for the oils
- ceramic or glass bowl for measuring the lye (plastic tends to be staticky and the lye beads will stick to it)
- plastic or stainless steel spoon for stirring the lye water (wood is not recommended because lye will eat it away over time)
- plastic or silicone spatula for scraping down the soap bowl
- measuring spoons (for colorant and fragrance oil)
- stick blender (the one I have is the Cuisinart Smart Stick Hand Blender from Bed Bath and Beyond)
- 4 quart slow cooker (mine is Hamilton Beach brand, bought at Bed Bath and Beyond for $20)
- mold of choice (lined with freezer/parchment paper or greased with cooking spray/oil)
Caution: do NOT use nonstick, aluminum, cast iron, or tin pots/pans, containers, or utensils because they will react badly with lye and ruin both the soap and the tool. Also wood is not recommended for repeated use because over time the wood will eventually break down from coming into prolonged contact with lye.
The recipe I used for this batch of almond meal soap is the following (yields ~3 lbs of soap):
Note: these are weight, not volume measurements
11 oz distilled water
4.9 oz lye (sodium hydroxide)
18 oz olive oil
8 oz coconut oil
6 oz palm oil
2 oz shea butter
1 oz castor oil
1 tbl intense almond fragrance oil (from Majestic Mountain Sage)
5-6 tbls of almond meal
Step by step instructions:
1. Put on your protective gear - goggles and gloves
2. Weigh the liquid oils - pour 18oz of olive oil and 1 oz of castor oil into the slow cooker. After the solid fats are weighed and melted they'll be added to the liquid oils.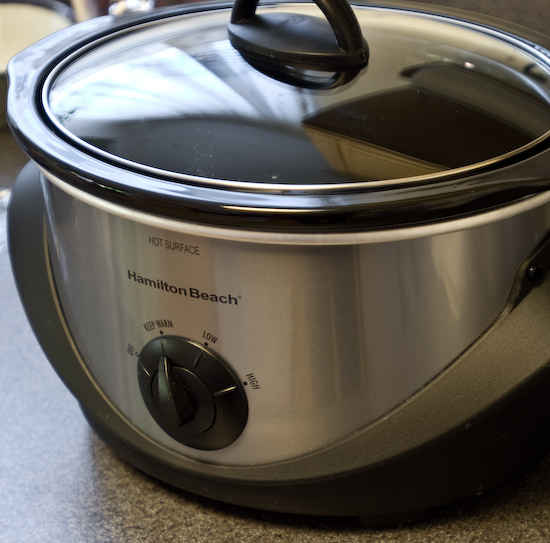 3. Weigh the lye - pour 4.9 oz of lye into the bowl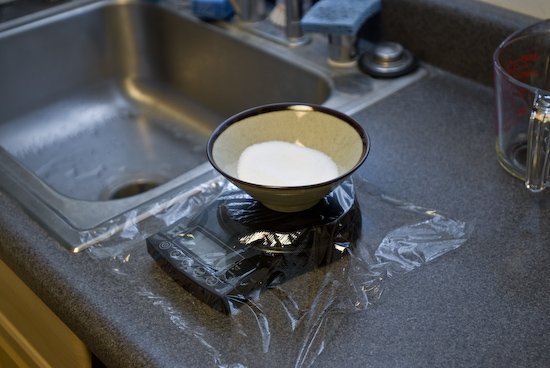 4. Weigh the water - pour 11 oz of distilled water into one of the 32 oz glass measuring cups. I used a combination of ice cubes (made with distilled water) and distilled water to: 1) reduce the amount of fumes generated when lye is mixed in, and 2) to reduce the amount of time for the lye water to cool down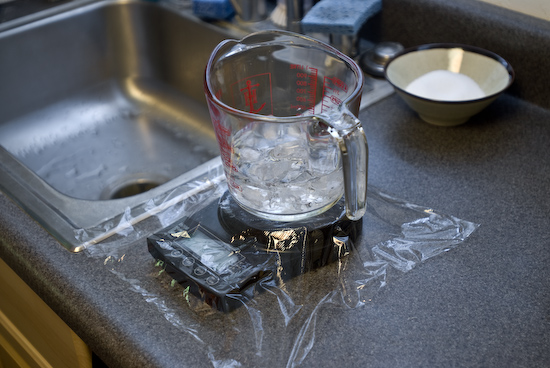 5. Pour the lye into the water slowly and stir to dissolve - this generates a lot of heat and will normally give off fumes, but not so bad this time since I used some ice cubes (you can also sit the measuring cup in a cold water bath in the sink). Set aside the lye water to cool. Note: never pour water into lye as this will cause a strong reaction and the splash/eruption can incur serious injuries.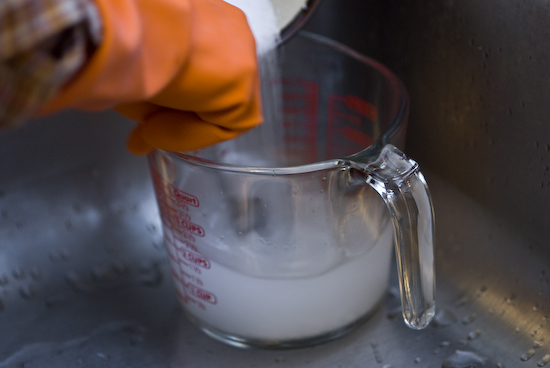 6. Weigh the solid fats - scoop out 8 oz of coconut oil, 6 oz of palm oil, and 2 oz of shea butter into the other 32 oz glass measuring cup. Melt the oils in the microwave - start with 1 min, then 30 second increments if needed.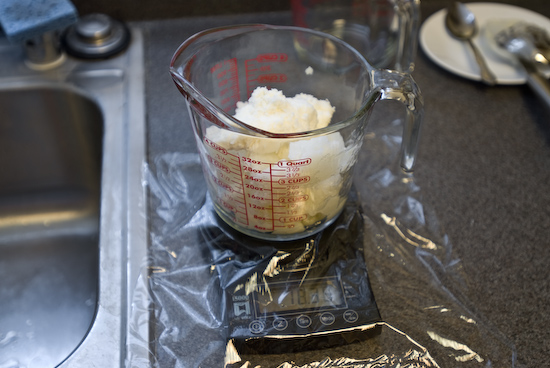 7. Pour the melted solid fats into the olive oil and castor oil in the slow cooker and mix them together.
8. Pour the lye water slowly and carefully into the oil while stirring.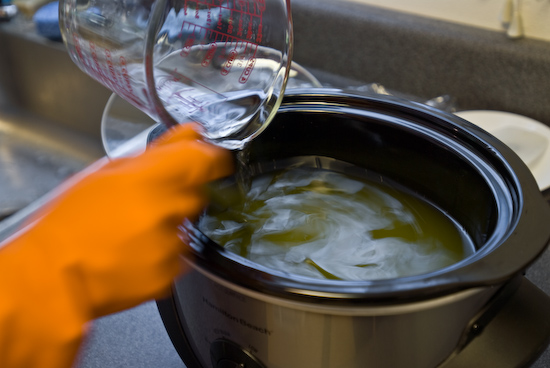 9. Use the stick blender to stir the soap mixture until it reaches a thin pudding or gravy like consistency - when you lift the stick blender out of the soap mixture, the drippings should leave patterns on the surface of the mixture instead of disappearing completely. Another way to confirm the soap mixture has "traced" is to check it's temperature - if it has risen a couple of degrees Fahrenheit, you are there (this is a great tip from the book "Smart Soapmaking" by Anne L. Watson). I usually stop the stick blender every 5-10 seconds to check the consistency. This process may take less than a minute or a few minutes - every batch is a little different so watch the soap mixture closely to gauge the status.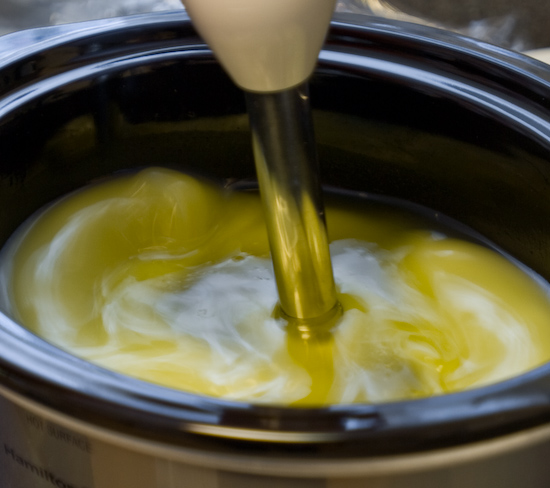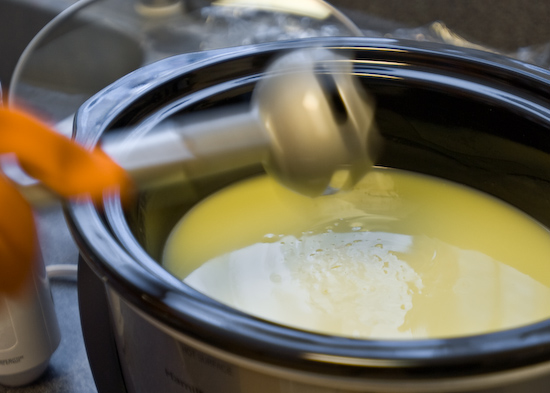 10. Once the soap mixture has traced, set the temperature on "low", put the lid on and take a break. After 15 minutes, check to make sure that the soap mixture has not separated into oil and lye water. If separation does occur, mix them back together with a spatula.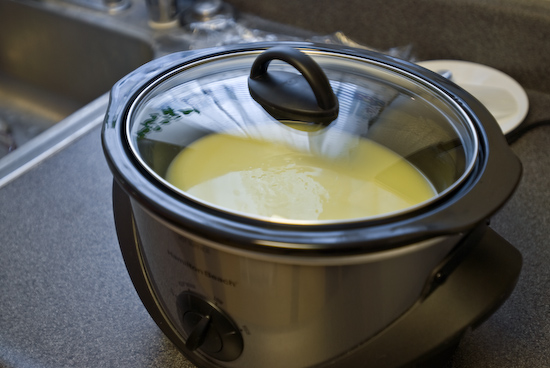 11. Check again in another 20-30 minutes. The outside edge of the soap mixture starts to turn translucent and this process continues towards the center.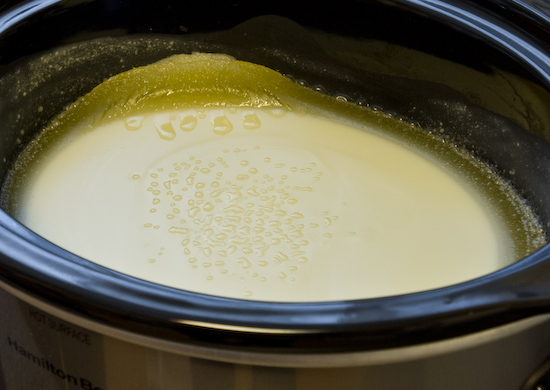 12. When a lot of the soap mixture has turned translucent, stir with a spatula to mix and let it cook some more. Stir again in 20-30 min. At some point the mixture looks like apple sauce. You may notice a layer of what looks like oil floating on the surface - it's actually the glycerin produced during the soap making process. Simply mix it back into the soap mixture.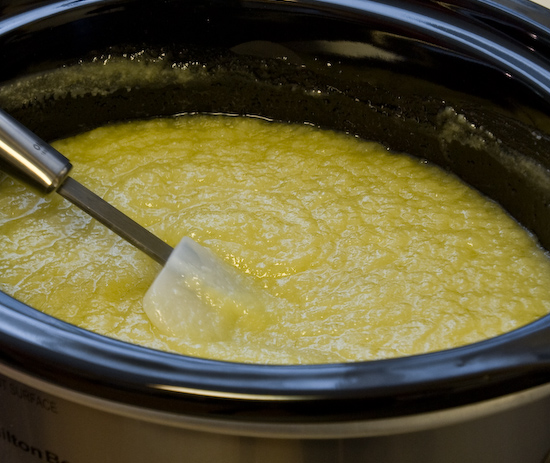 13. After 1.5 -2 hours of cooking and stirring, the soap mixture now has a Vaseline like consistency. The oils and lye have fully saponified and the soap is now neutral. Turn off the slow cooker.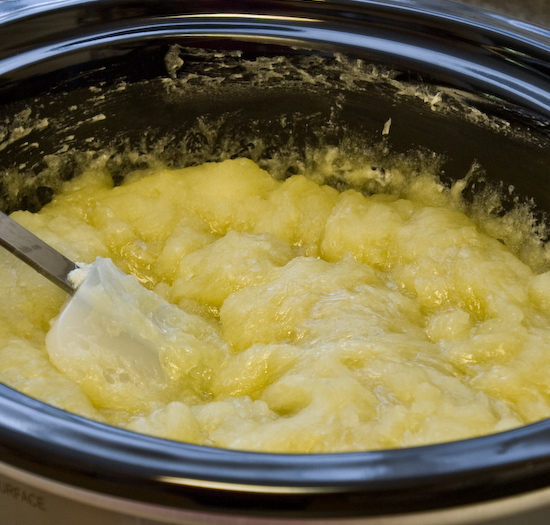 14. It's time to add the almond meal and the fragrance oil. Add 5-6 tbls of almond meal into the soap and mix well with a spatula. Then add 1 tbl of intense almond fragrance oil and mix well. I don't like strong fragrances so generally 1-2 tbls of FO for every 2 lbs of oils seems to work well for me. Hot process soap requires less FO than cold process soap since the lye is already neutralized by the time FO is added. Adjust the amount to your liking. Also note that FOs tend to vary in strength depending on the scent, and quality can also vary from vendor to vendor. I recommend buying small quantities (many suppliers offer 1-2 oz bottles so you can sample) and test them before making a large purchase.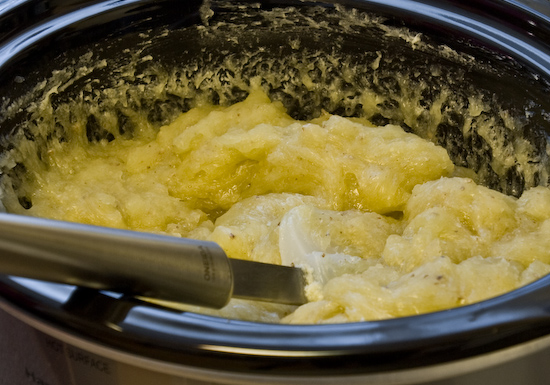 15. Scoop the soap into the mold of your choice, and bang the mold against the counter a few times while you are filling it to make sure the thick soap fills in all the edges and corners, otherwise you may end up with holes and crevices on the surfaces. You need to work quickly with hot process soap, since as it cools a skin forms on the surface which makes it hard for additional soap to stick to it. It's almost impossible to get a smooth surface on the top with hot process soap, so normally you would trim it after unmolding. In my case the top surface of the soap "muffins" will become the bottom and I like the rustic look, so I left it untrimmed.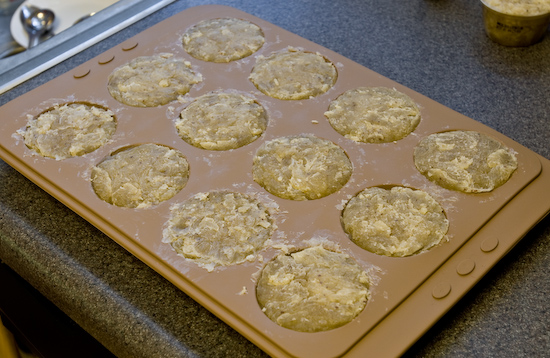 16. Once the soap cools down and is firm to the touch, remove it from the mold and cut into pieces. You may want to trim the uneven side for a better look, or leave it for a rustic appeal. The soap can be used immediately since it is already neutral, unlike cold process soaps fresh out of the mold. For longer lasting and harder bars, let them dry for a couple of weeks. If you are too excited to wait however, just grab one and start scrubbing :-)!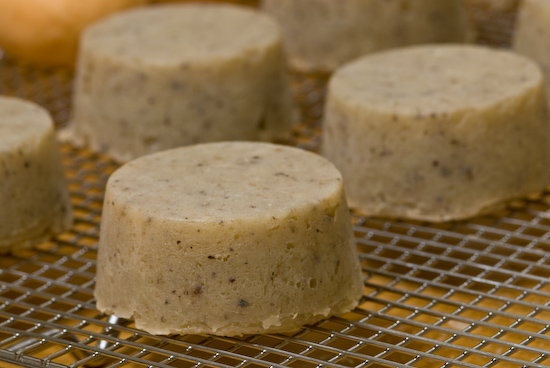 My "almond muffins" smelled and looked so delicious - I had to summon all my strength to refrain from taking a bite!
Since there are no preservatives in these soaps, they'll eventually go bad. Store them in a cool and dry place away from direct sunlight, and use within a year or so (six months in hot and humid areas).
To clean up after making hot process soap, fill the slow cooker bowl with water and let the soap residue dissolve, then rinse. With your goggles and gloves on, wipe everything else down with towels/paper towel then wash with dishwashing liquid and warm water.
Happy soaping!
p.s. here are a couple of links to:
- my first blog post about how to make a basic bar of natural soap at home (cold process):
http://www.orthogonalthought.com/blog/index.php/2008/05/homemade-natural-soap-basic-recipe/
- my second post about making soaps in the round with a marble pattern (cold process):
http://www.orthogonalthought.com/blog/index.php/2008/06/handmade-soap-in-the-round/
- and a FAQ article with the most commonly asked questions about soap making and my answers:
http://www.orthogonalthought.com/blog/index.php/2012/08/make-natural-soap-at-home-faqs/