AUTHORS
CATEGORIES
ARCHIVE
ACTIONS
Choctal Test
Posted 23 June, 2008 at 11:18pm by Michael Chu
Sometimes Tina and I do blind tastings. This time I had my friend Trevor over so we had an extra mouth to taste test. I picked up the lineup of Choctal ice creams available in my local markets - four single origin chocolate ice creams (Kalimantan, Dominican, Ghana, and Costa Rican) and vanilla ice cream (Madagascar vanilla). I had previously tasted the same five Choctal products at the 2007 Fancy Food Show, but neither Trevor nor Tina had. I set up the test (mainly to see which of the four chocolates we would prefer).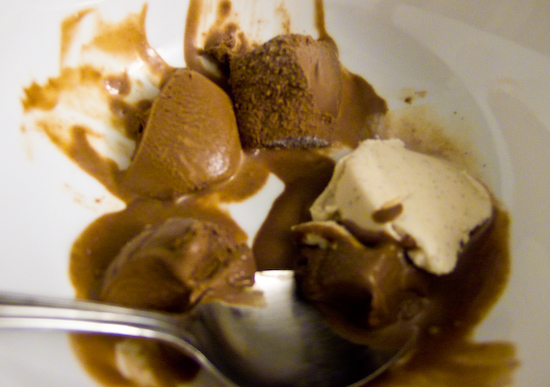 Here's how they stacked up:
Kalimantan - Deeply roasted, strong assertive dark chocolate taste. Michael's favorite.
Dominican - Great flavor - lots of depth and layers of chocolate-ness. We likened it to the taste of a bar of Dagoba's dark 59% chocolate bar (which is our favorite dark chocolate bar for eating out of hand). Trevor & Tina's favorite.
Ghana - Smooth chocolate flavor. A lot of time was spent trying to decide if Ghana was better or worse than Dominican by both Tina and Trevor.
Costa Rica - Boring - tasted like fairly standard chocolate ice cream. Nothing special.